(click to enlarge)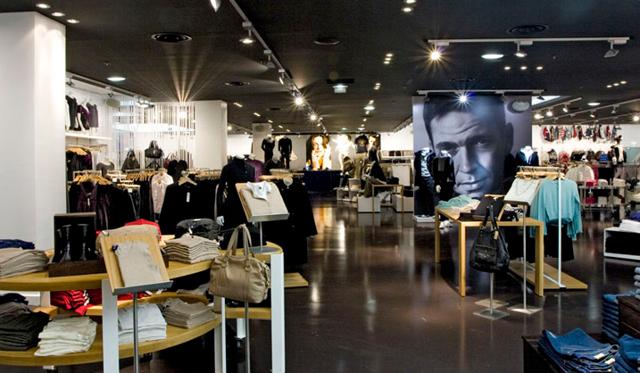 Apparel retailer Gap (NYSE:GPS) has been absolutely pummeled of late as shares are now bouncing around their 52-week lows once again. The stock had rallied off of a double bottom it put in earlier this year but at $30, was abruptly rejected. The stock sustained its most recent hit from the news that its sales slide has not only continued into March but accelerated. Shares are rightfully getting crushed but what does this mean for the valuation of GPS right now?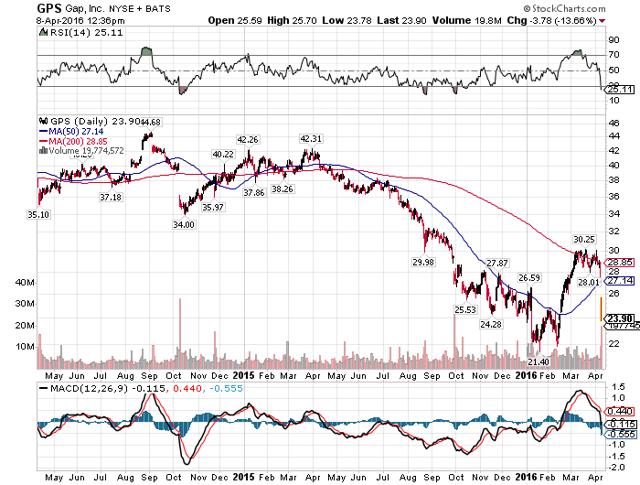 After the company reported Q4 earnings a few weeks ago, I said that not only was I flipping to bearish but that Gap would miss earnings estimates this year. That seems to have been proven correct as early as March as Gap's press release was nothing short of dreadful.
While I generally don't read too much into one month's worth of sales data for any company - particularly an off-peak month like March for a retailer - I think Gap's is different because of both the timing and the magnitude of the announcement. I think it also resets Gap's valuation for this year even lower than where it was a month ago when I last visited the stock.
Gap's comp sales fell a whopping 6% on a consolidated basis in March as not only did the total fall, but the company's major brands all suffered. Gap stores 'improved' to a loss of 3% but Banana Republic and Old Navy both tanked, losing 14% and 6%, respectively. Obviously, sales declines like that are painful but the fact that all three of the company's major brands saw sizable declines is also a change for the worse for the consolidated company.
Gap stores have been weak for some so the fact that it was weak again in March isn't really news but for BR and Old Navy, the moves are sizable. Old Navy has been a source of strength in the past few quarters and while BR's results have been more volatile, they have helped at times when Gap was weak. But with all three seemingly in freefall - Old Navy's move down was a swing of 20% against last March - Gap is a lot of trouble. I believe it is even more trouble than I let on a month ago after its Q4 report.
In addition to weak sales, Gap continues to buy too much inventory, purchasing for a sales plan it can't hit. That means that not only is Gap swimming in product but it is tying cash up in dead inventory and when it goes to clear it, margins are going to suffer. That's a disaster scenario for any retailer and given Gap's already-weak operating momentum coming out of last year, this is about the last thing the company needs.
Analysts are clinging to a 60bps loss in total sales this fiscal year but there is simply no way that is going to happen. Gap is on a full-blown downtrend in sales as there are no pockets of strength left anymore and while one month is not a year, the combination of last fiscal year and weakening momentum makes me very cautious. I said last month I thought Gap would miss sales estimates for this year but now I'm sure and I think it will be sizable. We could be looking at a 3% to 5% decline in total sales for GPS this year and if that happens, the earnings miss will be sizable.
Unfortunately for Gap, despite the fact that the stock continues to get hammered, it is still trading for ~12 times this year's earnings. That kind of multiple is too high for a company that is in freefall with no viable (public) strategy to turn things around. Perhaps management has some amazing plan it has cooked up and just hasn't told anyone but that seems unlikely; I haven't heard anything from management that would suggest Gap has a turnaround strategy and that should scare longs.
With sales in freefall, I now think Gap is going to move down into the teens this year. With both sales and margin pressures mounting, the decline in earnings could be pretty spectacular and if Gap is at $2 or below in EPS this year, the stock will trade for $16 or $18. That may very well happen if the negative sales momentum continues into April and beyond. For now, it is too early to tell but one thing I'm pretty sure of is that Gap isn't done moving down. Take the warning from March sales if you're long and get out; there are better places in retail to park your money.
Disclosure: I/we have no positions in any stocks mentioned, and no plans to initiate any positions within the next 72 hours.
I wrote this article myself, and it expresses my own opinions. I am not receiving compensation for it (other than from Seeking Alpha). I have no business relationship with any company whose stock is mentioned in this article.