Sleeping Through the Turmoil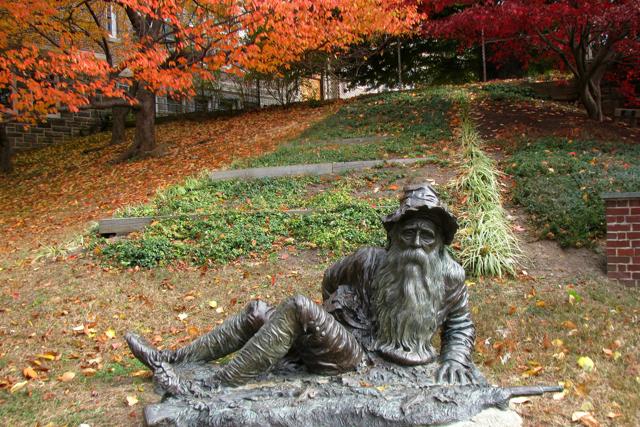 Source: Rip Van Winkle Monument on Hunter Mountain, NY. Labeled for public use.
The first quarter of 2016 ended in a similar fashion to that of 2015, namely that despite a lot of volatile disruptions, markets ended roughly flat from where they began at the beginning of the period. Consider where market levels stood at the beginning of the quarter versus the end (data source: Bloomberg):
| | | |
| --- | --- | --- |
| Market Index,059.74 | 12/31/2015 | 3/31/2016 |
| S&P 500 | 2,043.94 | 2 |
| Oil (Spot) $/Barrel | $37.04 | $38.34 |
| U.S. 10-Year Treasury (%) | 2.27 | 1.77 |
| Barclays High Yield Spread (BP) | 647 | 644 |
| Gold | $1,061 | $1,233 |
Like Washington Irving's fictional character Rip Van Winkle, investors could have slept through much of 2015 and into 2016 to find that markets have roughly stayed the same, oblivious to the volatile sell-offs that challenged key support levels of August 2015 (the prior major sell-off). Yet, waking up at the end of the quarter, the investor would have noticed some odd changes (although not quite as odd to wake up to the fact that George Washington is your ruler rather than King George) such as why did the 10-year Treasury yield drop 50 basis points from 2.27% to 1.77% and gold rise to $1,233 from $1,061. It is as if very little has changed on the surface, but something significant must have occurred over the course of the quarter to suggest that investors, for whatever reason, ran for higher ground despite unchanged market levels.
1st Half of the Quarter: Sell-Off - 2nd Half of the Quarter: Recovery
The markets sold off in January and early February following another 'unexpected' devaluation of China's currency reflecting concerns of how a deepening slowdown in China worsened by domestic capital flight could spur a competitive round of currency devaluations and worsen the global growth slowdown. Attempts by the European Central Bank and Bank of Japan to expand quantitative easing (negative deposit rates and greater bond purchases) actually had the perverse effect of strengthening their respective currencies against the U.S. dollar. Fed funds futures and currency traders have signaled that the policy divergence between the U.S. and the rest of the world has largely run its course, which we wrote about in the January commentary. This was confirmed by the Fed at the March meeting when it lowered its rate hike forecast in 2016 (two at the most), in line with market expectations (currently only one later this year). As a result, the U.S. dollar has weakened against both the yen and euro (Exhibit 1).
Exhibit 1 - U.S. Dollar Weakens Against the Euro and Yen

February also saw a selloff of global banks driven by concerns over profitability conditions among European banks that threatened their ability to meet near-term debt commitments. Deutsche Bank served as the epicenter of this concern where it traded at 0.3x book value at one point; levels that reflected a serious ongoing concern. This led to a sharp sell-off in both global bank stocks and debt issues, but selling pressures subsided following the European Central Bank's commitment to expand its bond purchases to include non-financial corporate debt. This help put a temporary support underneath the credit markets.
The uncertainty engendered by
The unexpected China devaluation;
Deterioration in global economic conditions (manufacturing sentiment, growth expectations);
Growing sentiment for Great Britain to exit the Euro at the upcoming June referendum; and
What the Federal Reserve is going to do with respect to rate hikes
have driven investors to sell down the markets and seek the safety of yield (Treasuries, dividends) and gold. As we stated in the February Market Commentary, it is unclear what sparked the market rally off the mid-February lows. At one point, the S&P reached 1829, dangerously close to breaching the 1800 support level (Exhibit 2). High yield spreads had breached 800 basis points indicating recessionary level stress as oil prices tumbled to $26/barrel (Exhibit 3).
Exhibit 2 - Put Your Head on My Shoulders: Mid-February Sell-Off Came Close to Breaching the Right Shoulder Support Level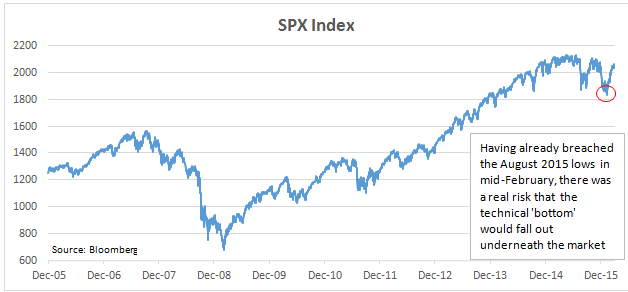 Exhibit 3 - High Yield and Oil Price Collapses Indicated High Systemic Risk Typically Associated with a Worldwide Recession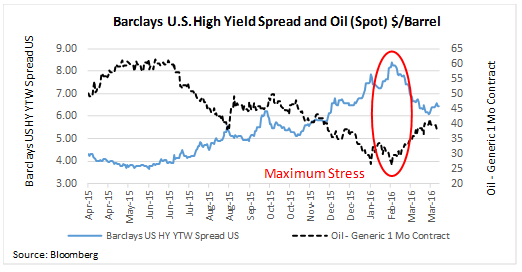 In the February commentary, we highlighted some culprits such as the 13-Filing revealing a sizeable Kinder Morgan (NYSE:KMI) stake by Berkshire Hathaway (NYSE:BRK.B) (Warren Buffett), OPEC/Russia commitment to freeze oil production (supposedly), further quantitative easing from the ECB and BOJ, and dovish comments from Fed Chairperson Janet Yellen. Whatever the culprit, the market did not need much excuse to engineer one of the largest massive short squeezes where traders betting on further losses in commodities and high yield were forced to unwind what had been overextended positioning. Add in some reform commitments coming out of China's 5-year strategic review, and it all resulted in one of the sharpest rallies off the lows since the 2008 financial crisis.
Towards the end of the February commentary, we highlighted many of the market stresses still weighing on risk sentiment, but these turned out to be nothing but bricks in the wall of worry that resulted in a 7% rally in U.S. stocks, oil prices recovering to the mid-$40s (before settling back to the high $30s), and high yield spreads collapsing to where they began the quarter at 645 basis points. When the dust settled, it was much ado about nothing, apart from a scramble for 'safe assets' (Exhibits 4-6). It was a Rip Van Winkle quarter except for the nagging traces of investor anxiety as evidenced by a preference for anything with less risky yield and low equity volatility. Left buried in the ground were all the traders and quantitative strategies that were betting heavily on momentum.
Exhibit 4: The Flight to Safety Part 1 - 10-Year Treasury Yields and 5-Year/5-Year Forward Inflation Expectations Collapse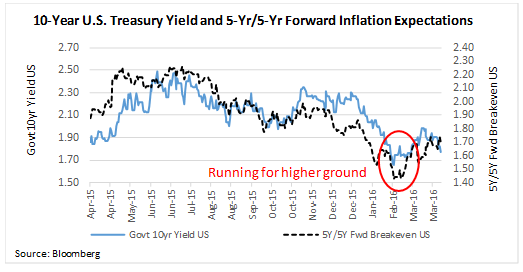 Exhibit 5: The Flight to Safety Part 2 - Yield-Sensitive Sectors Shine Above All Others

Exhibit 6: The Flight to Safety Part 3 - High Dividend and Low Volatility Outperformed Other Factors

The markets were able to rally despite another terrorist attack in Europe (Belgium) and electoral gains made by European populist parties such as the AfD in Germany. Upcoming April redeterminations from bank reviews over outstanding bank borrowing from the U.S. energy patch could weigh on high yield and financial sector performance, but much of this concern is overshadowed by an increasingly dovish Fed. There are some lingering concerns about inflationary buildups as expressed by several Fed governors, but the Fed remains data-driven and will not likely preempt any inflationary buildups with early rate hikes unless the data forces their hand.
In this latest market recovery, industrials are quietly leading market sectors which is giving bullish investors hope that this recovery can sustain itself into a new advance as we move past much of the energy-related weakness weighing on S&P revenue and earnings (Exhibit 7), especially with the S&P trading at a near 10-year high on forward earnings. The markets ended the quarter in the same uncertain state that they began the quarter with many of the outstanding issues (China uncertainty, global central bank directions, political instability, commodity price volatility) that have yet to be resolved.
Exhibit 7: The Slide in S&P Revenue Needs to Be Arrested Before the Market Can Make a New Advance

The unexpected outperformance of beaten-down sectors and regions highlights the need for global diversification across major market segments, whether regions, sectors, or factors. The push for safety feels lopsided, particularly in fixed income, but investors have been waiting for rate normalization for over five years. Meanwhile, the safe haven of long-duration, safe yield continues to serve 'dividends' for those wanting to avoid market risk. Yet, with the 10-year Treasury yield trading below 2% and with signs of wage increases feeding their way into the price channel, investors may be facing the prospect of inflationary risk for the first time since the global financial crisis.
How the rest of the year shapes out will depend on the resolution of outstanding macro-related risks (as highlighted above) as well as how aggressive the Federal Reserve believes is prudent in a low growth environment but with signs of incipient rising inflation.
Disclosure: I/we have no positions in any stocks mentioned, and no plans to initiate any positions within the next 72 hours.
I wrote this article myself, and it expresses my own opinions. I am not receiving compensation for it. I have no business relationship with any company whose stock is mentioned in this article.
Additional disclosure: The above is the opinion of the author and should not be relied upon as investment advice or a forecast of the future. It is not a recommendation, offer or solicitation to buy or sell any securities or implement any investment strategy. It is for informational purposes only. The above statistics, data, anecdotes and opinions of others are assumed to be true and accurate however 3D Asset Management does not warrant the accuracy of any of these. There is also no assurance that any of the above are all inclusive or complete. Past performance is no guarantee of future results. None of the services offered by 3D Asset Management are insured by the FDIC and the reader is reminded that all investments contain risk. The opinions offered above are as of February 22, 2016 and are subject to change as influencing factors change.