The fast and furious growth of Under Armour (NYSE:UA) has become a bit of an "oft told tale"; the sports apparel and footwear maker is one of very few companies that grew its revenues nearly ten times in the last ten years.
So the question we need to ask ourselves now is this: how are they going to perform in the next ten years? From the way Under Armour is expanding its portfolio of products and countries, the company looks well set for the next decade.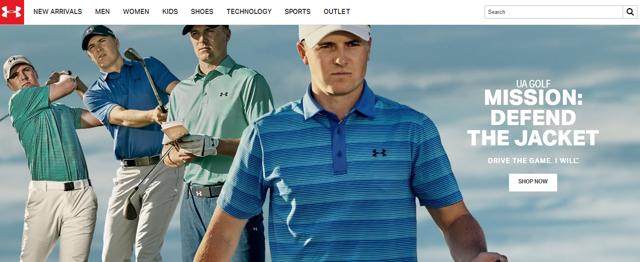 Under Armour's First Tee
Under Armour launched its first line of golf shoes during the week when their Golf brand ambassador Jordan Spieth, the defending champion and World Number 1 golfer, soaked up a first round lead. Talk about timing: Credit must go to Under Armour for finding sporting talent after talent to lead their product portfolio expansion.
Now they have Stephen Curry for basketball, Jordan Spieth for Golf, Cam Newton and Tom Brady for football, and the list just keeps growing. You could almost say the stars have aligned in favor of Under Armour the way they did for Nike back in the day when Michael Jordan first stepped into their shoes, figuratively speaking. Stephen Curry is on top of his game, and so is Jordan Spieth; and Cam Newton made it to the Superbowl. There's not much more a company can ask from its brand ambassadors.
But star-studded cast aside, there are also several things happening in the background that I'll try and deconstruct in this article.
Golf: A Multi-billion-dollar Industry Awaits
The National Golf Foundation estimates that there are 25 million golfers in the United States, and the golf industry itself is estimated to be worth around $70 billion. That's only in the U.S.: Japan is another major market for golf, and one source states that the U.S. and Japan jointly command 65% of worldwide golf equipment sales that are worth a total of $8.7 billion.
The majority of that comes from clubs and related accessories. An average golfer spends about $2500 to $3000 every year on clubs and core accessories, so an average spend of $200 on apparel and shoes would be a reasonable assumption. At that figure, 25 million golfers will be generating roughly $5 billion in sales - and that's the market UA is going for. And let's not forget Japan, which will add another hefty percentage to that figure. UA is already in Japan, so that market is there for the taking as well, and the Japanese version of UA's website already offers the full range of gear - shoes, socks, pants, belts, gloves, caps and T-shirts.
These are huge numbers and things are looking good for Under Armour in the golf industry. A quick look at Callaway Golf Company, which sells golf equipment and accessories tells you that industry has been doing pretty well since 2012.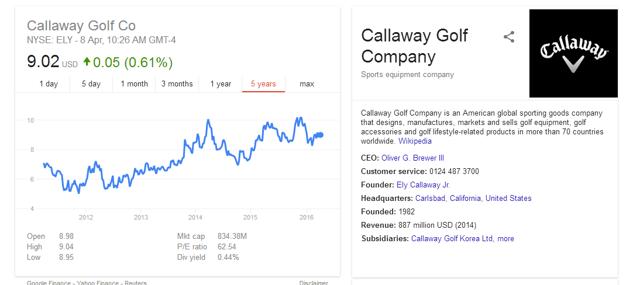 UA's entry into golf is yet another threat to Nike (NYSE:NKE) - although that threat may realistically be a few quarters away. Nike has an edge in that they serve the entire range of a golfer's requirement from clubs to bags to all the accessories that UA currently offers.
What's even more interesting is that Spieth and McIlroy are two of the world's best golfers in direct competition with each other, which puts Under Armour almost on equal footing with Nike from a branding perspective.
The Margin Play

Under Armour has listed nine golf shoes in their website, with four shoes priced at $159.99, two at $199.99 and three at $219.99. These shoes are at the higher price band, meaning they are higher margin products. The more the products in the premium price point the higher the margin is going to be, so ideally I'd like to see them adding at the top rather than at the $159.00 price point.
If you look a little closer at the operating margin numbers between Nike and Under Armour you will notice that Nike has been hitting the 13% margin mark consistently over the last ten years, while Under Armour has been hovering around the 10% market.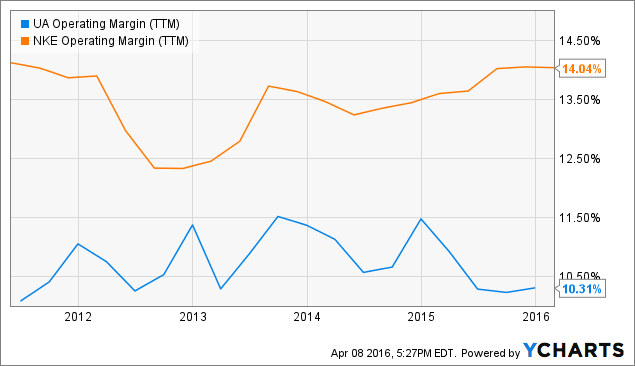 UA Operating Margin (TTM) data by YCharts
There are several reasons for this including size and scale, and the core product lines are at the heart of this equation. Nike earns the majority portion of its revenue from its footwear business, while Under Armour gets it from its apparel business. Typically, margins are higher in the footwear segment than in sports apparel, so that's another reason why Nike boasts higher margins.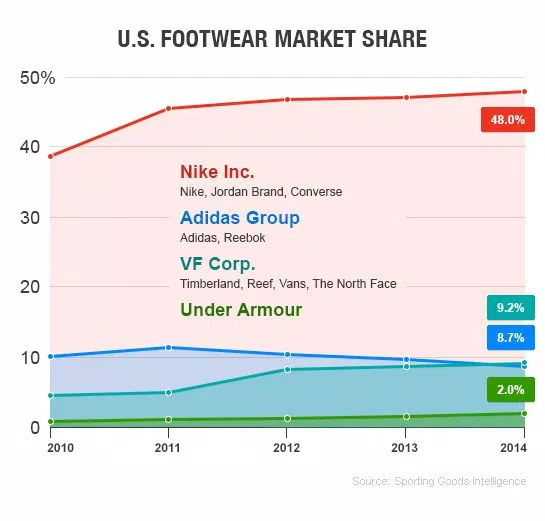 Investor-speak: The Gap
Nike's hold over the sports footwear business is still so strong that nobody but the staunchest promoters will give Under Armour even the slimmest of chances for succeeding in this segment. I still think it's going to be several years before UA can even think of closing the gap with Nike in the sports footwear segment, but I do see them earning a respectable position over the next few years.
And now, golf apparel and shoes are yet another building block in UA's strategic plans to make that a reality. With this entry into a potential lucrative global market, UA has just added one more weapon in its arsenal and comes one step closer to eating Nike's golf segment market share.
Nike's race to $50 billion by 2020 will only make the fight harder for Under Armour, but as a young company, UA has more room to grow, giving them an even playing field to compete with the world's biggest and best.
Click here to follow me and read my other articles on Under Armour and Nike, and also a ton of thought-provoking pieces on tech, automobile, retail and other industries.
Disclosure: I/we have no positions in any stocks mentioned, and no plans to initiate any positions within the next 72 hours.
I wrote this article myself, and it expresses my own opinions. I am not receiving compensation for it (other than from Seeking Alpha). I have no business relationship with any company whose stock is mentioned in this article.