"The time to buy is when there's blood in the streets." It's a sentiment that is so often repeated that it's a cliche, but for some reason, an awful lot of investors forget about it exactly when it's most applicable.
Today, it's time for a contrarian look at British banks. The "Brexit," which is to say, the potential British exit from the European Union, has beaten down the financial industry, as analysts predict a major loss of business from the continent.
In today's analysis, we will look at Britain's big three banks, Barclays (NYSE:BCS), HSBC (NYSE:HSBC), Lloyds Group (NYSE:LYG), with a particular eye on their discount for value investors looking to get in on the cheap. The Royal Bank of Scotland (NYSE:RBS) will be excluded from this analysis as they are unprofitable and haven't paid dividends in years.
The Brexit
Britain will be holding a referendum in June on their potential exit from the European Union, with questions about national sovereignty and the potential for the Union to impose harmful regulations on British business looming large, along with immigration from across the Eurozone.
Prime Minister David Cameron was initially seen as trying to negotiate a "better deal" within the Union, but while most of the British political leadership is seen favoring remaining in the EU, the polls have recently shown the British public split roughly down the middle on the matter.
Those in favor of staying in have warned of financial calamity if Britain leaves. This is likely dramatically overstating things, as Britain doesn't face the obstacles of other potential departees, having kept its own currency and resisted a lot of the efforts to bring their economy in line with the rest of the continent.
It may not be a totally clean break, if indeed it happens at all, but Britain's massive banks wouldn't become international pariahs at any rate. They may enjoy a best-of-both-worlds scenario based in a Britain that is both a member of the EU and not part of the Eurozone, but don't seem much worse positioned outside of the Union.
What this means
Uncertainty about whether the Brexit will happen and what the impact will be has many investors sitting this one out, and panic selling has driven the banks to multi-year lows.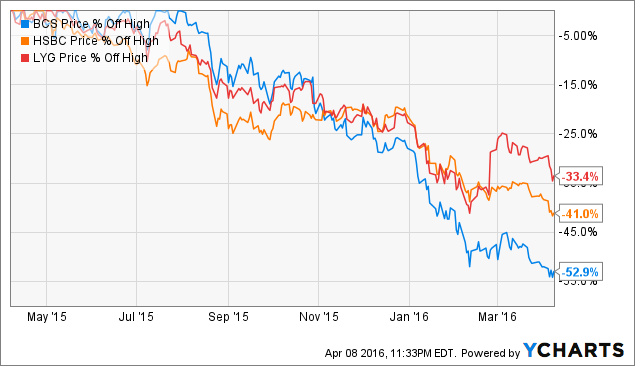 BCS data by YCharts
As with the failed Scotland secession vote, the smart money is on a last minute poll move back toward the status quo, but even in the event of a vote to leave the European Union, it's clear the worst-case scenario is more than baked into these companies' stocks.
By the numbers
The question then becomes which of these stocks is best positioned for a rebound, and which is the biggest bargain of the bunch. So without further delay, here's our big board of numbers.
| | | | |
| --- | --- | --- | --- |
| | BCS | HSBC | LYG |
| Cash and Equivalents | $70.1 bil | $98.9 bil | $82.3 bil |
| Net Loans | $621 bil | $1.01 tril | $683 bil |
| Deposits | $656 bil | $1.34 tril | $613 bil |
| Shareholder Equity | $92.8 bil | $188.4 bil | $58.1 bil |
| Total Liabilities | $1.48 tril | $2.21 tril | $1.07 tril |
| Loans / Deposits | 94.6% | 75.4% | 111.4% |
| Deposits / Liabilities | 44.3% | 60.6% | 57.3% |
| Equity / Total Assets | 5.87% | 7.82% | 5.10% |
| Price / Book Ratio | 0.38 | 0.62 | 1.15 |
These three are all huge companies by any estimation. Barclays is by far the cheapest from a simple price/book comparison, though with their deposits the smallest percentage of liabilities of the bunch, they are also fairly complicated.
HSBC, on the other hand, is the least leveraged of the bunch, with a more sensible percentage of loans to deposits as well as their equity making up a much bigger share of their total assets.
Lloyds Group looks the least impressive of the three in this analysis, as it still commands a slight premium to book value, and has more loans than deposits. That's not necessarily a red line for investors, but it certainly does raise some eyebrows.
When we dig a little deeper we get:
| | | | |
| --- | --- | --- | --- |
| | BCS | HSBC | LYG |
| Net Interest Income | $17.7 bil | $32.5 bil | $15.9 bil |
| Net Fee Income | $16.9 bil | $14.7 bil | $2.5 bil |
| PE Ratio | 9.05 | 9.25 | 83.11 |
As we could expect from the smaller deposits/liabilities percentage, Barclays is more dependent on fee income, while HSBC is a much more classic banking company, taking in deposits, making loans, and turning a profit on the interest spread between them.
Conclusion
While all three companies have gotten quite a bit cheaper in the selloff, Lloyds Group is a little hard to recommend as a strict value play, trading at a premium to book and with sagging earnings hurting their PE ratio. Consensus estimates for the next two years do have that PE ratio getting more in-line, but not enough to justify paying a premium from the analysis done here.
HSBC is my favorite of the group, both because it's the largest of the three, and because it's the least complex to understand from the numbers. All the typical banking percentages are well in-line, they are trading at low price/book and PE ratios, and they pay the highest dividend.
Barclays is worth considering too, however, with a similarly strong PE ratio, an even better discount to book, and respective dividends of their own. They fell the furthest in the past 12 months, and might recover the most, though the higher dividend ultimately has me preferring HSBC, simply because it's easier to buy and hold for the long term.
Disclosure: I/we have no positions in any stocks mentioned, and no plans to initiate any positions within the next 72 hours.
I wrote this article myself, and it expresses my own opinions. I am not receiving compensation for it (other than from Seeking Alpha). I have no business relationship with any company whose stock is mentioned in this article.