Corning Incorporated (NYSE:GLW) recently announced their $305 million purchase of Alliance Fiber (NASDAQ:AFOP). Alliance manufactures a wide variety of connections and components utilized in the telecommunications and data center industry. The purchase is a good fit for the company which clearly hopes to capitalize on the rapidly growing data center and telecommunications industry.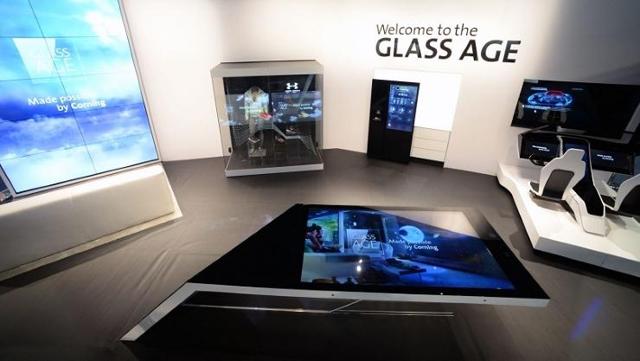 Alliance Fiber
AFOP is a solid company in the data industry and has been publicly traded since 2000 but was founded in 1995 by Peter Cheng. The company has seen its revenues rapidly grow over the past few years having just $42 million in 2011 and ending 2015 with $81 million. The company has a rock-solid balance sheet with $6.1 million in cash and equivalents on hand and just $2.1 million in long-term liabilities. They are based in Sunnyvale California and currently employ nearly 1,600 individuals based in the United States (35), Taiwan (389) and the majority in China (1,152). Overall the company appears to be very healthy and Corning isn't buying any long-term debt or liabilities not already covered by cash.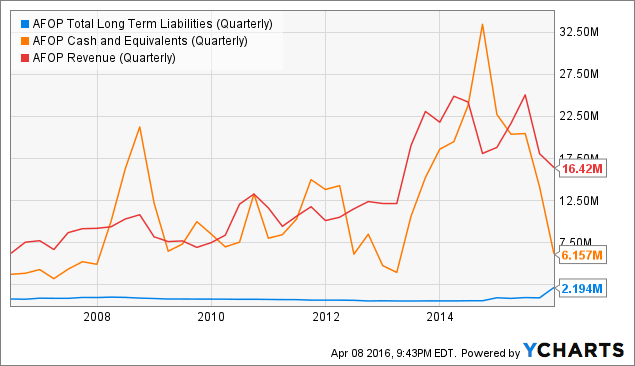 AFOP Total Long Term Liabilities (Quarterly) data by YCharts
So why did Corning purchase AFOP, and what do they plan to do with this bolt-on? The small company will most definitely be rolled into its Optical Communications segment where their fiber-optic cable business resides. This segment accounted for 33% of revenues for the company in 2015 and was also the lone bright spot amongst their five segments growing by 12% where all others shrank.
The growth in this segment can be blamed on the rise in data centers and data usage over cell towers. The data center construction industry is expected to grow at a 9.3% CAGR through 2019 with almost $23 billion being spent that year. The growth in data center construction is following the trend in rising data usage from 3.7 exabytes a month to an expected 30.6 exabytes in 2020, a 53% CAGR. On top of all that growth there is still the rising amount of data usage on our phones and other connected devices. In a July 2015 report Gartner forecasted that mobile data usage would rise to 173 million in 2018, up from 52 million in 2015.
The rise of data transmission over the airwaves and through landlines is rising steadily thanks to the amount of connected devices as the Internet of Things becomes a reality. The number of connected devices is estimated to rise to as high as 50.1 billion worldwide in 2020 from just 18.2 billion in 2015. From our watches to our cars, more and more household items are finding themselves connected to the internet. Corning has been working for years to become a market leader in this space and in the most recent Consumer Electronics Show the company put on full display their multitude of forward looking products. The company is now a "one-stop-shop" for the IoT, providing fiber cable, connections and glass screens.
Corning is a hard company to get excited about. Not only is glass not very exciting the share price has been less than incredible for a very long time now.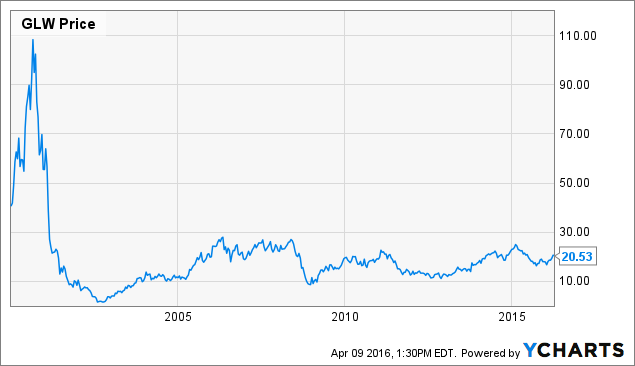 That chart does little to get any investor excited and the company has been mostly dead money. Only just recently has management taken this seriously and committed $10 billion to buybacks and dividend increases through 2019. While I'm not excited about the buybacks, the dividend could become a very appealing aspect of this company. Their last raise was a respectable 12.5% and the company now yields a safe 2.63% with the price per share at $20.53. The company has raised their dividend payment for the last 12 years and management intends to continue this streak. The glass business is not exciting but it is constant and reliable and so is this dividend.
The company is heading in the right direction with their purchase of AFOP. The data industry is growing rapidly and now Corning can offer an entire suite of products for data centers and cell towers. With already double digit YoY growth in their Optical Communications business I expect this to become their primary source of revenue and provide steady returns for investors. We often hear that the past performance of a company does not dictate future returns and that applies here as well. The company seems to have finally found a growth catalyst that is a natural fit for their expertise.
For an investor looking to make a play on the IoT and data transmission Corning actually seems like a good fit. Now with a true tip-to-tip product suite in their portfolio the company can provide fully integrated solutions to data centers and capitalize on the rise in data transmission. A rising and safe dividend provides incentive as well and the company deserves a deeper look from individuals. I've been skeptical of the company in the past but am optimistic with this direction they are taking and see their purchase of AFOP as a very smart step.
Disclosure: I am/we are long GLW.
I wrote this article myself, and it expresses my own opinions. I am not receiving compensation for it (other than from Seeking Alpha). I have no business relationship with any company whose stock is mentioned in this article.