I recently updated my Netflix (NASDAQ:NFLX) model following the company's explosive share price performance in 2015. What I really want to know is, what long term assumptions are sell side analysts using to arrive at their target prices (which for the most part are significantly higher than the current share price)?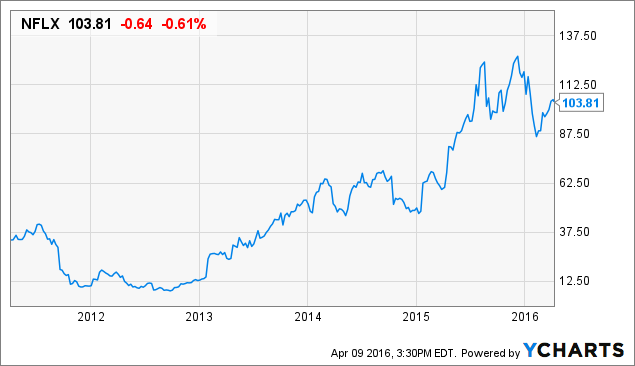 A lot of analysts are using EV/EBITDA or P/E ratios to value Netflix. I don't understand this. If you look at the graph below, EBITDA and Net Earnings don't provide any indication of cash flow generation. This is largely because Netflix capitalizes their streaming content expenses.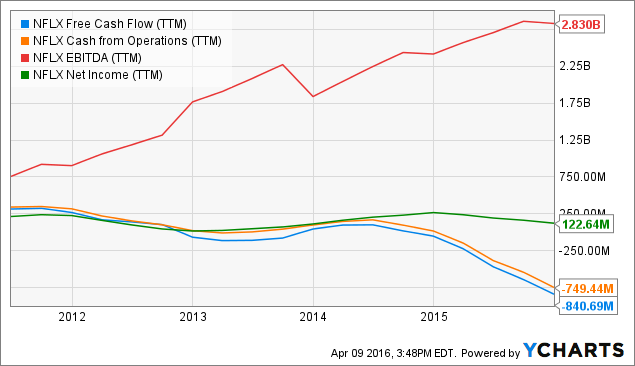 NFLX Free Cash Flow (NYSE:TTM) data by YCharts
But that's fine. It makes sense for Netflix to build a massive pipeline of new TV shows as they surpass the 50% adoption rate in the US.
If we assume that annual capitalized streaming expenditures normalize around $6 billion per year and the amortization of those assets is stable at around $4 billion per year we can build a high level cash flow forecast for the business.
The main question for me is, what kind of net income and cash flow growth is baked into the current share price?
How much growth does NFLX have to achieve over the next 10 years just to justify its current share price?

(Historical data source is from Netflix IR site and financial model template source is from CFI.)
Using the high level model I made some basic assumptions like capex, amortization and changes in working capital are more or less normalized in 2016. From there all the growth in free cash flow comes from growth in net income.
If net income grows at a 36% compound annual growth rate over the next 10 years, it will be $7.3 billion in 2026.
Most analysts don't publish EPS estimates more than 2-3 years out so it's hard to how this compares to their forecasts.

(Source: Yahoo finance)
As we see above, consensus estimates for 2017 EPS are $1.09, which equates to total net earnings of $466 million.
From there, if we grow net income at 36% per year from 2017 to 2026 we get to $7 billion or EPS of approximately $18.00.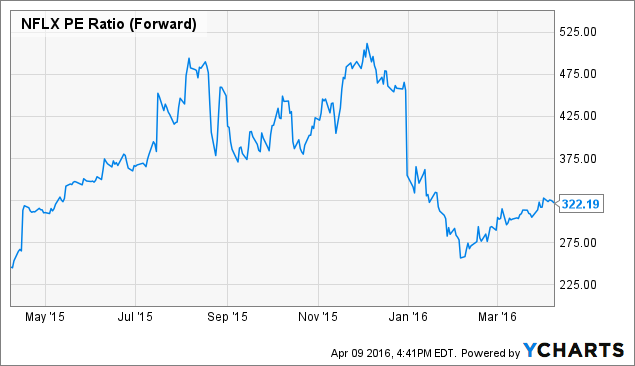 NFLX PE Ratio (Forward) data by YCharts
Netflix is trading around 300 times 2016 EPS depending on which analyst forecast you look at. Since a multiple this high is hard to interpret, I feel the reverse engineered cash flow forecast is useful for assessing value.
What do you think NFLX net income will be in 2026?
It better be at least $7 billion based on their current share price.
Disclosure: I/we have no positions in any stocks mentioned, and no plans to initiate any positions within the next 72 hours.
I wrote this article myself, and it expresses my own opinions. I am not receiving compensation for it (other than from Seeking Alpha). I have no business relationship with any company whose stock is mentioned in this article.