For many months now we have felt that Britain leaving the European Union was incredibly unlikely. But as the weeks go by it is starting to look very plausible. We still expect the UK public to vote to remain, but it may be too close to call now. Going long with the British pound against the euro could provide amazing returns, but it is an increasingly higher risk trade.
It has been an eventful few weeks providing voters with numerous reasons why Britain should leave the European Union, and very few reasons for it to remain. Which is really not what you would want with just over two months until the June 23 vote.
British prime minister David Cameron has been politically weakened by the Panama Papers fallout. Cameron is very much leading the push for the UK to stay in the EU, but with his own credibility in tatters, it has a knock on effect to the credibility of his message on Europe. The impact of the terrible attacks in Paris and Brussels on the public psyche is yet another reason why the vote could be taking a turn to the exit ramp.
President Obama is believed to be heading to the UK in the coming weeks to lend his support to the remain vote. Which could be a great help to stopping the UK heading to a disaster, as many believe that Britain will head into a recession if it leaves the European Union.
The CEO of Aviva Investors, Euan Munro, believes it is plausible that it could do as much damage to the UK economy as the global financial crisis did. Thanks to a decline in new investment by businesses, the global financial crisis shaved a good 2 percent off the UK's GDP. He also worries that it may be detrimental to the nation's annual GDP growth rate moving forward and cut anything from 0.2 to 0.4 percent off of it. He points to a likely reduction in exports to the EU, causing a reduction in national income by anything from 3 to 10 percent, as well as a reduction in foreign direct investment into the UK as being the reasons for this. Although nobody knows for sure what will happen, this does seem like a very likely eventuality in our opinion.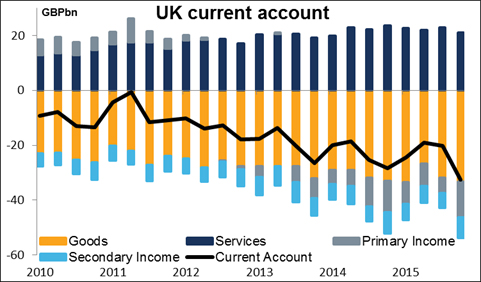 Sourced from Bloomberg.
As you can see on the chart above showing the UK current account, it has a huge trade deficit. But this is offset to a certain degree by a surplus in services. Financial services is the biggest net surplus, but this could be put at risk by a Brexit. There are fears that businesses may move out of the City of London and into continental European cities such as Paris or Frankfurt. If this happens then suddenly the UK has an even greater trade deficit, which is already at record levels as a percentage of its GDP.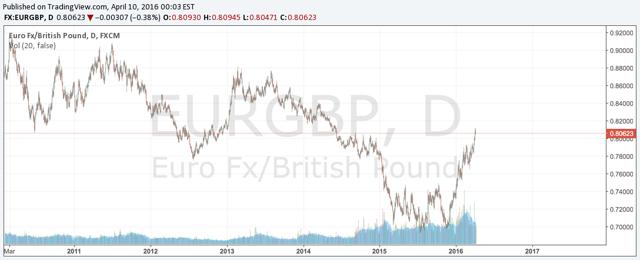 Sourced from DailyFX
The British pound (NYSEARCA:FXB) has taken a severe hit in the last four months, with the euro (NYSEARCA:FXE) strengthening by approximately 14 percent during this time. We would expect a substantial reversal on this should Britain vote to remain in the European Union. This is why, in our opinion, this is an incredibly tempting trade. But pricing in the options market is indicating that more declines are likely, with the pound looking like it could head to a two-year low against the euro as we get closer to the June 23 vote.
Which, according to several research agencies, is locked at 50:50 at present. When push comes to shove, we expect Britain will remain in the European Union. That's why we are long with the British pound against the euro. But our position is not substantial and represents only a small percentage (2.5 percent) of our investments. We see the potential for significant upside ahead, but it is not at all for the faint-hearted.
As always, best of luck with your trades.
Disclosure: I/we have no positions in any stocks mentioned, and no plans to initiate any positions within the next 72 hours.
I wrote this article myself, and it expresses my own opinions. I am not receiving compensation for it (other than from Seeking Alpha). I have no business relationship with any company whose stock is mentioned in this article.
Additional disclosure: Long GBP/USD futures.