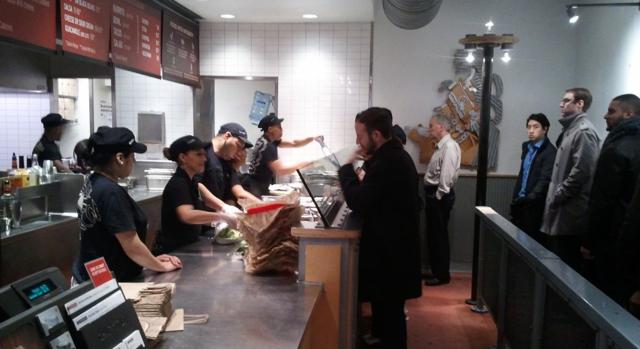 It is hard to believe that there is a high quality company with mind-blowing growth prospects, but going through a difficult spell, trading 40 percent off its 52-week high. But there is in Chipotle (NYSE:CMG). We think the aftermath of the E.coli outbreak is a great opportunity to buy shares at a reasonable price if investors are prepared to be patient.
Chipotle will be back; we have little doubt of that. There are massive queues at lunch time in many Chipotle stores across the country. We can't help but feel like the majority of consumers have let the outbreak go now, and it is time the market did the same. Before then there are of course a few matters that do still need to be resolved, which will feature in the next quarterly result. Early in March, Chipotle updated its first quarter guidance to reflect mounting legal expenses and higher marketing costs. It is now expecting to make a loss of $1.00 per share for the quarter, instead of breaking even.
It is unfortunately suffering from a spot of post-outbreak anxiety. The minute that an employee or two gets sick, it does appear to cause widespread panic throughout the company and the media. In the second week of March, Chipotle reported that comparable store sales dropped 27.3 percent. This came after a Boston-area restaurant was closed when employees fell ill with norovirus - or "gastro" as it is colloquially known. In winter, it isn't at all surprising to learn that one or two of its thousands of employees has gastro. The odds are very much in favour for that to happen. These employees phoned in sick and never came to work. In our opinion, the company has educated its employees well, and there was no danger posed to its customers. These bouts of sickness will crop in many restaurants across the United States, but that doesn't stop the media singling out Chipotle. Unfortunately, the minute the media latches onto a story like that, it will be immediately over social media. When consumers read this sort of thing, it is reasonable to presume a few may opt to skip Chipotle that day.
This is going to be the case for some time to come we feel, unfortunately, which could prevent the company from reaching its full potential. The same thing plagued Taco Bell in 2006 and Jack in the Box (NASDAQ:JACK) even further back in 1993. Both bounced back and so will Chipotle, judging by the aforementioned queuing.
We believe that buying any dips is a good move for Chipotle. Investors may need to be prepared to accept paper losses as a necessary evil whilst waiting for the company to flourish again. But we would rather be in than out, because when it takes off, it may take some stopping.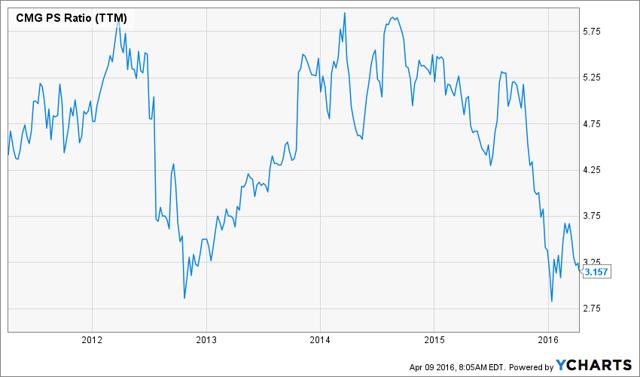 Although the shares have traded at an average of 4.5 times sales in the last five years, it is wishful thinking to believe it will trade at that premium again any time soon. 3.6 times sales seems about realistic in our view, which if the company has a better-than-expected quarter, we can see it climbing up to. With 31.31 million shares outstanding and a revenue forecast of $4.4 billion, we have a target price of $505.00.
There are macro factors that are favourable for the company. The much-documented increased spending on eating out is a big win for Chipotle. It would appear that the extra few dollars drivers are saving on gas each visit is being spent on food, and quick service restaurants in particular. There is also a trend for millennials to favour experiences, rather than objects, which is another factor that goes in Chipotle's favour.
We believe the Chipotle brand can expand successfully internationally. Of its 2,010 stores in operation, all but 23 of them are based throughout the United States. In the next decade, we would love to see significant expansion overseas. Having a geographically diverse business would at least help it with troubles like it has faced in the last twelve months. According to Transparency, a market research company, the global fast food market is forecast to reach nearly $620 billion driven by increasing demand from Asia-Pacific. Yum Brands (NYSE:YUM) will be opening its first Taco Bell store in China this year. If this is successful, then it could be a sign that China is ready for Chipotle.
Although we believe now is a great time to pick up shares, there could be many ups and downs in the next twelve months. As we said earlier, rather than panicking about share price declines, we intend to use any dips to our advantage. We feel very confident that the share price will eventually make an all-time high once again.
Disclosure: I am/we are long CMG.
I wrote this article myself, and it expresses my own opinions. I am not receiving compensation for it (other than from Seeking Alpha). I have no business relationship with any company whose stock is mentioned in this article.