Anyone who calls mCig, Inc. (OTCQB:MCIG) a "hot penny stock" is messing with you. A friend of mine bought this stock over a year ago during that two-week span that we all bought marijuana stocks because they were flying high. Like most who bought them that month, he lost huge on his purchase. Anyway, it brought my attention to the company's existence and it has been on one of my watchlists ever since (right next to Medical Marijuana Inc. (OTCPK:MJNA) - the sad stock I bought a thousand shares of back when things were "high"). Yesterday, I decided to take a look at it just out of curiosity. Man, is it an awful company.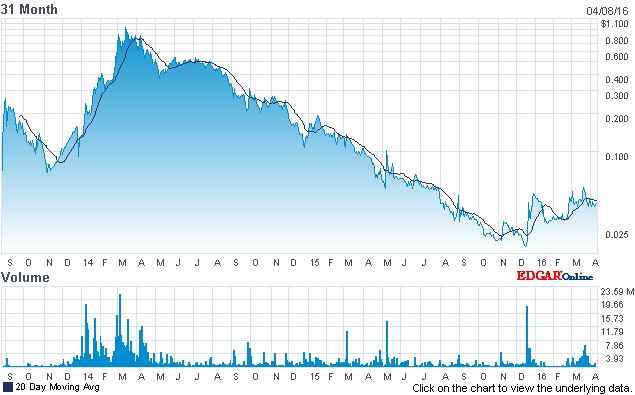 A very shady company
Though I cannot be positive on this one, I distinctly remember mCig being headquartered in the state of Washington in the beginning. Yahoo Finance has it in Los Angeles, and its website says it's in Nevada. This should already seem like a scary stock.
mCig Inc. was based around the production and sale of its e-cigarette of the same name. The "mCig" was made to hop in on the popular, if not overly saturated, electronic cigarette craze. Well, three years after launch, you can't even find an mCig on its website. To prove that the product existed, I had to find this news release from three years ago. The product failed so badly that the firm appears to have tried to break away from it with three different but similar products. Personally, I don't see how they'll work if the mCig didn't. Now the website lists things such as grower cultivation and financing as its areas of business. I'm curious as to what a failing startup with nothing but financial losses knows about providing financing. For 2015, mCig did in fact get its reported revenues to over $500k, but last year's operating loss was over $4 million. It really says something when your revenues hit their highest peaks, and your operating loss is the highest it's been. It's not like the costs increased in something like R&D either. The income statement shows the big costs increases under general and administrative sales. My goodness, it took $4 million to increase revenues by less than $200k from the year prior? I question whether this company ever had a legitimate game plan.
To be fair...
Since it's mean not to look at things from both sides, I'll point out that the company did better in the period ending January 31, 2016. mCig managed to cut its operating loss down to under $50k, but its revenues dwindled. That's all I have to say that's kind.
A failed startup without direction.
Informer Research has a nice article that discusses the company's new goal of selling cannabis grow rooms. The writer also provides a link to mCig.org's website. Unfortunately, when you click on it, it does lead to its website, but the information on grow rooms has been removed. This would mean a couple of things. Informer Research is pulling our leg (I don't think that's the case, I liked the contributor's article and agreed with it) or that mCig pulled that information after that article was published in March. Did the company try to hide it? Either way, it's a shady situation that doesn't earn investment.
Consider the following article from InsiderFinancial.com. The website discusses the possibility of a comeback for mCig, Inc. through improved and expanding products including the VitaCig (a subsidiary which came out awhile ago and has been "relaunched"...?). Considering the failure of the VitaCig to make lasting impressions on earnings the first time around, this doesn't excite me. Not to mention, that I cannot find any reference to e-cig products on mCig's website!!! InsiderFinancial has a picture of an mCig at the top of its article, but I can find no evidence of an mCig on the company's website. Don't all these discrepancies throw up red flags?
Conclusion
mCig Inc. is basically an electronic cigarette startup that tried to start out aligned with the Marijuana trend. It failed to compete with the hundreds of other e-cigarette manufacturers and is now struggling for new ideas. The stock price spends its time below $0.10 and that's where it will stay.
Disclosure: I/we have no positions in any stocks mentioned, and no plans to initiate any positions within the next 72 hours.
I wrote this article myself, and it expresses my own opinions. I am not receiving compensation for it (other than from Seeking Alpha). I have no business relationship with any company whose stock is mentioned in this article.
Editor's Note: This article covers one or more stocks trading at less than $1 per share and/or with less than a $100 million market cap. Please be aware of the risks associated with these stocks.