Restaurant stock Ruby Tuesday (NYSE:RT) has been struggling for years with low comp sales, a shrinking footprint and low or negative earnings. I have been bearish on RT since 2013 when I began covering the company and said it was overvalued. The company's vast real estate portfolio has kept shares afloat as the fundamentals of the business have continued to deteriorate, recent quarters included. The company reported FQ3 results late on Thursday, and the market sent the stock plummeting 12% the next day. It seems the market is catching on to what I've been saying about RT; the real estate portfolio isn't enough to sustain its valuation.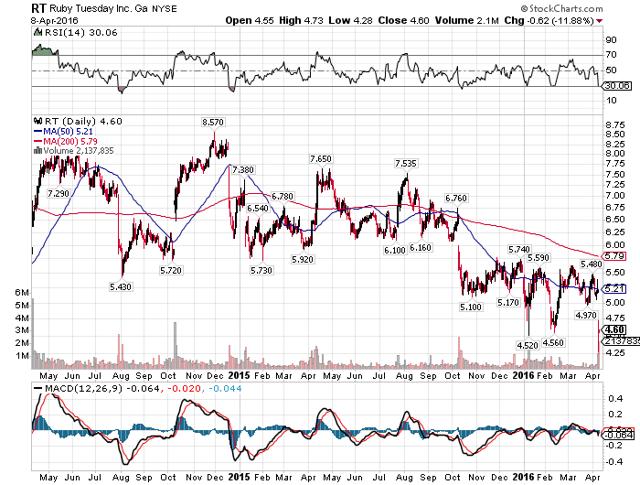 RT's Q3 was terrible on just about any level you examine, as total revenue fell 5.1%. Part of the decline was a reduction of a net 20 underperforming corporate stores that were shuttered, but RT's comp sales continue to disappoint. That metric fell 3.1% as RT continues to struggle to get people in the door. RT blamed 140 bps - or roughly half - of the decline on severe winter weather, but weather is always an excuse. There's nothing I enjoy reading less in an earnings report than when a management team blames a lack of execution on the weather. RT has been struggling for years so I refuse to believe this quarter's weakness was because it was cold outside.
Unit-level margins were actually pretty resilient during the quarter, contracting just 10 bps to 17.1%. I would have thought with materially lower comp sales that the company's margins would have suffered more, but kudos go out to RT for maintaining some pricing and spending discipline. That level of unit-level margins is solid for a restaurant so RT's problem is not with its operating profitability - although there is room for improvement - the problem is with sales and non-operating costs.
Unfortunately for longs, that relative strength didn't translate into RT's guidance for the rest of the fiscal year. Comp sales are expected to be down 1%, instead of flat to up 1% as they were previously. In addition, unit-level margins are expected to fall another 60 bps to 16.7% to 17%, instead of 17.3% to 17.6%. These are both terrible revisions and, in particular, the margin reduction is especially important. After Q3's dismal comp sales loss, it is understood that the full-year number will be weaker than expected, weather at fault or not. But with margins holding up in Q3, I'm very surprised that RT would take the opportunity to sizably reduce its margin forecast, and with it, its profit forecast for the year. This was the only real pocket of strength in the Q3 report, but RT blew that out of the water with its terrible guidance.
RT's execution is not only lacking but it is also losing its CFO, who is leaving immediately to join another company. That is a blow that RT didn't need on the heels of its Q3 report, and it simply throws more gasoline on the fire in terms of RT's struggles. A significant leadership change is not something RT can handle right now and surely that played into the selloff on Friday.
Estimates keep coming down for RT - and rightfully so - as the company continues to struggle. Its guidance for the rest of the fiscal year was awful on the margin front, and I'm not sure what RT is going to do to get out of it. The commentary from the CEO was bullish about the turnaround the company is trying to implement, but then he went and significantly reduced guidance; which is it? I'll take the side of the numbers and know that RT's struggles are far from done.
At 58 times this year's earnings and almost 40 times next year's estimates, RT is sill very expensive. Estimates continue to come down so I suspect we'll see the stock do the same. People are losing patience with RT's alleged turnaround that never seems to actually come about and that is a big reason why I'm still bearish. The stock is down almost half since I first started shorting RT, and I'm not done; this thing is going lower.
Disclosure: I am/we are short RT. I wrote this article myself, and it expresses my own opinions. I am not receiving compensation for it (other than from Seeking Alpha). I have no business relationship with any company whose stock is mentioned in this article.