Orexigen's (NASDAQ:OREX) investors are likely seeing the realities of the branded weight loss space more clearly now than they ever have. Every day we see obese and overweight people. Statistically, it is likely that someone in our own families have an issue with weight. Selling a weight loss product would seem to be a sure thing, but it is not. The stark reality of the weight loss sector will hit this stock hard, and already has the equity trading below $1 per share. Dangers with this equity are numerous, and being below $1 at this juncture brings up an issue that I will cover at the closing of this article.
Sales of Contrave in Q1 of 2016 set a record. That is the good news. The bad news is that despite setting a record, sales levels are well shy of what is needed to turn a profit or help the equity to rise. Additionally, sales have now been flat for about a month, showing a growth trajectory that does not point to future numbers getting to what is needed. In Q1 of 2016, Contrave saw script sales of about 194,000. This was about 14,000 scripts better than Q4 of 2015. Peak sales of the drug during the quarter happened about a month ago at 15,700 scripts. Contrave closed out the quarter at about 15,300 scripts.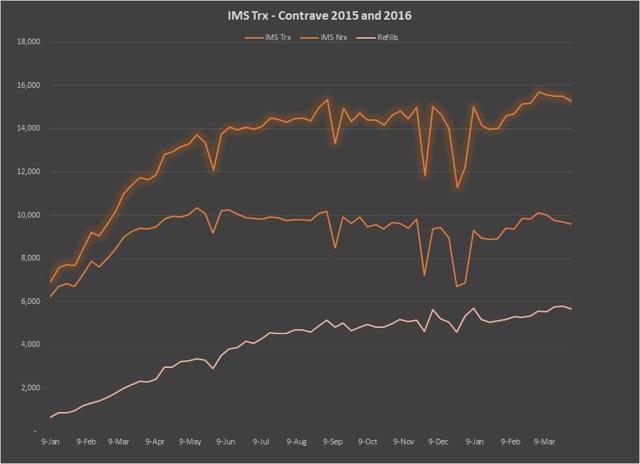 Chart Source - Spencer Osborne
On a quarter-over-quarter basis, we did see sales increase. One issue is that sales only increased by 7.38%. Q4 is typically a very weak quarter while Q1 is typically a very strong quarter. Beating the weak quarter by only 7% is not really anything to celebrate or be happy about. Such a performance will not drive the equity price in the near term or longer term.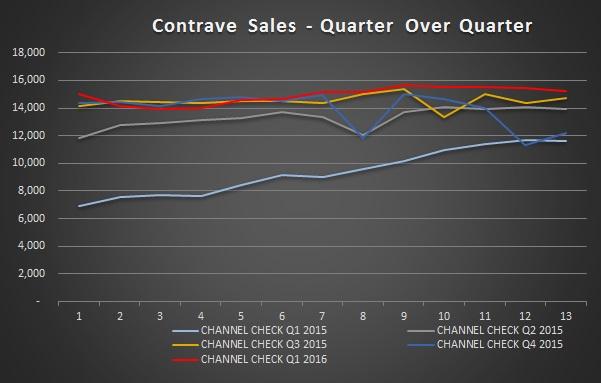 Chart Source - Spencer Osborne
On a year-over-year basis, management can still convey a story of growth that may make the masses happy. The reality is that the year-over-year growth should have been much higher than the 59% that will be reported. At this early stage of a launch, sales on a year-over-year basis should have been at about 100% growth. The reality is that the sales trajectory is flattening out. In Q2, the numbers on year-over-year growth will not really impress. In Q3, year-over-year growth may well begin to vanish altogether. Savvy investors will understand this. The only way that this narrative will shift is if the company launches in Europe and South Korea and speaks of sales on an overall fashion.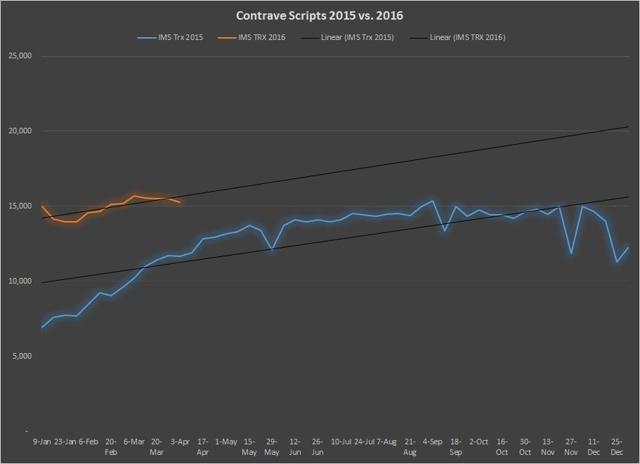 Chart Source - Spencer Osborne
In looking at market share, we see that Contrave is still the clear leader. It has not knocked off the competition, but it is dominating the sales levels in the space. Against its branded anti-obesity peers, Contrave is at 46.01%, up from 43.59% at the beginning of the quarter. Competitor Belviq from Arena (NASDAQ:ARNA) has seen its share drop from 28.65% at the beginning of the quarter to 27.66% at the end of the quarter. Competitor Qsymia from Vivus (NASDAQ:VVUS) has seen its share drop from 27.76% to 26.33%. Contrave is the only branded anti-obesity pill gaining in share, but the gains are simply too modest to allow the equity to appreciate.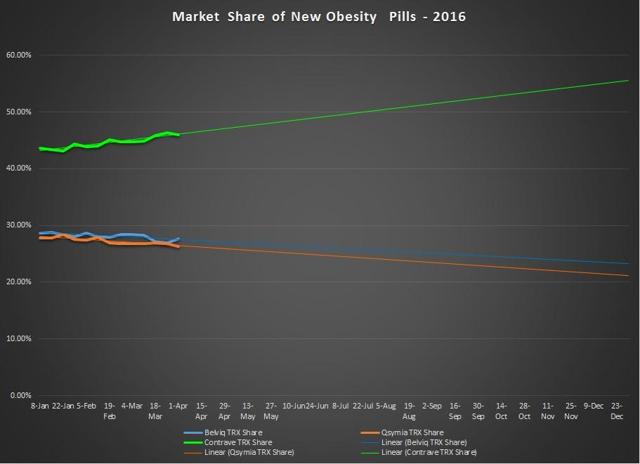 Chart Source - Spencer Osborne
When we look at the entire branded anti-obesity space, we need to include Saxenda from Novo Nordisk (NYSE:NVO). Saxenda is an injection that is moving up in market share, and actually dominates the space in revenue. With Saxenda included, the Contrave share is 42.10%.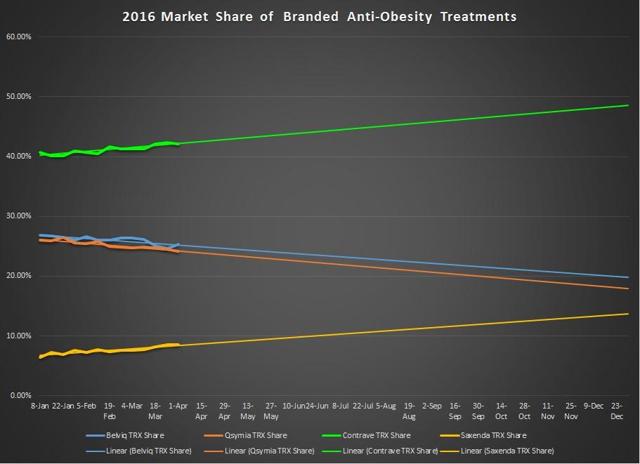 Chart Source - Spencer Osborne
Sector growth is a bit problematic. The reality is that pills seem to be falling out of favor, and sales in 2016 are showing no growth from 2015 and are actually trending to show negative growth in Q2. The overall problem with this sector is that insurance companies are not covering, doctors are not prescribing, and patients see weight loss plateau after about 3 months and stop taking the product. The end result is that the novelty of "new-and-improved" weight loss products is pretty much gone.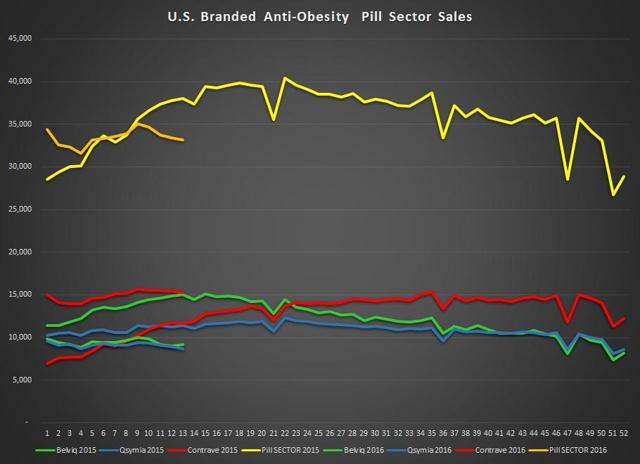 Chart Source - Spencer Osborne
In looking at the overall sector with Saxenda included, we can see that the space is still trending in the wrong direction in terms of growth.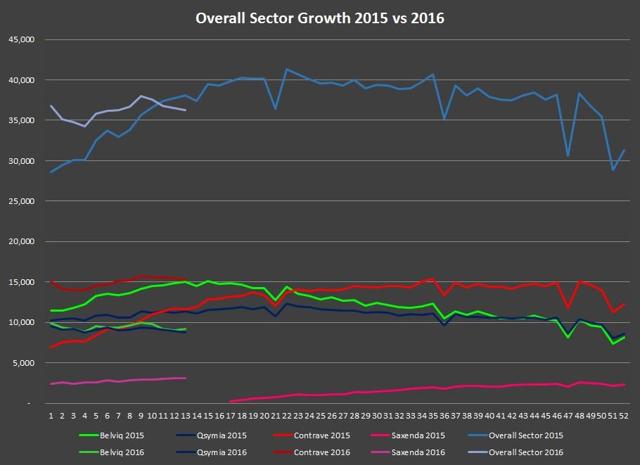 Chart Source - Spencer Osborne
With the sales data covered, it is now time to address the elephant in the room. Orexigen's stock has now traded below $1.00 per share for 30 consecutive days. NASDAQ compliance dictates that a company must trade over $1.00 per share. If a company trades below $1.00 per share for 30 consecutive trading days, the company will receive a delisting notice. This notice should appear with a company SEC filing at some point in the next 7 days.
The delisting process can be a long process with multiple appeals. The company is not in danger of getting delisted any time soon. That being said, the very fact that the company is in the midst of a delisting process creates its own set of issues. The underlying issues that caused the stock to trade low are never solved by a reverse split alone. While a reverse split can allow a company to gain listing compliance, it is not a magic pill that cures all of the problems that a company has. I will cover the delisting process in more detail when the SEC filing is complete. As stated, that filing should be out in the next week.
Simply stated, Orexigen is not in a good place, and most of its investors are not in a good place either. Sales in the United States are well short of what is needed and, in my opinion, Europe and South Korea will be no different. I have seen all of the carrots and arguments about how those markets differ, but the reality is that one major issue with these drugs is that the weight loss peaks after about 3 months and people are still not at the weight they want. Once that happens, people stop taking the drug having never gotten thin. It is the harsh reality that this space represents. Long ago, when this sector was just getting started, I stated that the best solution for weight loss has not yet been invented. I stand by that assessment. Stay Tuned!
Disclosure: I am/we are long OREX, ARNA, NVO.
I wrote this article myself, and it expresses my own opinions. I am not receiving compensation for it (other than from Seeking Alpha). I have no business relationship with any company whose stock is mentioned in this article.
Additional disclosure: I have no position in Vivus
Editor's Note: This article covers one or more stocks trading at less than $1 per share and/or with less than a $100 million market cap. Please be aware of the risks associated with these stocks.