When you look inside your pantry, you probably see a mix of longtime favorites, some guilty pleasures, and newer, natural and organic products. The latter have been spreading like wildfire as our society continues to give these products precedence. While there's still room for the classics, this space is becoming increasingly populated by healthier, more natural alternatives.
The company behind many of the classics in your pantry is General Mills (NYSE:GIS). You know General Mills from their cereals such as Cheerios and Lucky Charms, as well as staples like Progresso soups and the Betty Crocker line. But, even though General Mills' products are ubiquitous among pantries across the country, the company has fallen victim to the changing tastes of consumers, namely Millennials.
In their third quarter earnings report, General Mills reported revenue of $4 billion, a decline of 4% in constant currency. To offset the sales decline, General Mills has had to cut costs and boost its gross margins. And it has done so with remarkable execution. In the third quarter, General Mills increased gross margins by an impressive 160 basis points, marking the fifth consecutive quarter of gross margin expansion.
For a company its size, the ability to expand gross margins at such a clip is a testament to the brains of CEO Ken Powell and General Mills' entire management team. Much of the margin growth came from cost-cutting, which is more than welcome in a revenue-accelerating environment. However, in a revenue-decline environment - which is the circumstance under which General Mills currently sees itself - a company cutting costs can paint itself into a corner.
Cost cutting can only increase so much without sacrificing quality or efficiency. If revenue declines at the forecasted low single-digit rate, the cost cutting initiatives won't be able to offset the reality of declining revenue.
With that said, General Mills produces ample free cash flow - more enough to cover its bountiful dividend and buyback program. Some companies return cash to shareholders primarily through buybacks, but General Mills is not one of those companies; the cereal giant has bought back a mere 1% of its share count thus far in 2016.
When cost cutting reaches its peak, General Mills will be forced to make an acquisition or, more reasonably, reallocate funds to its buyback program in order to decrease its share count. They serve as the only remaining ways to increase earnings per share in a revenue-declining environment.
Yet, in light of the recent quarter, GIS has continued to advance parabolically. So, too, has the company's valuation. As of this writing, General Mills trades at 22 times 2016 earnings and 21 times next year's. In fact, General Mills is valued more richly than at any point over the last five years.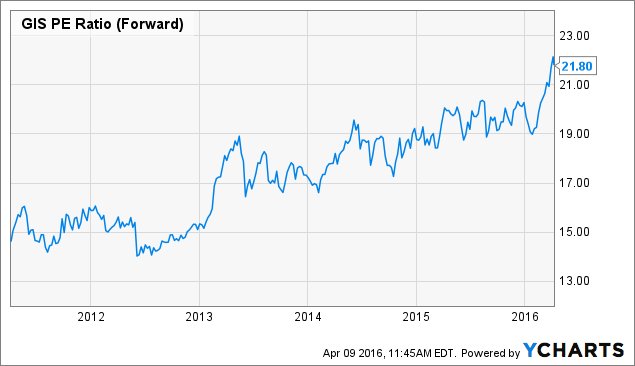 GIS PE Ratio (Forward) data by YCharts
This sparks the question: Does General Mills deserve to be trading at such a high multiple? Absolutely not. Investors have been blindly flocking to the company's historically safe dividend and disregarding the deteriorating fundamentals. I believe that General Mills is simply another stock involved in a near-term dividend bubble that has emerged from the recent market volatility.
As shown by the chart below, high yielding, defensive names have outperformed the S&P 500 year-to-date. The SPDR S&P 500 dividend ETF (NYSEARCA:SDY), comprised of juicy yielders like AT&T (NYSE:T) and Reality Income (NYSE:O), is up 8% year-to-date. Similarly, the Consumer Staples ETF (NYSEARCA:XLP) is up 6% since the beginning of the year. These moves have occurred while the benchmark index is flat on the year.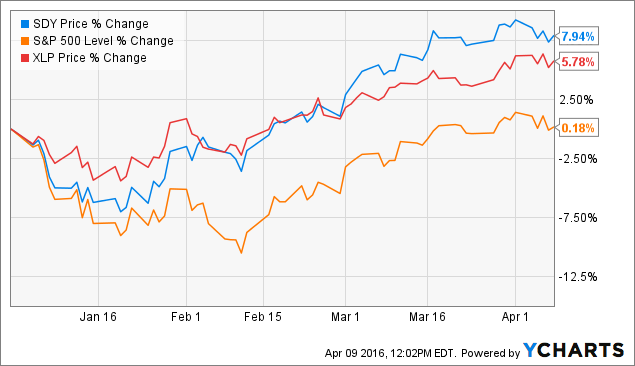 Suffice it to say, GIS has part of a basket of stocks that have run-up too quickly, just because they have a reputation of security and stability. While it makes sense for investors to hide in these names in the wake of volatility, there comes a point at which they pose more risk than their dividends can absorb. In other words, the downside risk associated with buying these names at their current levels is of a larger magnitude than their 3%-5% yields.
Don't get me wrong, though: like many other defensive, high yielding stocks, General Mills has its place in a long-term portfolio. However, I counsel selling the name into the recent strength as I expect a much more lucrative entry point to materialize. With a 60+ year time horizon, I'm interested in buying General Mills after a healthy pullback.
Currently, however, there are companies in the food space that are better positioned to profit from the shifting tastes of the consumer toward natural and organic products. I'm eyeing one company in particular that is growing much faster and is valued more cheaply than General Mills. In part two of this article series, I'll reveal the name of that company and explain why it is more deserving of your capital than General Mills. Please feel free to follow me to be notified when the article is published.
Disclosure: I/we have no positions in any stocks mentioned, and no plans to initiate any positions within the next 72 hours.
I wrote this article myself, and it expresses my own opinions. I am not receiving compensation for it (other than from Seeking Alpha). I have no business relationship with any company whose stock is mentioned in this article.