Following last week's debut, my "Buy on Weakness?" series comes back to unveil potential investment opportunities in the tech world. As a reminder, my goal is to help investors, particularly those focused on value plays, think through fresh ideas in the technology sector for the coming week. The table below highlights the top tech companies, worth $10 billion or more in total equity value, that have performed the poorest in the previous five trading days.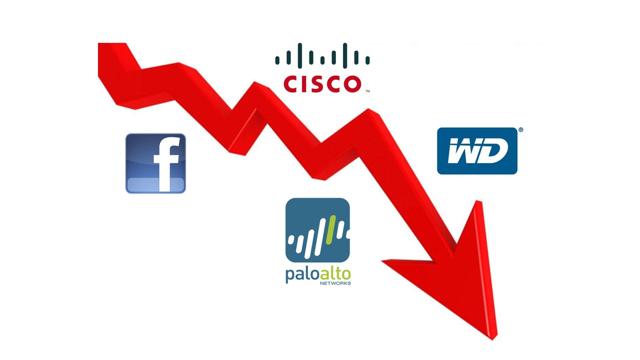 By total market cap loss, the week of April 4th was particularly merciless with Internet companies: $28.4 billion in value was erased from the losers' equity in this subcategory. Within the "top 10 Biggest Loser" list, social media giants Facebook (NASDAQ:FB), down 4.7%, and LinkedIn (NYSE:LNKD), down 6.2%, took spots #7 and #4, respectively. Another $19.5 billion in market value was lost from the software - e.g. SAP (NYSE:SAP) down 3.8% - and $16.9 billion from the telecom - e.g. Verizon (NYSE:VZ) down 3.4% - underperformers.
Top 20 large-cap tech "losers" of Week 14, 2016
Source: DM Martins Research, using market data compiled through Fidelity
Moving on to the big question: should investors consider adding one or more of these short-term losers to their portfolio to take advantage, in the long run, of the price pullback? Let's start by looking at the top 20's valuations.
A few names stand out
On average, the top 20 tech losers of the week have a median forward P/E of 15.8x, compared to the S&P 500's median trailing P/E of 14.6x and the overall tech sector's 25.3x. The group is expected to grow EPS in 2017 by 7.8%, and the companies generate an average dividend yield of 2.9% (13 of the 20 companies are dividend-payers).
The table below highlights, in green font, the top three tech companies in each of the following metrics: projected EPS growth, dividend yield and forward P/E.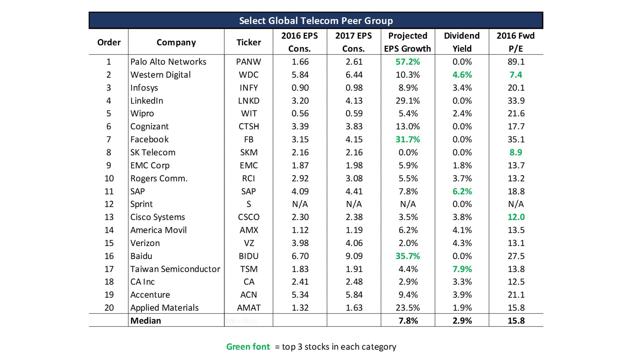 Source: DM Martins Research, using data from Yahoo Finance, Nasdaq and Market Watch
For example, cybersecurity company Palo Alto Networks (NYSE:PANW), the week's biggest loser (down 8.2%), is the highest-growth in the group (57.2% estimated EPS expansion), but also the most expensive (89.1x 2016 EPS) - by a long stretch. The company seems to be under scrutiny for the lower-than-expected op margin expansion guidance shared during the company's analyst meeting, last Monday.
The pullback seems overdone to me, but I have few reasons to be confident that the stock will bounce back to trading near 100x forward earnings again. Volatility in such an expensive, high growth name does not surprise me, as the stock has reached peaks of over $200/share and troughs of $111/share over the past 52 weeks. Growth investors might see an opportunity here that value investors will likely want to stay away from.
On the other end of the spectrum, Western Digital (NASDAQ:WDC) might be worth closer inspection. Following the stock's 7.5% fall last week, its forward P/E improved to a mere 7.4x compared to 8.0x at the close of the prior week (the most attractive valuation in the top 20 list), and its dividend yield to a respectable 4.6% from 4.3%.
Western Digital does not qualify as a "sexy stock" by any means, as 95% of the company's revenues are generated from the sale of hard drives (59% coming from PCs). In addition, the merger with SanDisk (NASDAQ:SNDK) will increase WDC's debt load significantly and mildly dilute its equity. But product diversification into the SSD (solid-state drive) space and synergy benefits from the SNDK merger that could surpass $2.6B in present value (as calculated by SA contributor Alex Zhao) are positive catalysts that may jolt the stock higher. Collect 4.6% in dividends while you wait.
Cisco and Facebook have gone on sale
Cisco (NASDAQ:CSCO) and Facebook have finally taken a breather.
CSCO had rallied roughly 26% between February 10th and the close of the trading week started March 28th. The spike followed an earnings beat, a dividend hike, and a boost to the company's share buyback program. Even at that point, I had made the argument that the stock still looked like a buy, considering its relatively low valuations (9.4x 2016 cash-adjusted P/E, vs. peer's 12.3x), the company's ability to finance what is now a 3.8% dividend yield, and despite sector headwinds. The most recent pullback, which I find very reasonable as investors lock in some of the sizable YTD gains, opens up a window of opportunity. I continue to believe that CSCO is a stock worth about $33/share, suggesting a 20% upside potential from current levels.
Meanwhile, social media giant FB gave up some (4.7%) of the 14.6% gains realized between February 9th and April 1st. The recent drop took place as shipping delays reported last Monday affected early orders of the recently-launched Oculus Rift VR headset. The company also withdrew its bid to stream NFL games, which could be perceived as a blow to CEO Mark Zuckerberg's vision to boost FB's live video services.
As I stated in February, I am skeptical that FB shares could ever be worth enough for me to consider it a good investment. If that was the case back when the stock was valued at $102, it still is today, as shares trade at $110.63. My key concern is that FB is priced for near-perfect execution of its current business model, or for upside from other revenue streams that are currently still in vision mode or in the very early stages of their lifecycles (e.g. virtual reality, artificial intelligence).
I understand, however, that FB could be appealing to many as a growth play. As an interesting anecdote, FB has lost 4.7% or more of its value in a single week only three other times in the past year. In all three cases, shares rallied the following month, for an average gain of 8.5%. Investors that subscribe to FB's growth story, therefore, could take this opportunity to add shares to their existing positions.
Disclosure: I am/we are long CSCO. I wrote this article myself, and it expresses my own opinions. I am not receiving compensation for it (other than from Seeking Alpha). I have no business relationship with any company whose stock is mentioned in this article.