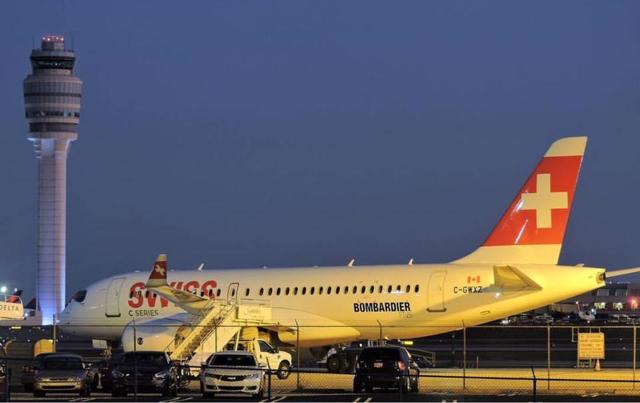 Img 1: A Bombardier CSeries recently photographed visiting Delta HQ in Atlanta
Bloomberg has reported that Delta (NYSE:DAL) is in the final stages of a large aircraft order to replace up to 120 smaller aircraft in its fleet. Bombardier is in the running and an order win for Bombardier (OTCQX:BDRBF) would be a serious positive for both Bombardier and Delta.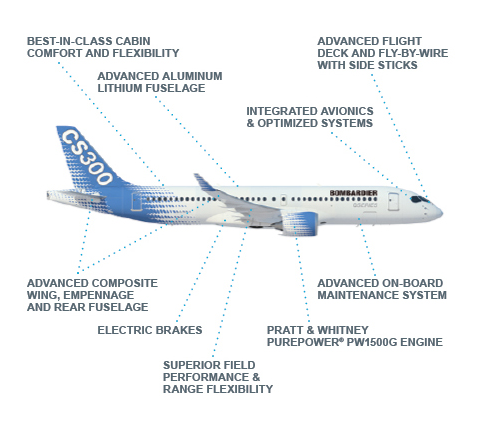 Img 2: Bombardier CSeries Technology Overview
While Airbus (OTCPK:EADSY), Boeing (NYSE:BA) and Embraer (NYSE:ERJ) are also in the running for this order, Delta CEO Richard Anderson made some interesting comments back in January when he stated that the company was very impressed with the CSeries, the technology it delivered and "would buy the CSeries at the right price." Since then the CSeries has visited Atlanta, the headquarters of Delta Air Lines at least two times including last week and Reuters has reported that Bombardier executives were also in Atlanta over the past week. The CSeries benefits from substantial technological advantages compared to both the Airbus A320 and Boeing 737 while also delivering lower fuel burn and operating costs.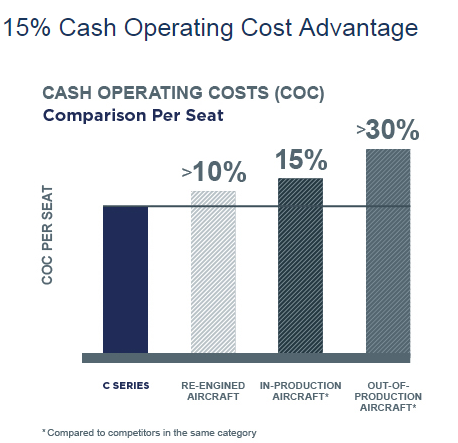 Img 3: Bombardier CSeries Operating Cost Advantages
An order of the CSeries would be a major blow to both Airbus and Boeing and would mark a solid entry for Bombardier into the narrowbody aircraft market as opposed to its current situation which has Bombardier teetering on the edge due to lack of aircraft orders for the CSeries. Boeing realizes this threat after letting United Airlines in the late 1990s order Airbus Aircraft, which saw the aircraft make a major entry into the United States thereafter. The latest United Airlines order for narrowbody aircraft involved the airline picking up 737 aircraft for $22 million a piece according to Goldman Sachs, a substantial discount from their list price of $80.6 million. This discounting shows how serious Boeing is about keeping Bombardier out of the narrowbody market, however despite Boeing's wishes, Delta may wish to keep them in.
Delta Air Lines has turned the airline industry on its head. The airline is a great example of innovation in the airline industry in modern times. The airline has resorted to out of the box thinking, such as buying an oil refinery to control its fuel costs, purchasing equity stakes in foreign airlines to build a presence around the world, and taking on an abundance of Boeing 717 aircraft, an aircraft many saw as obsolete before Delta acquired it. Giving the deal to Bombardier would validate Bombardier as a solid third competitor in the narrowbody aircraft market, something that could benefit Delta for years to come as Delta would have three vendors as opposed to two to source from.
Delta Air Lines is one of the most profitable airlines in the world, and its management is respected among many in the industry and seen as the gold standard. While previous orders for the CSeries from Air Canada and so on are great boosts and keep the program running, they do little more than that. An order from Delta would carry substantial clout and may cause many other airlines in the world to take a second look at the aircraft. It may also put an end to the heavy discounting from Boeing to keep the aircraft out at all costs since Boeing may realize they are fighting a losing battle and only harming themselves. An example to take a look at is the Boeing 717 order I mentioned above. Prior to the Delta order it had next to no interest from any airlines, however following the Delta stamp of approval, the aircraft value soared 17% and lease rates climbed 22%. Robert Agnew, an aviation consultant described Delta as "kind of the market maker."
For Bombardier shareholders, a Delta order has the potential to seriously turn the struggling CSeries program around and give it a major stamp of approval. It may also involve converting the static Republic Airways (OTCPK:RJETQ) CSeries order over to Delta. Speculative investors could look to take a stake in Bombardier stock or call options, or wait until after such an order is announced before taking a stake. If Bombardier does lose the CSeries order, it would be unfortunately another blow to the program. Despite this, there would be one last major airline in the United States who may order it and this is American Airlines (NASDAQ:AAL).
For Delta shareholders, no matter how this order turns out it will be a win. If Delta orders Bombardier, they have validated a third competitor in the space, will be getting the best product on the market in terms of tech specs and will likely be getting a killer deal. The CSeries will also hedge Delta against potential future rising fuel costs as the aircraft is much more fuel efficient than anything else available. On the other hand, if Delta orders from Boeing they are guaranteed to get a killer deal, the same or better to what United received. An order from either Airbus or Embraer would have to trump both of the above proposals so there is no losing for Delta in any case.
Disclosure: I am/we are long BDRBF.
I wrote this article myself, and it expresses my own opinions. I am not receiving compensation for it (other than from Seeking Alpha). I have no business relationship with any company whose stock is mentioned in this article.
Editor's Note: This article covers one or more stocks trading at less than $1 per share and/or with less than a $100 million market cap. Please be aware of the risks associated with these stocks.