Introduction
I'm still trying to find more promising oil and gas companies to make sure I'm ideally positioned by the time the oil and gas prices are gaining momentum again. I don't think we'll see oil prices of $100/barrel anytime soon, but I do expect to see $60 oil within the next 18-24 months, and in order to be prepared for that, I'm looking for existing producers (preferably with decent reserves) and a balance sheet that is strong enough to survive until the oil price starts to move again. In today's article I'd like to investigate Surge Energy (OTCPK:ZPTAF) which really seems to be focusing on breaking even and on protecting its balance sheet, so I wanted to find out if the company was indeed on track to be prepared for another tough year. The company has quite a few followers here on Seeking Alpha, but the most recent article is already 8 months old!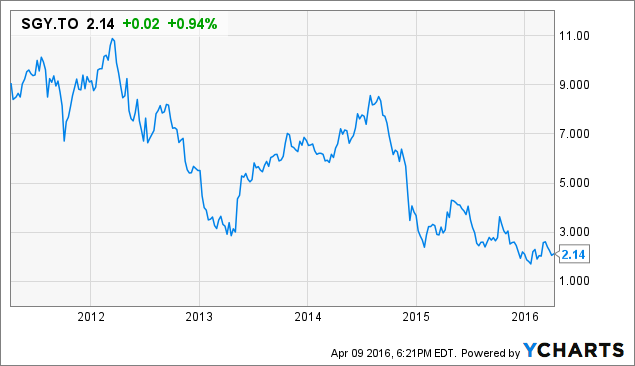 Surge Energy is a Canadian company so I'd strongly recommend you to trade in the company's shares through the facilities of the Toronto Stock Exchange. The ticker symbol is SGY, and the average daily trading volume is approximately 3.1 million shares per day. The current market capitalization is approximately $340M.
Breaking even in 2015 and 2016 isn't a bad thing!
In 2015, Surge Energy saw its total production rate decrease by 13% from 14,800 barrels of oil per day to 12,871 barrels, but fortunately the NGL and natgas production increased by respectively 26% and 7%, so the net impact on the oil-equivalent production rate was just 9% (with a total oil-equivalent production rate of 14,200 barrels per day in the final quarter of the year which takes the huge asset sale into consideration).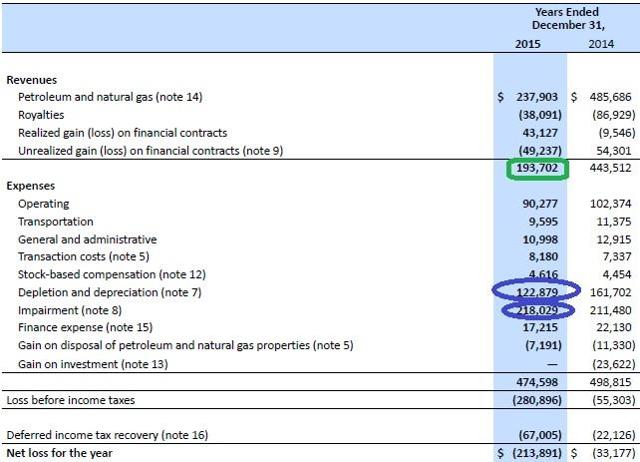 Source: financial statements
The company generated a total revenue of approximately C$194M, but reported a pre-tax loss of C$281M as it decided to reduce the fair value of the assets on its balance sheet by C$218M. Of course, even without this impairment charge the pre-tax and net income would still have been negative, but keep in mind the depletion and depreciation rate of C$123M was also relatively high. And then there's a third factor. The full-year interest expenses were C$17M and even though this already is a substantial reduction compared to the previous financial year, this will drop even further as the company was able to reduce the net debt by selling off assets. The total interest expense in H1 2015 was C$12M (US$9M), but in Q3 and Q4 the interest expenses fell to respectively C$2.6M and C$2.4M (US$1.9M), so that's another way to reduce the cash outflow this year.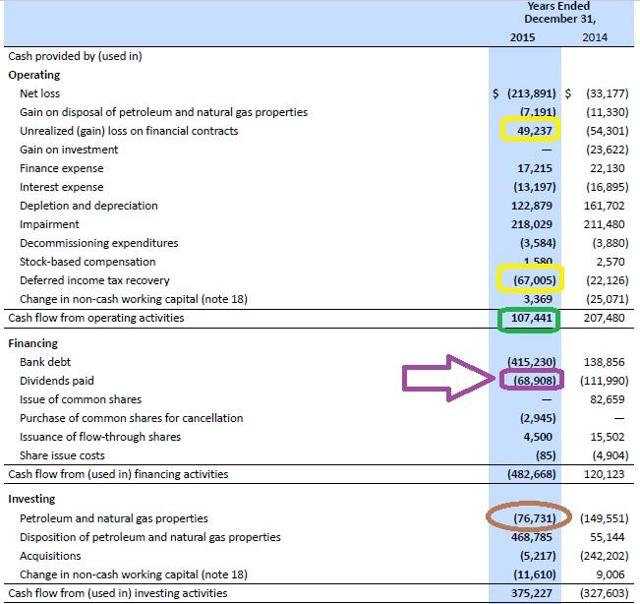 Source: financial statements
Talking about cash outflows (and inflows), Surge Energy's total operating cash flow was approximately C$107M ($80M), and this was sufficient to cover the total capital expenditures on the properties (which have been slashed by approximately 50% compared to the previous financial year). This even paved the way for the company to pay a substantial dividend, but unfortunately the total cost of the dividend was more than twice as high than the free cash flow generated in FY 2015.
Asset sales, dividend cuts, I love it!
That's something I really hate, but I have to admit Surge Energy has taken the right steps to tackle this issue and unlike other companies where the dividend is holy (or semi-holy) and cannot be touched, Surge's management has dared to cut the dividend. In the past 16 months the dividend hasn't been cut once, nor twice, but three times! And yes, I do applaud this move.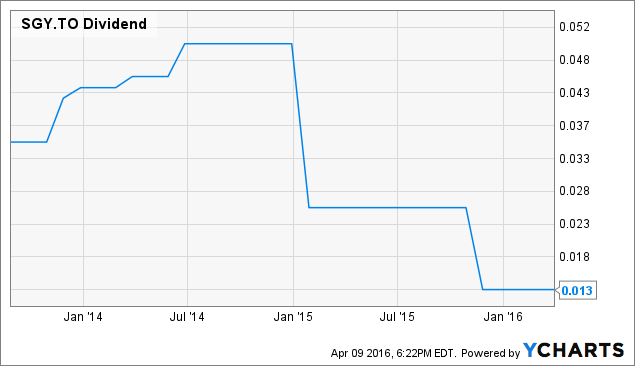 SGY Dividend data by YCharts
Whereas the total cost of the dividend at the end of 2014 was approximately C$11/month (US$8.5M), this had been reduced to just US$2.5M per month at the beginning of this year and after the most recent cut, reducing the dividend by another 50%, less than US$1.5M per month will be spent on dividends. And yes, I think that's a good move, considering the oil market is still quite volatile.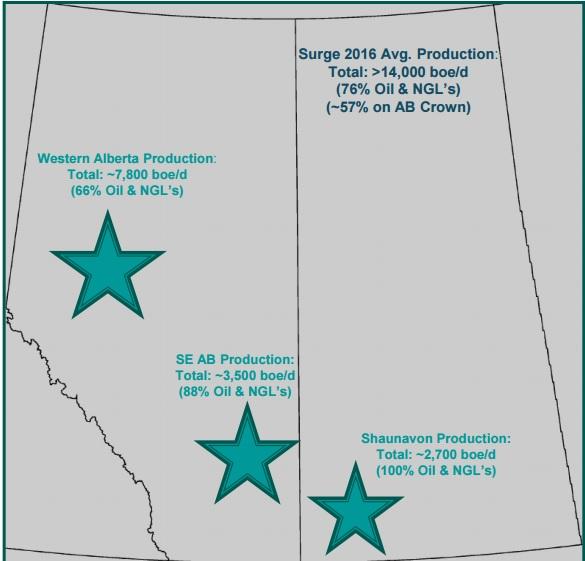 Source: company presentation
On top of that, after having sold approximately US$350M worth of assets in 2015, Surge has now successfully closed the sale of two more properties for a total of in excess of $30M. Of course, in the grand scheme of things that won't matter much after the large asset sale, but it does mean Surge's pro forma net debt as of at the end of last year has decreased to less than US$90M (compared to US$450M at the end of 2014).
This reduced net debt and the high value of its assets (the PV10% on a pre-tax basis based on the total proved reserves is approximately US$535M), Surge is actually in a pretty decent shape. After deducting the net debt from the PV10, the fair value of the proved reserves is approximately US$2 per share, which means Surge is currently trading at a 25% discount to the PV10% based on the proved reserves. If you'd also throw the probable reserves in the mix, the fair value per share increased to almost US$3.5!
Investment thesis
This does sound very attractive, but keep in mind the company's consultants have used an oil price of $60/barrel in 2017, $70 in 2018 and $80/barrel in 2019 for their calculations. However, if you'd apply a 15% discount rate on the proved and probable reserves, the NPV/share would still be US$2.5/share, or approximately 60% higher compared to where Surge is currently trading at.
Cleaning up the balance sheet and reducing the dividend will prove to be a golden move to protect the company for the future, and I think Surge is the only oil company that is openly hinting at potential accretive acquisitions. And yes, I think that's a fantastic way to allocate capital. Forget about paying substantial dividends, if an oil company is predicting a higher oil price, it makes more sense to just go out there and buy more oil properties rather than paying your shareholders a dividend.
I have to say, I'm impressed. The management team seems to be taking all the right steps, and the company is now high on my watch list. Very high.
Disclosure: I/we have no positions in any stocks mentioned, but may initiate a long position in ZPTAF over the next 72 hours.
I wrote this article myself, and it expresses my own opinions. I am not receiving compensation for it (other than from Seeking Alpha). I have no business relationship with any company whose stock is mentioned in this article.
Editor's Note: This article discusses one or more securities that do not trade on a major U.S. exchange. Please be aware of the risks associated with these stocks.