The ISM services index was this week's primary US economic release. The headline number rose 1.1 to 54.5. Production and new orders increased, and the employment index rose above 50, indicating expansion. While the anecdotal comments were generally positive, they contained some negative points:
"Nationally, business seems stronger than a year ago in Q1. Internal volume is better than expected and vendors report stronger Q1 than expected." (Management of Companies & Support Services)
"[Business] conditions are moving at a slow, but positive pace in this market. Expansion efforts are back on the horizon for late 2016." (Finance & Insurance)
"Macroeconomics, the world oil glut, Fed interest rates, foreign currencies in trouble, the slowing Chinese economy and a strong dollar will continue to place pressure on U.S. exports, especially food commodities. These situations have created lower domestic wholesale prices and lower hotel COGS [Cost of Goods Sold]; a win for us." (Accommodation & Food Services)
"Stability/dependability of revenue sources and cost of healthcare continue to be drivers in government revenues and expenditures." (Public Administration)
"Similar to last month, our company continues to look for ways to invest in lowering prices to attract cost-conscious consumers in a highly competitive grocery retail environment." (Retail Trade)
"No new business, but existing business is up 5 percent month-over-month and 40 percent year-over-year, especially in our e-commerce fulfillment services. Subsequent purchasing is relatively flat as productivity improvements are creating more capacity with less incremental cost." (Transportation & Warehousing)
"Lower volumes than expected at the start of the year." (Arts, Entertainment & Recreation)
"Business remains the same with an increase in hiring." (Information)
Several comments noted there was no new business, even with increased hiring. Others described growth as "slow," while some noted the international environment was adding to downward growth pressures. When combined with the report's increased sentiment readings, these statements do not indicate a slower pace in the next few months. Instead, they point to a heightened sense of caution, which may add slight downward pressure to near-term sentiment.
The Atlanta Fed's GDPNow model once again lowered their 1Q GDP projection, this time to .1%. Here's a chart of the model's predictions: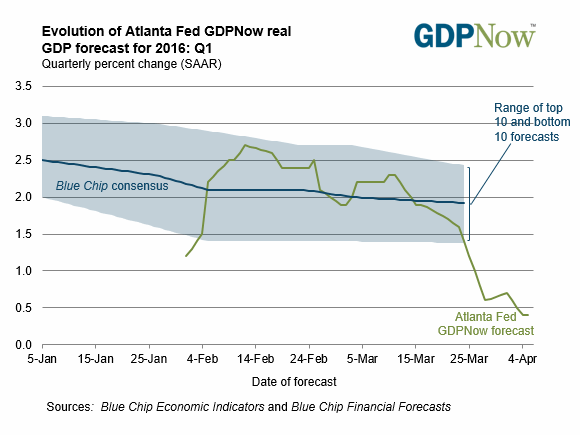 This is concerning, for obvious reasons.
Economic Conclusion: This week's most important development was the drop in the Atlanta Fed's GDP model. Unfortunately, the model has been fairly accurate. And its continually lower predictions for 1Q GDP are in line with recent data. Assuming the model's latest predictions continues its history of accurate predictions, the 1Q report will be disappointing.
Market Overview: This screenshot from The Wall Street Journal shows the market remains expensive on a current and forward basis:

And 1Q earnings projections are not encouraging. From Zacks:
First, Q1 estimates followed the by-now familiar pattern of coming down as the quarter unfolded. Total S&P 500 earnings for the quarter are currently expected to be down -10.9% from the same period last year on -2.2% lower revenues, a sharp drop from what was expected at the start of the period. The chart below shows how growth expectations for the quarter have evolved since the start of the quarter.

Second, not only is the magnitude of negative revisions that Q1 estimates suffered the largest of any other recent quarters, but they are also broad-based and not just a function of Energy sector issues. The Energy sector's estimates have unsurprisingly suffered the most, but the reality is that estimates for 14 of the 16 Zacks sectors have come down since the start of the period. The Energy sector's estimates dropped by more than 100% since the start of the period, but estimates for 6 of the decliners dropped by more than 10% (Technology is one of those).

Third, the growth challenge is expected to continue into the following quarter as well, with total 2016 Q2 earnings for the S&P 500 index also currently expected to be in the negative. We know on past history that Q2 estimates will be coming down as companies report Q1 results share their outlook with analysts. As you can see in the chart below, all of this year's growth is dependent on estimates for the back-half of the year.
Briefly summing their points:
As the 1Q progressed, analysts decreased their earnings estimates.
It's not just an energy sector story anymore.
The weakness will probably continue into 2Q16.
Some analysts disagree. Morningstar recently argued the market was slightly undervalued:
We view the overall market as slightly undervalued, based on our fair value estimates for approximately 1,500 global companies.
The financial services, consumer cyclical, and healthcare sectors are the most undervalued, while the basic materials sector is our only overvalued sector.
Oil price concerns are hurting the financial services sector, while divergent paths for China's future fixed asset investment growth and consumption inform our thinking in the basic materials and consumer cyclical sectors.
And Fear & Greed Trader at Seeking Alpha made the following observation:
In times of little clarity I find it best to consult my contrarian side. The consensus view is that the "real risk" for the S&P is to the downside. It is hard to find more than two people calling for new highs. So in that regard the next big move "may" surprise us all and be in the opposite direction.

If one believes that this is indeed a secular bull market, I will suggest that most of the surprises do come on the upside. The latest "surprise" came in February. As just about everyone that called for lower lows at S&P 1800, were indeed surprised by the subsequent 260 point upward move by the S&P.

Some of the reasons for a possible upside spurt are very simple, starting with the idea that no one is expecting it. For sure, the majority is preaching that there are little or no catalysts for such a move. Sentiment numbers reflect caution and outright bearishness, while money manager and investor "positioning" confirms that.

So, if by some strange course of events we do get positive catalysts, the fuel is there to be ignited. Once started, emotion takes over, and instead of "fear", the tables could be turned to "greed".
While both bullish arguments are well-thought out, I remain slightly bearish, for the following reasons:
The market is expensive.
To move higher, we need revenue and earnings growth.
But that is unlikely to happen in the current environment.
However, I don't foresee a large sell-off. So long as the economy continues limping along, I see the SPYs trading sideways to slightly lower for the near future.