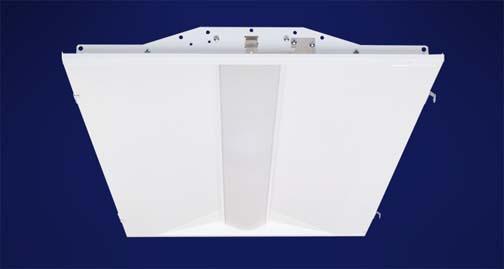 Orion ISON LED Retrofit Modular - LDRM (Source: Company website)
Opportunity
With approximately one billion fluorescent lighting troffers in the United States, the market for LED retrofitting is huge. Troffers (derived from the words trough and coffer) are lighting fixtures typically installed with drop ceilings in retail and office environments. The troffer lighting system has been termed the "workhorse" of retail and office environments. Fluorescent troffers typically are configured in 2' x 2' and 2' x 4' varieties, with one, two, or four fluorescent bulbs or tubes in each fixture. The older, and likely the most common, 2' x 4' troffer typically contains four 40 watt fluorescent bulbs consuming 160 watts of electricity.
Generally, first-generation LED lighting products did not offer optimum characteristics satisfying consumer preferences for light output and color temperature. Much has changed in the LED lighting field to offer products that offer good light output and color quality, as well as output and optical control, vastly outperforming fluorescent predecessors that have been around since the 1940s. With LED, end users have the opportunity to not only improve lighting features and reduce energy consumption, but further reduce consumption with dimming and control systems offered in second-generation products.
Orion Energy Systems (NYSEMKT:OESX) has been designing and selling troffer lighting systems since 2013, when the company purchased Harris Lighting, a Jacksonville, Florida company that specialized in office/retail lighting. With the launch of the new product shown in the above picture, Orion is now in the second generation of LED retrofit products for the troffer space. The Orion ISON™ LDR® Troffer Retrofit Modular, termed the LRRM, is an "architectural" contour design with improved appearance and output. The unit consumes between 29 watts and 63 watts per fixture, depending on the light output version chosen. Depending on the model chosen, energy savings would range between 81.9% and 60.6% for an LED retrofit from a 160 watt fluorescent unit.
To illustrate the market opportunity in the troffer retrofit space by assigning an arbitrary number of $100 per unit would yield a market value of about $100 billion just in the retrofit business. The U.S. Department of Energy estimated that, as of 2014, only about 1% of linear fluorescent lighting had been retrofitted to LED, evidencing the early stage of adoption in process. Orion Energy Systems has a 12-month revenue run rate of only $68 million, including all product segments for commercial, industrial, parking, and other applications. Industrial has remained Orion's strongest segment since its inception; however, LED troffers could significantly increase its market share in the commercial space.
While the author has written a number of articles on OESX, the fundamental performance of the company arguably deserves a much higher price than the current range near $1.40, which may offer an impressive, outsized return in the coming months. The launch of the new LDRE and LDRM products in themselves could drive significantly improved results and stock price, as will be illustrated below.
Innovation is key
LED lighting has been around awhile. However, in the very early stage of development, both in product development and adoption, the dynamics are changing daily. New product introductions have exploded across all segments of bulbs, tubes, fixtures, sensors, control systems, and other components. Success in the business will be achieved by true innovators that develop advanced products which add value to end users, achieve differentiation, and build brand preference. With its recent product launch announcement, Orion continues to prove its ability to innovate with products otherwise unavailable in the market.
New Orion products and why they matter
In 2014, Orion launched a new LED troffer retrofit unit it called the LED Door Retrofit or LDR (installation pictured below). The product was innovative in that the original fluorescent components could be removed from the troffer, followed by inserting two brackets and placing the LED unit inside the frame. The unit originally used the existing lens style to complete the conversion to LED which was later eclipsed by new contour designs. The LDR earned a distinction as an award-winning product that laid the groundwork for further enhancements. The product installed and worked well, but with little improvement in aesthetic appearance. Since the introduction of the LDR, both new construction and retrofit LED troffer units on the market have transitioned to an improved contour design, which offers improvements in both performance and appearance (picture shown on title page).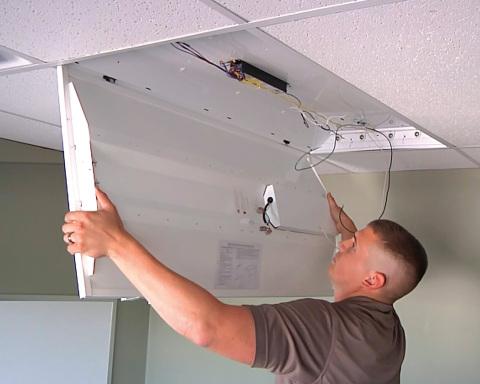 Installing LDR (Source: Company presentation)
A company announcement on April 1 previewed the launch of two new contour design LED troffer retrofit products that are termed "game changers" by the company in stating that the units can be installed in about one minute, in about the same time required to change the bulbs. The two new products are detailed below:
1) The new ISON LDR® Troffer Retrofit Modular (LDRM) unit offers a step-change in advanced features. As will be further evidenced below, there is nothing comparable to it on the market today. The LDRM offers the advantages of the LED conversion with the most up-to-date contour design, performance, and easy install within 1-2 minutes. While other units on the market claim easy-to-install features, no other product comes close to a one-minute install. Installing a few LED troffer retrofits units may not make much difference. However, when 5000 units are installed in an office complex setting, it is a big deal. Furthermore, the LDRM can be upgraded with a new light engine as technology advances, making the item "future-proof," as the company describes it. Complete information on the LDRM is provided on the company website here.
Some of the key product features include:
Patented modular design assembled complete from the factory, powder-coated.
1-2 minute installation, with no tools required.
Light engine can be upgraded as technology improves, without replacing the complete unit.
Smart components that enable hundreds of factory or field-installed options available, including battery backup, dimming drivers, sensors, wireless connection, and mobile technologies, which enable connection to any IT system.
125,000 rated life, maintenance free, 10-year warranty.
A copy of a portion of the sell sheet for the ISON LDRM is pasted below, which illustrates the simple 5-step installation: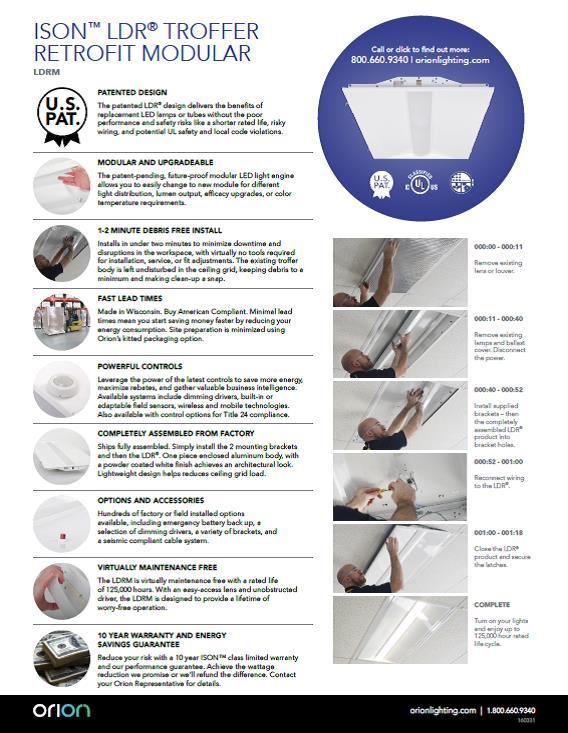 2) The new HARRIS LDR® Troffer Retrofit Edge (LDRE) modular unit has the lowest installed cost of any complete unit offered by the company. Detailed documentation of the product on the company website can be found here. The Harris version (pictured below) appears similar to the ISON unit, with contour, modular design.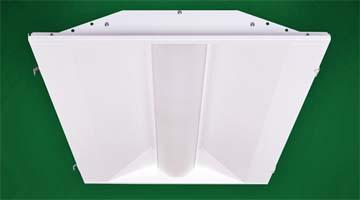 Harris LED Retrofit Edge - LDRE (Source Company website)
A key difference between the ISON and Harris versions is that the light engine in the ISON unit is upgradeable, while that in the Harris unit is not. However, the Harris unit offers the most economical alternative on an installed basis. The Harris LDRE offers a 100,000 rated life and a 5-year warranty.
Both the LDRM and LDRE offer multiple choices in lumen output, ranging between 2000 and 8000 actual lumens and lumens per watt ranging between 103 and 126, as well as color temperature options.
Sensors and controls
Other key features of both the ISON and Harris products include optional controls and sensors, enabling connectivity with the internet and Big Data. Connected lighting systems are quickly becoming part of the overall IT system for organizations. Compared to fluorescent, LED lighting provides much greater control in dimming and other output features which are increasingly part of "smart" connected building systems. However, with the introduction of its latest suite of products, Orion has moved its product offering to the next level of control and connectivity. Instead of using its proprietary offerings, the company elected to partner with the best in class, Lutron Electronics and Enlightened Incorporated, for dimming driver options, controls, and sensors. Lutron and Enlightened are recognized leaders in their respective markets. The new partnerships, timed with the launch of the LDRM and LDRE, offer a compelling total product offering and opportunity as Orion enters fiscal 2017, which began on April 1.
The LED lighting market landscape
All of the largest lighting suppliers, like General Electric (NYSE:GE), Cooper Lighting-Eaton (NYSE:ETN), Philips (NYSE:PHG), Acuity (NYSE:AYI), and others, offer LED troffer retrofit kits that are installed as components, with claimed installation times running from 5 to 30 minutes. However, none offer a product comparable to the Orion LDRM and LDRE in terms of installation. Likely the closest alternative, Philips supplies a modular unit it calls the EvoKit, which is a 6-component contour unit. According to the company, the EvoKit can be installed by an experienced installer in about five to ten minutes. A Philips installation video is linked here.
An online search for pricing of a 2' x 4' Philips EvoKit resulted in retail prices ranging from about $150 to $220, not including shipping. While Orion products are sold in B2B transactions, which do not lend well to retail comparisons, the company has indicated the prices of the LDRE are "in line" with that of the Philips EvoKit. However, since the EvoKit must be assembled by installers on site, requiring tools and a great deal more time, the LDRE offers significant advantage.
It's all about the troffer
In most of its history, the troffer has offered a suitable lighting source at an economically viable cost, but with lackluster appearance. The new modular LED troffers enable an improved appearance, in addition to lower energy consumption. The new Orion LDRE and LDRM, which can be installed in about the same time it would take to change the bulbs, should be a game changer. Most businesses have an assortment of luminary fixtures, which may include office, retail, factory, distribution, exterior, parking, and egress signage, but if they have an office, they likely have troffers. Due to the sheer numbers of troffers and the fact that troffers are present in most businesses, a game-changing product should help drive sales across the Orion product line-up, which includes products for commercial, industrial, retail, government, education, healthcare, transportation, and other categories. The foregoing opens up an entire market for Orion that did not exist just a few years ago.
In past years, Orion's revenue has typically ramped up disproportionately in the 3rd and 4th fiscal quarters ending in December and March, due to year-end budget spends by industrial clients. Before the company purchased Harris Lighting in 2013, it was not in the troffers business. Many customers with a heavy concentration in troffers, like schools and other institutional customers, tend to make facility changes and upgrades during summer months. Other entities like government and healthcare organizations may update infrastructure at any time during the year. As a result, sales of troffers should result in a more evenly distributed and predictable revenue stream throughout the year.
Since entering the troffers business, Orion management has provided lower gross margin guidance for the troffer segment, compared to high bay lighting products, which have been the company's mainstay. Lower gross margins for troffers have resulted from commodity-type products and intense competition in the space. During Q3, management stated that the margins on troffer retrofit products should increase after the launch of new products in calendar 2016. The LDRE and LDRM appear to be the new products mentioned and, accordingly, should drive margins higher. As a common tenet, innovation drives higher gross margins and value for end users. But beyond margins, the advanced, competitively priced LDRM and LDRE should offer a boost in pulling the entire Orion product line through the channel.
Near-term prospects
Since Orion's Q3 reported results (December 31) were a huge disappointment to investors, with a 36% drop in YOY revenue, it remains uncertain what Q4 and full-year fiscal 2016 (ended March 31) will look like. While the company booked revenue of $19.4 million in Q4 2015, management has indicated that the majority of a $7.4 Ford Motor Company (NYSE:F) PO would book in Q4, albeit with a lower gross margin. During the Q3 earnings conference call, management indicated softness in the business, confirmed by a deteriorating PMI (Purchasing Managers' Index) figure below 50, which signifies contraction in business procurement. Recently, the index has begun to trend up, as evidenced in the latest March report. However, due to reported weakness in Q3 results and muted GDP growth, it appears unlikely that the business could "turn on a dime" to produce outsized Q4 results. As the LED transition gains traction and the business environment improves, however, Orion should begin to gain market share and ramp up volume, due in a large part to product innovation advantages.
LED adoption is underway and has just begun. The largest LED lighting transaction to date was recently reported by Current, a division of General Electric, to outfit 5000 J.P. Morgan branches with LED lighting fixtures. The dollar value of the deal was not disclosed, however, it was reported as a record-setting LED lighting transaction. GE does not appear to have product advantage over Orion in the LED retrofit fixtures space. Likely more significant, GE has maintained a business relationship with J.P. Morgan going back to 1892, when the latter put together the merger deal that formed General Electric. It is logical that it would choose General Electric instead of a less-recognized name.
Strategic repositioning
Orion announced on April 5th that it had entered into an agreement to sell its fully owned 266,000-square feet manufacturing, distribution, and office property located on 10 acres in Manitowoc Wisconsin for $2.5 million in cash. The company owns an additional 20 acres adjacent to the site. With $20 million in cash and a strong balance sheet at the end of Q3, it is apparent that Orion is not cash-strapped, and it intends to invest in R&D and product development in the rapidly evolving LED lighting business. Based on what it has done so far in new product launches, with relatively small expenditures on R&D and product development, the decision appears to be well grounded. Moving away from a vertically integrated model, the company is transitioning into a leaner operation with greater return on investment, in order to increase shareholder value. With increasing demands for advanced technology in the space, it becomes apparent that new products require a higher degree of complexity in a greatly enhanced array of features demanded in the space, which will require more outsourcing. Accordingly, the company will lease back 200,000 square feet of the facility, which will have the effect of right-sizing the business and lowering operating costs. The strategic repositioning represents another stage in a process that has been going on for several years in shedding assets (including other property and a corporate jet) to become an asset-light, technology-enhanced business.
The stock today
Trading near $1.40, OESX appears to be bottoming in a long descent down from a multi-year high near $7.00 (January 2014) to a low of $1.18 (February 12, 2016). With a strong balance sheet and compelling line-up of products in the fast-growing LED business, it is hard to imagine the stock going much lower. It could happen, but appears doubtful. In any event, it will likely take improving, strong reported results to move the stock much higher after a long string of earnings disappointments over the past few years. The company completed its fiscal Q4 March 31, and is now operating in fiscal 2017. With a multi-year turnaround in the rear-view mirror and strong fundamentals, it appears likely that the stock will establish an upward trend going forward.
Conclusion
The LED lighting industry is changing at breakneck speed, and it appears that Orion Energy Systems is leading innovation in the LED retrofit space. Due to a challenging turnaround situation, the company has a history of muted revenue and quarterly losses as its legacy business receded with the prospect of LED adoption. Repeated disappointments in reported revenue and earnings have driven the stock down to near-penny stock status in the range of $1.40 per share. But unlike most penny stocks, Orion has a real business poised for a leap forward. The launch of the LDRM and LDRE will take a product conceived in the 1940s (the troffer) and propel it into the high-tech world of today.
A thorough review of Orion, including its product suite, financials, management decisions, business organization, and client roster, reveals a company worth much more than the market currently assigns it. While quarterly losses have been ongoing for quite a while, the company experienced a 57% YOY improvement for the 12 months end December 31, 2015. The author remains upbeat on the company after choosing OESX for an SA contest best pick of 2016, and increasing long holdings in the shares. The shares appear to have bottomed and to be in the early stages of an uptrend. We shall see. Microcap investing is risky and sometimes subject to big disappointments. However, to those who investigate and remain firm in their convictions, ample reward should be the end result.
Disclosure: I am/we are long OESX.
I wrote this article myself, and it expresses my own opinions. I am not receiving compensation for it (other than from Seeking Alpha). I have no business relationship with any company whose stock is mentioned in this article.
Editor's Note: This article covers one or more stocks trading at less than $1 per share and/or with less than a $100 million market cap. Please be aware of the risks associated with these stocks.