Chocolates are popular in the developed markets such as Switzerland, Germany, the United Kingdom and the United States while the desire for chocolates is still very low in the emerging markets. In the U.S., per capita consumption of chocolate is 5.5 kilograms, which is the fifth highest per capita consumption level in a market.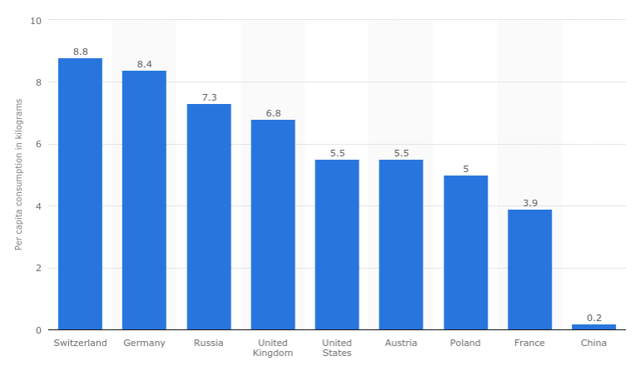 Source: Statista
The Hershey Company (NYSE:HSY), Mars Incorporated and Mondelez International (NASDAQ:MDLZ) are three major chocolate makers in the U.S. Let's take a look at some important aspects to get an idea of the risk-reward profile of Hershey.
Hershey dominates the U.S. chocolate market with more than 31% market share, and its top-notch brands such as Reese's, Kisses, Jolly Rancher, Ice Breakers and Brookside have enabled the company to grow quickly. The historical growth story is impressive, but now there are some fundamental risks attached to Hershey. The first major risk is that the company is witnessing declining growth rates. In fact, Hershey's sales revenue fell 0.5% in 2015 primarily due to global economic turmoil and intense competition while most of its competitors registered healthy growth. The second major problem is that excessive operating costs and write-offs have hammered the operating and net margins in the recent few quarters. Hershey is trying to address these two concerns, but intense competition and unfortunate situation in China will continue to challenge the company's efforts.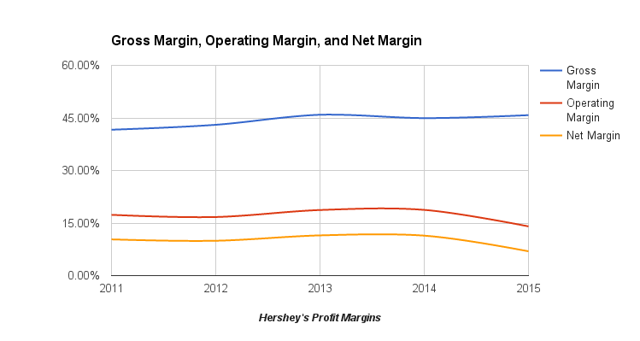 Source: Hershey 10K
Can Hershey Re-Accelerate Growth?
Between 2011 and 2015, Hershey's top-line has grown at a CAGR of 4.9% to $7.386 billion. The company intends to reach $10 billion in annual sales by 2017, a part of this target will be achieved by acquisitions. Hershey has acquired remaining stake in Shanghai Golden Monkey in February, which indicates that the management is acting quickly to boost sales. However, since its first partial acquisition in 2014, Hershey has struggled to benefit from Shanghai Golden Monkey primarily due to the strong market position of Mars, which holds 39% market share China.
Chocolate demand is sturdy in China. However, Chinese consumers now prefer international brands due to questionable food safety measures of local brands. Thus, it would be very hard for Hershey to gain momentum in China despite the deep integration of Shanghai Golden Monkey and Space Chocolate brands with their existing distribution channels.
Per capita chocolate consumption in China is only 0.2 kilograms and the consumption level is expected to grow at a CAGR of more than 6%, which will boost the industry sales value to $4.4 billion by 2020 from $3.2 billion in 2015. As demand is present, Hershey must revamp Shanghai Golden Monkey in addition to introducing a whole new bunch of its international brands to benefit from the growing Chinese chocolate market.
On the other hand, Nestle plans to invest approximately $68.5 million over the next three years in expanding its Italian chocolate brand Baci Perugina in the international markets. At the same time, the company is pushing its premium Turkish brand, Nestlé Damak, in the U.S. to benefit from growing demand for premium chocolates. Ferrero is also aggressively strengthening its footings in the U.S. and other markets, which has enabled the Italian confectionery maker to witness impressive 13.4% growth and expects the momentum to continue in the coming years.
Competition is very intense. To defend its market position, Hershey plans to invest in core brand to innovate and introduce new premium products. According to Mintel, the chocolate industry in the U.S. is expected to reach $24 billion by 2019, an increase of 14% over the next five years. As Hershey is the largest player in the U.S., favorable demand factor will help the company to re-accelerate a low- to mid-single digit growth over the long run. In my opinion, long-term growth of 3%-5%, operating and net margin improvements due to cost cuttings will have a significant impact on the earnings.
Besides stiff competition, Hershey is struggling because of increasing chocolate prices, which have spiked more than 10% over the last one year due to expensive input costs. Hershey's gross margins may benefit from favorable prices, but lackluster volumes could hammer the revenue stream along with a loss of market share to Mars, Lindt or Ferrero. As the prices are expected to accelerate further, launching the smaller bars, increasing the marketing efforts and focusing the premium category will be helpful initiatives.
Are Online Sales A Problem?
Although $342 million in annual sales are just a small portion of the total market, the trend is very robust as online chocolate sales have witnessed 80% growth over the past five years while Hershey's online sales increased by 80% alone in 2015. Online orders are generating additional sales, but skyrocketing storage and shipping costs could hurt Hershey's profitability if left unresolved. Hershey currently charges $6.95 to ship a bag of kisses worth $4.25. The total cost can jump into low twenties by adding liquid ice packs, a foam cooler and expedited shipping to avoid melting.
Hershey is trying to develop new techniques to reduce the massive shipping costs and prolong the storage duration. The company recently conducted a competition to design the lightest and very affordable packaging tools. It seems that Hershey is actively looking for new ideas and any reasonable progress will be a breakthrough for the company amid rapidly growing online chocolate sales.
Overvalued?
2015 was a very tough year for Hershey due to the economic slowdown and challenging environment for local brands in China, which triggered an impairment charge of $280 million. Due to this one-off hit on net income, Hershey currently trades at a trailing price to earnings multiple of 40 times, and the share price has dropped approximately 9% over the last twelve months.
Hershey will report its first-quarter 2016 earnings on April 21 and the consensus estimate is $1.07 per share earnings on $1.91 billion sales revenue. The bet on high-growth meat snacks and new products, such as Snack Bites canisters, Reese's Snack Mix and targeting the market with Cadbury stand-up pouch will complement the performance of core brands. Additional sales from the acquisition of remaining stake in Shanghai Golden Monkey and ongoing cost savings program will help Hershey to deliver upbeat performance.
Hershey's current valuation level looks risky, but it is better to look at the future earnings potential. For the full fiscal year 2016, the company is expected to report earnings per share of $4.36, which means the stock is trading at forward price to earnings multiple of 21 times - pretty much in line with the sector valuation. Undoubtedly, Hershey is facing challenges, but the management is responding to overcome weakness. Thus, positive demand factor, potential to boost the profit margins and very good cash flows position depict that Hershey still has the potential to grow.
Disclosure: I/we have no positions in any stocks mentioned, and no plans to initiate any positions within the next 72 hours.
I wrote this article myself, and it expresses my own opinions. I am not receiving compensation for it (other than from Seeking Alpha). I have no business relationship with any company whose stock is mentioned in this article.