Disclaimer: All numbers reported in € were converted to $ at a rate of 1.13.
BMW (OTCPK:BAMXY) (OTCPK:BAMXF) reported record results for the last year, yet keeps growing over the last months. The company's shares are inexpensive and offer huge dividend yields to investors.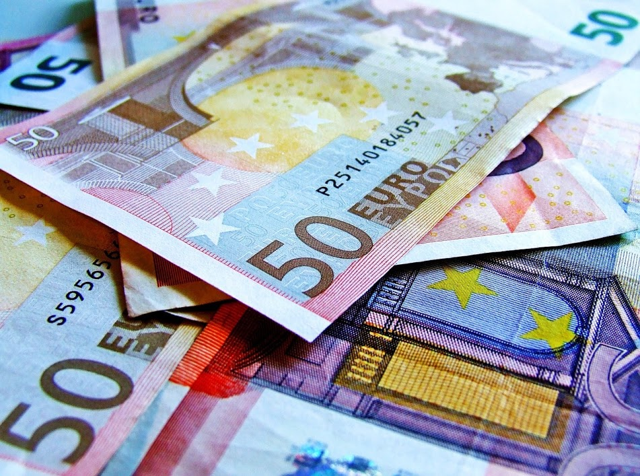 During 2015 BMW has sold 2.25 million cars (of the brands BMW, Mini and Rolls-Royce), which was an increase of 6.1% over the prior year. BMW has also sold 150,000 motorcycles during the last year, an increase of 13% yoy, and lastly BMW's financial services segment has finalized 1.65 million new contracts with its customers, which represents an increase of 10% yoy. The company thus was able to grow in every branch, and the company's full year results show this as well:
BMW grossed revenues of $104 billion in 2015, which was an increase of 15% over 2014's number. BMW's net income grew to $7.3 billion for the last year, which equals a very healthy 7% profit margin -- much higher than the profit margins of competitors such as General Motors (NYSE:GM) and Ford (NYSE:F), which report profit margins of 6% and 5% for the last year, respectively. BMW's earnings per share grew 10% to $10.96 (fully diluted), which looks very low in comparison to the company's share price.
But despite record results for 2015, BMW is not slowing down: The company keeps increasing its sales numbers so far in 2016, thus is on its way to record another great annual result for 2016. In February BMW sold 166,000 vehicles, which represents an increase of 7.9% over the prior year's month. Year to date the company's sales are up 7.7% to 317,000 vehicles. This, by itself, is a good number already, but when we look at the details it turns out to be even better: The BMW brand grew 8.3% year to date, whereas the Mini brand grew 4.1% year to date -- since BMW branded cars come with higher average selling prices than Mini branded cars, we can expect revenues to grow by more than the 7.7% increase we saw in volumes. Shifting towards more BMW branded cars should also be beneficial for the company's (already high) margins. The fact that the company's sales grew 7.9% in February and 7.5% in January also shows positive growth momentum, which the company should be able to turn into very positive sales growth in the near future. Looking at individual car models we see that the volumes of high margin cars such as BMW's 7 series or its X3 and X6 models are growing at an above average rate as well (up 22%, 17% and 20%, respectively), which is the result of consumers not focusing on fuel efficiency as much as they did in previous years (due to gasoline prices being low right now). This trend towards bigger - and more expensive - cars is a positive for BMW's top and bottom line growth.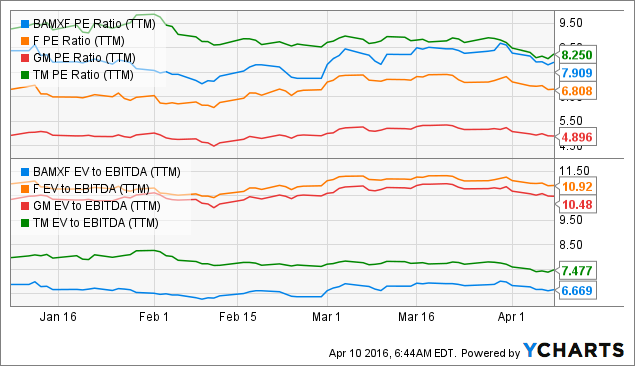 BMW, despite showing attractive growth rates and strong fundamentals, is not expensive. The company trades at 7.9 times trailing earnings, which is slightly cheaper than Toyota's (NYSE:TM) valuation, but more expensive than Ford's and GM's valuation. BMW is, however, the cheapest among the four automobile companies when we look at the EV to EBITDA ratio -- a metric which has been the best in finding attractive investments in the past (as this study shows, EV/EBITDA is more reliable than other single metrics).
We can thus say that BMW is attractively valued, but the company also offers strong income growth opportunities: With a proposed dividend of €3.20 (equal to $3.62) to be paid in May, BMW offers a forward dividend yield of 4.3% right now. For investors focused on income solely, there are also preferred shares available, which trade at $73.50 right now and offer a dividend yield of 4.9%. BMW's proposed dividend of $3.62 (to be paid in May) represents a 10% dividend growth rate over the prior year, which is very attractive for a company which provides such a high initial yield.
Since BMW makes only one dividend payment a year, investors who are looking to get into the stock could do so in the next weeks, before the ex dividend date (May 13) passes. The German withholding tax rate is 26.375%, but can be charged against US taxes, it thus could make sense to hold BMW's shares in a taxable account for US based investors.
Takeaway
BMW's results for 2015 were great, and so far it looks like BMW's results for 2016 will be even better: Overall sales numbers are increasing, and consumers are shifting towards buying bigger, more expensive models, which will lead to outsized revenue and earnings growth for BMW.
BMW continues to be attractively priced, and the company's shares offer strong dividend yields as well. Buying in the next weeks will mean investors will get this year's dividend payment as well.
Disclosure: I/we have no positions in any stocks mentioned, and no plans to initiate any positions within the next 72 hours.
I wrote this article myself, and it expresses my own opinions. I am not receiving compensation for it (other than from Seeking Alpha). I have no business relationship with any company whose stock is mentioned in this article.
Editor's Note: This article discusses one or more securities that do not trade on a major U.S. exchange. Please be aware of the risks associated with these stocks.