We have felt that Sirius XM (NASDAQ:SIRI) was good value for some time, and following an announcement that it is launching e-Sports coverage we find it to be a compelling buy. Part of our concern with Sirius XM was how it will attract enough new subscribers in the future to grow at a reasonable rate. With this launch, it could be a step in the right direction and drive the share price higher.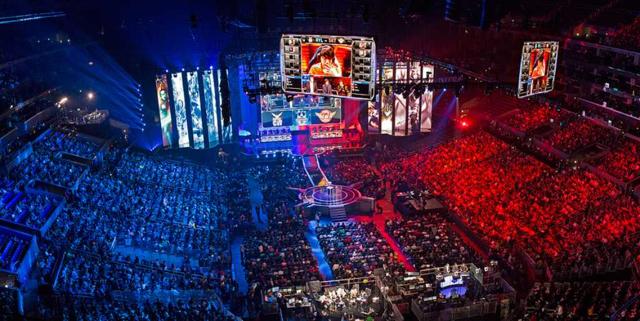 The rise of e-Sports has taken many by surprise, not least ourselves. Which is why we are delighted to see Sirius XM move into covering the growing competitive gaming industry. Last week the company announced a partnership with leading internet media company IGN to produce a new daily e-Sports satellite radio show. Dedicated to the growing world of competitive gaming, it will be hopeful to capture some of the hundreds of millions of gamers in North America as subscribers.
The IGN e-Sports Today show will be hosted by IGN's Kevin Knocke and provide gamers with the opportunity to call in and take part in discussions like you would expect of any sports radio show. Providing news, analysis and coverage of the industry's marquee competitions featuring League of Legends, Counter-Strike and Hearthstone, to name just three, we expect it could be a big hit with the fanatical followers of e-Sports.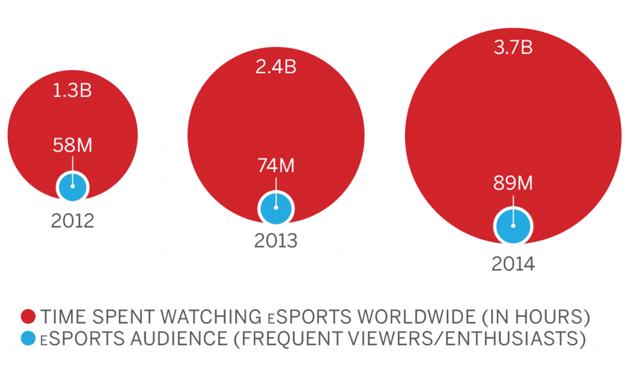 Source: ESPN
As you can see above, the industry is growing at a very high rate. We would expect 2015 to have been a similar story, if not greater as the wider public start to sit up and take notice. According to ESPN, the largest e-Sports tournaments now attract more viewers than even the NBA finals. Of course, viewing and listening are two very different things. But we still see a sizable opportunity here for Sirius XM.
Late in December when Sirius XM announced that Howard Stern had agreed to stay on for another five years, it was stated that the deal includes its first foray into streamed video programming. Details of the video streaming are still forthcoming, but we feel it is fair to presume that there could be plans for video streaming to go beyond just Mr. Stern's shows.
We see a big opportunity for the company to video stream its e-Sports show. Especially considering the viewer figures we mentioned above. Added to this, Amazon (NASDAQ:AMZN) paid almost $1 billion for Twitch - a popular internet video channel for broadcasting and watching people play videogames, so clearly there is a big and growing audience for this.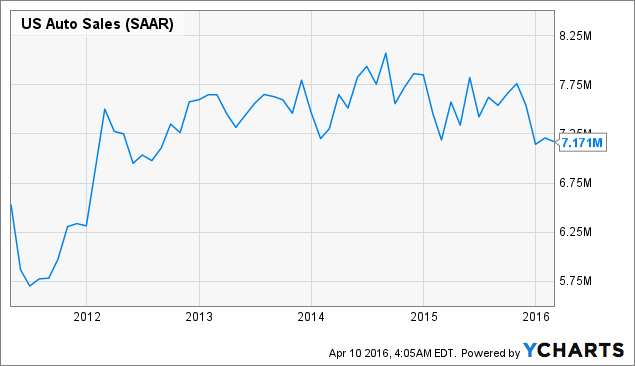 This could help offset any potential decline from the soft auto sales we have seen so far in 2016. There are some fears that auto sales in the United States have peaked. However, a positive from this is that many believe that if this is the case, then manufacturers will start to reduce prices in order to boost sales and grow or hold onto market share. This would only be good news for Sirius XM.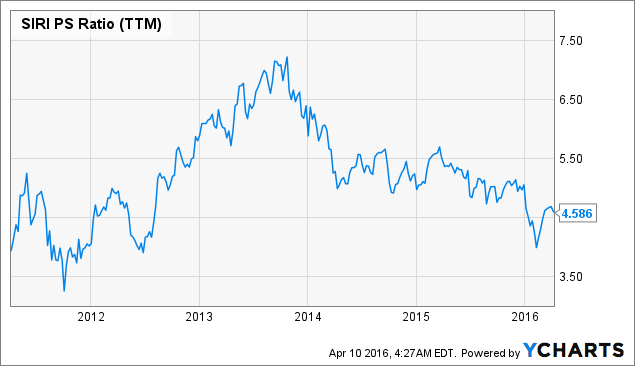 We feel a price-to-sales ratio of 4.5 is about fair for the stock. We are pleased with how the company is performing and expect it to produce sales of $4.96 billion for the current fiscal year. With an estimated 5.25 billion shares outstanding at the end of the year, we have a price target of $4.25 for Sirius XM. This price target represents a return in the region of just over 10%.
In our opinion Sirius XM is a great company with a bright future ahead of it. The move to offer coverage on e-Sports could potentially open it up to a new market that helps boost subscriber levels. At the current price we feel there is a lot of upside ahead and fully expect shareholders to be rewarded for holding tight to their shares in the long term.
Disclosure: I am/we are long SIRI. I wrote this article myself, and it expresses my own opinions. I am not receiving compensation for it (other than from Seeking Alpha). I have no business relationship with any company whose stock is mentioned in this article.