At 30x TTM earnings, Costco (NASDAQ:COST) is trading at a premium to its industry peers. Even the forward PE multiple is sitting ~45% above the industry average, so it is clear that the shares are relatively expensive and that there are high growth expectations associated with Costco. Many analysts believe that the premium valuation isn't justified at the moment considering Costco can't keep accelerating store growth in the U.S as it is precipitously approaching an inevitable saturation point. Comps sales growth was 1% in 2015 versus a whopping 10% in 2011.
All this isn't too surprising given the scale of Costco's business. Costco sells more than $100 billion of merchandise through its warehouses that contain nearly 100 million square feet of operating floor space. A business operating at such a large scale has to slow down at some point. But 'slowing down' can be interpreted in different ways and that is why there are disagreements.
My view is that concerns regarding Costco's growth prospects are justified only to a certain extent and analysts may be ignoring a couple of key catalysts that could drive Costco higher.
Costco derives a large proportion of its operating income from membership revenue, which has grown steadily over the years. In Q2 2016, Costco's membership fees accounted for ~70.4% of operating income. Thus it is worth considering the factors that can affect memberships.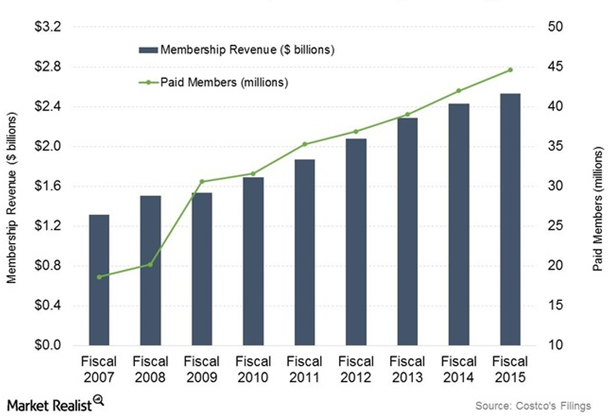 Last year, Costco announced that it wouldn't be renewing its 16-year alliance with American Express (NYSE:AXP) and somewhere from mid-2016, credit cards would be issued by Visa (NYSE:V). This transition will have important positive implications for Costco's membership revenue and customers. The new Visa card has a better cash-back program, being ideal for consumers who spend a lot on gas and restaurants, but that isn't the main reason why I think Costco's membership base will expand rapidly in 2016 and beyond.
Costco's decision to switch to Visa tells me that the company is now looking to attract millennials. Of course, Costco is a place geared towards meeting the needs of large families who are willing to purchase merchandise in bulk but that doesn't mean that Costco doesn't want to see young individuals in its stores. A substantial proportion of millennials, who don't have a viable source of income, find it easier to obtain VISA cards compared to American Express cards because of American Express' stringent financial requirements. Moreover, the number of Visa cards available in the U.S is roughly six times the number of American Express cards available in the U.S., so this transition significantly raises the upper limit on the revenue Costco can generate from memberships.
The chart below shows that membership fees constituted more than 70% of Costco's operating income for the period 2011-14. Following the Visa deal, new customers can't get a card from American Express and must wait until Visa starts issuing its credit cards. This suggests that Costco's membership revenue for 2015 might have been understated explaining the low contribution of membership fees to operating income in 2015. I expect this contribution to rise back to at least 75% in 2017 and continue hovering close to that figure after 2017.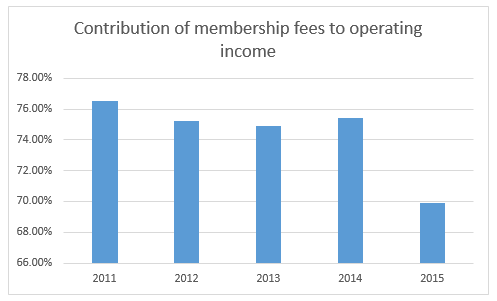 (Source: Costco's latest 10-K filing)
To expand membership revenue, it has been Costco's priority to convert Gold Star and Business paid cardholders into executive members, who make valuable additions to the company's top line. In 2007, only 23 out of every 100 eligible cardholders were executive members. This figure has risen to 39 now. Since 2011, however, as can be seen below, the annual ratio of executive members to total cardholders has been rather stagnant. This does not mean that paid executive memberships are not increasing. In fact in the second quarter, Costco increased executive memberships by 18,000 per week which is impressive. However, in recent years, the increases in total memberships have matched the growth in executive memberships. This may have been one of the reasons why Costco decided to switch to Visa and the move, in my opinion, will noticeably increase the proportion of cardholders who are executive members.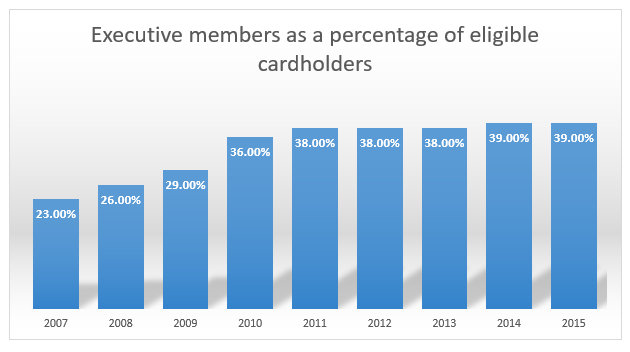 (Source: Costco's annual filings)
Memberships are an integral part of Costco's business model. But the function of cards isn't solely to generate income; they are, above all, a great marketing tool. Owing to the underlying strength of Costco's business, which is driven by efficiency and consumer loyalty, I believe Costco would have been a monster even 'without' membership revenue. If we just look at Costco's sales per square foot, which is arguably the best metric to assess the success of a retailer, it is clear that the company is head and shoulders above its industry peers. This is a clear reflection of Costco's economic moat.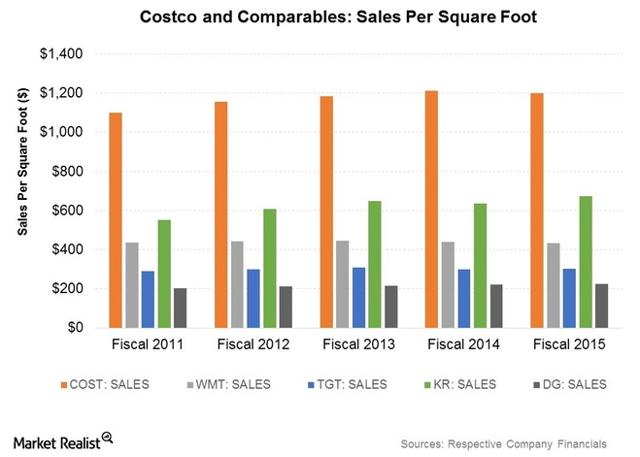 E-commerce is another, slightly hidden, factor that could drive Costco's revenues. Although Costco does not have any serious plans of implementing omni-channel initiatives, e-commerce sales will almost certainly grow at a decent pace as the company expands its online presence in more countries. Previous quarter, e-commerce sales increased by 18% and Costco online is now in six countries.
Compared to Wal-Mart (NYSE:WMT), e-commerce is a bigger part of Costco's business. Growth in e-commerce will be beneficial for Costco's margins too.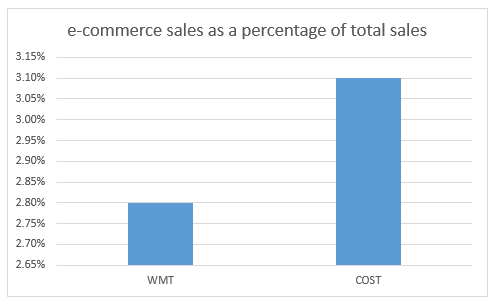 (Source: eMarketer)
Conclusion
All in all, Costco has boundless opportunities to keep growing profitably. Shares have almost always looked expensive but given the company's growth prospects and potential catalysts, I would be willing to pay a premium. Regardless of the precise intrinsic value of COST at this point, you wouldn't regret buying this company's shares for anything less than $150.
Disclosure: I am/we are long COST.
I wrote this article myself, and it expresses my own opinions. I am not receiving compensation for it (other than from Seeking Alpha). I have no business relationship with any company whose stock is mentioned in this article.