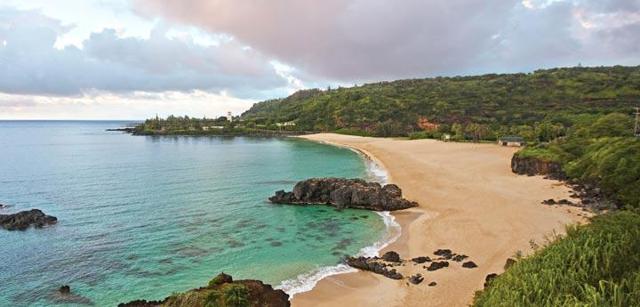 Starwood Hotels & Resorts Worldwide (HOT) has agreed to be acquired by Marriott International (NYSE:MAR). Starwood CEO Tom Mangas suggests this could lead to a consolidation trend in the hotel space, even as the company is selling off assets. Is bigger better or is it the same old property story: location, location, location?
Party crasher
Marriott and Starwood had basically agreed to a deal and then a foreign buyer, Anbang Insurance Group Co., stepped in with a better deal. After a brief courtship that resulted in Marriott upping its offer, Anbang suddenly pulled out of the running. That left Marriott the winner, but at a higher price than it originally intended. Even so, Marriott CEO Arne Sorenson said he had, "zero buyer's remorse."
Stepping back from the specifics of this deal to look at the bigger picture, Starwood's Mangas made some interesting comments. For example, "Clearly the Marriott-Starwood transaction has created a lot of chatter about further consolidation." And, "To the extent that we execute well, I think [competitors will] feel increased pressure for consolidation in what's an extremely fragmented market worldwide."
Speaking to the merged Marriott and Starwood, Mangas noted that the combined companies will be huge, but, "...we'll still have a tiny market share worldwide, which creates significant opportunity for us." So while competitors might feel the urge to merge, the Marriott/Starwood combo doesn't sound like it will be a spectator sitting on the sidelines.
But here's the interesting thing, Mangas also explained that Starwood still plans to divest up to $1 billion worth of hotels this year. According to the CEO, "We still feel very good about hitting our disposal targets for the year despite the relative noise of this transaction." And, "Surprisingly, we still see good demand..." from sovereign wealth funds and foreign companies like Anbang, as it were.
Is bigger better or what?
So here's the question, is bigger better or is owning the right assets in the right places more important? To some extent the answer is probably both, but it's an interesting issue to watch. There are clear benefits to having international brands with broad reach, but that's only true if you also own the right assets. A huge portfolio of iffy properties is far less desirable than a smaller portfolio of prime properties.
If you want proof of that, look at Taubman Centers (NYSE:TCO) and Pennsylvania REIT (NYSE:PEI) in the mall space. Taubman over its life has sold more mall properties than it owns today, including many it built itself. It owns about 20 malls, all of which it believes have leading positions in their markets. Penn owns around 30 properties and has been selling off malls that are less desirable.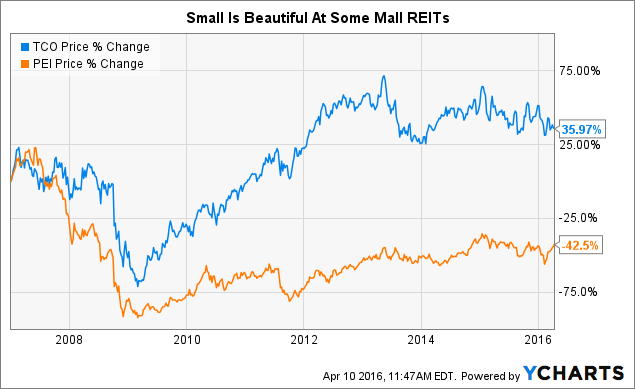 TCO data by YCharts
But here's where the real story lies: Taubman's malls had sales per square foot of around $800 in 2015 and Penn ended the year with sales per square foot of around $435. Which company do you think gets to charge more rent? To be fair, Penn has been working hard to rid itself of laggard malls. For example, it just agreed to sell four properties, bringing its total dispositions since late 2012 to 13. The average sales per square foot for these 13 malls was around $270 and they brought in rents 50% lower than Penn's core properties.
Clearly, having better properties is working out well for Taubman. And after getting into trouble with too much debt and too many second rate malls when the deep 2007 to 2009 recession hit, Penn REIT is clearly getting on higher quality bandwagon. But compare these two to another industry player, Simon Property Group (NYSE:SPG), with around 200 malls.
Simon owns a lot of high-end malls and boasted sales per square foot of around $620 last year. Compared to Penn that sounds great, but it's roughly 20% below Taubman's tally. So, owning the right malls and running them well is clearly important, but how many malls can be the right ones? Is there a point where size becomes a detriment to execution? When it comes to malls, the numbers suggest the answer to that last question is probably yes. (For the record, Simon's stock has outperformed Taubman's since the recession, even though Taubman's malls are performing better.)
Apples and oranges
In some ways this may be less of an issue with certain types of assets, say standalone triple net lease properties. But when service is key, getting ever larger may not be the best answer. Malls are increasingly about providing a great shopping experience. That's very much a service issue. Hotels, meanwhile, are clearly about service.
And while Taubman, Simon and Penn are REITs, they offer an interesting look at an issue that hotel owners, REIT or not, are likely to face. Moreover, as hotel operators look to shift toward an asset light model, REITs are likely to play an increasingly important role. For an example of that, look no further than the recent announcement by Hilton (NYSE:HLT) that it plans to spin off a REIT.
As you examine the Marriott/Starwood deal, think about the implications of greater size. There are clear benefits to be had in increased scale, but at some point bigger may not be better if it means watering down the success of the portfolio's best properties. In other words, $1 billion may not be enough on the disposition front for Marriott/Starwood.
Don't stop with this deal, either, look at the other property owners in your portfolio and think about size versus performance. Smaller may, in the end, be a better option. And on that score, you might prefer to own a hotel REIT that can cherry pick its properties and operators, with a focus on owning a smaller collection of higher performing assets.
Disclosure: I/we have no positions in any stocks mentioned, and no plans to initiate any positions within the next 72 hours.
I wrote this article myself, and it expresses my own opinions. I am not receiving compensation for it (other than from Seeking Alpha). I have no business relationship with any company whose stock is mentioned in this article.