As a long-time SolarCity (NASDAQ:SCTY) investor, the apparent collapse of SunEdison (NYSE:SUNE) caused me some lingering doubts. In many ways, the companies were similar. Both are (or were, in SunEdison's case):
Ambitious
Unprofitable
Growing rapidly
Attempting to diversify
Even in name, the companies are similar. So I run the numbers here as part of my due diligence. My conclusion is that there are some significant differences in terms of asset creation and revenue creation. The collapse of SunEdison probably could have been predicted by its flat revenue and perpetually-negative net income. Keep in mind that the most recent figures for SunEdison are outdated, as the company has still not filed its 4Q2015 report.
It seems that SunEdison's collapse was likely caused by a liquidity crisis, so let's examine "current ratio" first. That is the ratio of current assets over current liabilities, and a higher current ratio indicates less probability of a liquidity crunch. Maybe a more meaningful name is "working capital ratio." A ratio over one indicates the company could probably pay its short-term bills immediately, if necessary, by liquidating assets.
A low current ratio might be a sign of a tenuous financial position, or it could be a sign that the company utilizes capital efficiently. In other words, a company with a low ratio needs to run a tight ship to keep its budget balanced.
Surprisingly, SunEdison had a decent ratio of 1.13, compared to SolarCity's (0.756). This would indicate, in theory, that it should have been able to pay its bills. That is one major reason why the abruptness of its collapse has been so shocking. Quite likely, severe accounting errors were the culprit.
The low ratio for SolarCity is a bit alarming, but consider what investopedia.com has to say:
There are many ways for a company to access financing, and this is particularly so if a company has realistic expectations of future earnings against which it might borrow. For example, if a company has a reasonable amount of short-term debt but is expecting substantial returns from a project or other investment not too long after its debts are due, it will likely be able to stave off its debt. All the same, a current ratio below 1 is usually not a good sign.
The situation of predictable returns from new projects is exactly the position in which SolarCity finds itself.
Moving along to Revenue. Despite many acquisitions, SunEdison was never able to grow revenue much, other than one isolated spike in late 2014. On the other hand, SolarCity has been very consistent with its revenue growth. Also notice the seasonality of SolarCity's revenue -- it tends to spike early in the year, so look for a revenue jump in the first quarter or second quarter earnings report.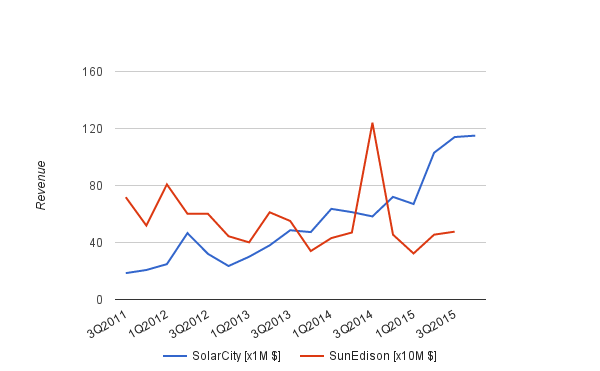 In terms of Debt-to-Assets, SolarCity and SunEdison have maintained approximately constant ratios for many quarters. However, SunEdison's debt-to-assets ratio was about 20% higher. Notice that, although SolarCity's debt-to-asset ratio is approximately constant, the absolute difference is growing quickly. (via Google finance)
| | |
| --- | --- |
| SunEdison | SolarCity |
Finally, let's look at Net Income. SunEdison has not seen positive net income for years. Meanwhile, SolarCity had positive net income for six of the past 18 quarters, including the most recent.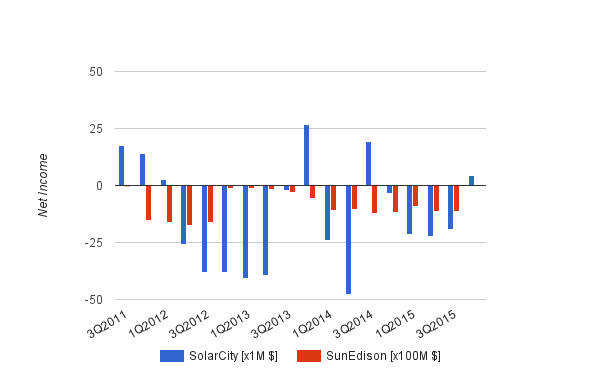 The attempt to diversify into residential solar was another factor which contributed to SunEdison's collapse, and I worry that SolarCity may be following a similar trajectory with the Gigafactory. Solar module prices are dropping precipitously and the Gigafactory may have trouble competing. Module are selling now for around 53 cents/Watt, while the cost of panels from the Gigafactory is estimated to be ~55 cents/Watt. The new SolarCity panels won't save on manufacturing costs, but it might be worthwhile from an installation perspective (since higher-efficiency panels are cheaper to install). Will it be worth the risk of building a Gigafactory? I doubt it.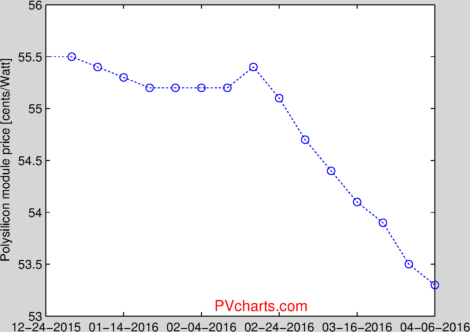 Most importantly, I am grateful that SolarCity's competent management team has focused on improving its cash flow since approximately months ago. That alleviates my greatest concern (liquidity) and shows that this management team (unlike SunEdison's) is on top of its game.
For now, I remain bullish.
Disclosure: I am/we are long SCTY.
I wrote this article myself, and it expresses my own opinions. I am not receiving compensation for it (other than from Seeking Alpha). I have no business relationship with any company whose stock is mentioned in this article.
Editor's Note: This article covers one or more stocks trading at less than $1 per share and/or with less than a $100 million market cap. Please be aware of the risks associated with these stocks.