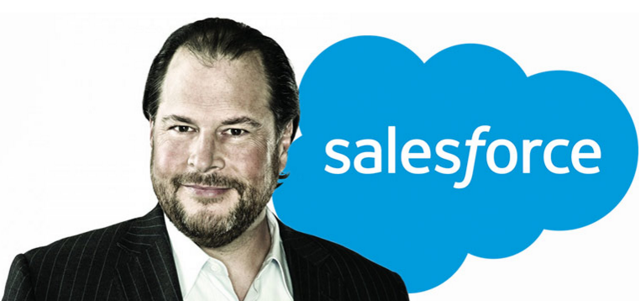 Salesforce (NYSE:CRM) loves to talk growth statistics and non-GAAP profit measures during results announcements. Generally, actual GAAP measures need to be dug out of the filings as management mostly communicates with investors in terms like "non-GAAP earnings," "Deferred Revenue," and "Un-billed Deferred Revenue."
I have written about Salesforce in the past, and have spent some time explaining the accounting treatments Salesforce applies (here, and here). I also tried to shed light on the use of the non-traditional accounting measures used by Salesforce. In my view, Salesforce is one of the companies that has been front and centre in this game, although there are more and more companies reporting figures which are far from actual GAAP results. The gap between GAAP and non-GAAP at Salesforce has increased over the past few years and this is often indicative of management scrambling to report attractive looking measures despite deteriorating underlying fundamentals.
The reality of Salesforce's results are that they have shown impressive revenue growth, but so far no profits (on a GAAP basis). The revenue growth has also come down over the past years as can be expected once you surpass the 5 Billion USD mark in revenues.
Growth, but at what price?
The question, though, is not whether Salesforce is growing. It clearly is. The question is how fast it can continue to grow in the near future given the increasingly competitive landscape. Also, what will the margins be a few years down the line and will the end result warrant the current 50 billion USD market cap.
Let us have a look at the revenue development over the past few years to get a feel for the growth:

Source: author's work based on company's annual reports
Please note that the FY 2017 guidance comes from management, not from analysts, indicating that management itself foresees lower growth, at least for the coming 12 months. The trend is clear: growth is leveling off and the days of 30%+ growth are over. Salesforce hopes to achieve 20% the coming year.
Let's move on to margins as reported by Salesforce through its quarterly filings. This is where we face a choice of which metric to use. Salesforce prefers to report results in terms of "adjusted earnings" or "Non-GAAP earnings." I prefer GAAP earnings as it adds back the expenses associated with stock awards, an essential part of compensation.
On a net profit basis, Salesforce has not turned a profit, ever. For the coming year, Salesforce has guided to non-GAAP earnings of 99 cents per share. However, GAAP EPS guidance is a loss of 2 cents to 0 cents. That's correct, Salesforce essentially is guiding for another year of no profits for ordinary shareholders.
Listening to management, I get the feeling that talking about these actual results is somehow frowned upon in the Salesforce community. "It is not about current results, because we are investing for the future" they seem to be saying. However, this has been the story for years. With growth now decelerating, improving margins becomes more urgent than ever. So why is Salesforce not cutting costs now that it has a substantial recurring client base? Surely, Salesforce management is operating the company in the best interest of shareholders?
Part of the truth I believe lies in the competitive dynamics of this industry and the way incentives are structured for management. The SaaS CRM industry is dominated by a few large players (Microsoft (NASDAQ:MSFT), SAP (NYSE:SAP), Oracle (NYSE:ORCL)), but is increasingly being targeted by a large number of smaller players presumably attracted by the growth rates in this space over the past few years. These new players seem to offer somewhat similar cloud based solutions at a significantly lower cost than Salesforce.
As Salesforce essentially sells subscriptions with a typical duration of 12 to 36 months, the renewal rate is of crucial importance to them, as this is where they face "leakage" of customers to alternative providers. While the attrition rate so far has hovered around 10%, the question is how long they can keep it there with the current marketing and sales machinery in place, let alone if they would start cutting back on expenses in that area. That is why Salesforce has enormous marketing expenses and is spending substantial amounts on sales commissions and employee stock options, as these are critical in keeping the show going and the employees motivated.
As a side note, stock awards and options is one item, which is excluded from adjusted earnings, but included in GAAP earnings. Salesforce has taken the position that it constitutes a long-term incentive and therefore does not affect the performance in any particular period and hence should be excluded from expenses. However, a quick glance at this item over the past 5 years shows that it is in fact recurring and growing and hence it seems to be part of the cost of doing business. It seems to me that in order to retain talent, Salesforce uses this as a part of the compensation package, and if it were to drop this expense, it would have to replace it with a cash salary or risk losing its employees.
Here's a second reason why I believe management prefers to continue to invest heavily in growth rather than focus on improving current profitability. Let's say Salesforce would somehow dramatically improve profitability from 0% to a net margin of 10% over the next 2-3 years (unlikely, as competition will put intense downward pressure on prices), while growing revenues from the current 6.7 Billion USD to 10 Billion USD. That would then imply a net profit of 1 Billion USD, which would mean that 2 years into the future, Salesforce would sport a P/E of 50 based on current stock prices.
Management knows that in order to achieve a net margin of this magnitude, it needs to slash costs and that would slow growth even further. Suddenly, the question of valuation becomes inescapable as the earnings announcements cannot get around the fact that growth is slowing while the sky-high valuation implies aggressive growth for the next 5-10 years. At the current valuation, Salesforce would need to quadruple its sales to get to a more reasonable Price to Sales ratio of 2.
I do not believe in complicated financial forecasts when it comes to companies like Salesforce. My above approximation is not fancy, but it gives a feel for what needs to happen for Salesforce to escape a dramatic fall in market cap. Let us continue on the basis that Salesforce will be able to turn a 1 Billion USD profit in 2 years' time and let us assign a 20x P/E multiple to that (generous, as growth is unlikely to be more than 20% by that time).
That gives us a valuation of 20 Billion USD 2 years from now. Now, let's take a discount rate of 15% (again, generous considering the risk associated with an investment like this). That gives us a valuation today of 15 Billion USD or a 70% downside from current prices. While it could turn out a little worse or a little better than the above scenario, I think this stock has run its course and investors that get in at current prices are setting themselves up for large losses.
So why has the share price not fallen already?
The vested interests in keeping the share price where it is or higher are huge. Institutional ownership is very high for this stock (over 85%) and most of the institutional investors cannot sell a substantial portion of their holdings without causing a price drop.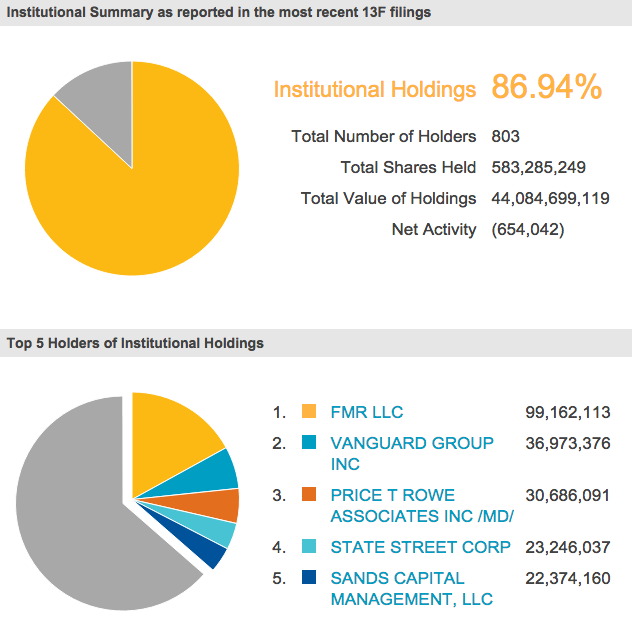 Source: nasdaq.com ownership summary CRM
I partly think institutional holders may be waiting for a stronger market to gradually offload shares. Another effect often at play is that institutions simply hold this because they track an index and they have to include it. However, as the price goes down, they need to sell to adjust their holding in a market cap weighted index leading to further share drops. This is a reflexive pattern that can continue for a while and often leads to an acceleration of the fall of a share price.
The CEO is also one of the biggest shareholders. He has been selling down his stake for years, and at a rapid pace. It would be very disappointing for him indeed if the price at which he sells would fall from current levels and so all efforts are aimed at presenting Salesforce as the ultimate growth story. And that is why the earnings announcements focus on the rosy opportunities that lie in the future and on non-traditional measures of profit, not on current actual earnings.
The following overview of insider buys versus sells is illustrative: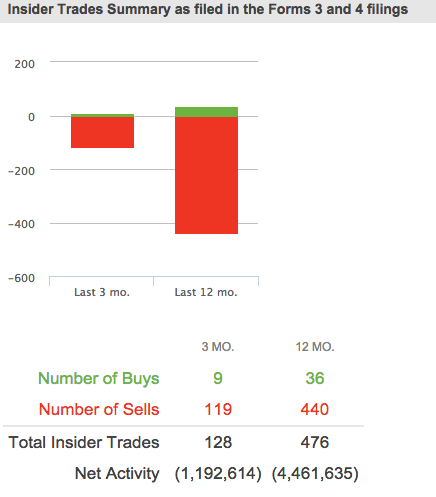 Source: nasdaq.com ownership summary CRM
There is a transfer of wealth taking place here, in the form of employee stock being sold into the market, mostly to retail investors. The cost basis for employee stock is often very low, so for them selling at current prices makes sense as they lock in large profits and monetize part of their compensation. If you buy this stock as an investor today though, you are facilitating their exit, but at current valuations, your prospects of selling at increasingly higher prices appear to be dim.
I advise shareholders of CRM to be careful. Try to visualize what you think Salesforce will look like a few years down the road and check your assumptions based on the fact that this is already a maturing, and increasingly competitive industry. Then come up with a valuation for what such a company realistically would be worth to you and compare that to the current valuation of the company.
I look forward to hearing your thoughts on Salesforce's valuation in the comments section below, as I'm curious to gain insight into other investor's decision-making process.
Over the next few months I will write reports on multiple large cap companies that I have identified as having an unusually large divergence between GAAP earnings and non-traditional measures, such as adjusted earnings and non-GAAP metrics. If you are interested in receiving an update as they appear, please follow me.
Disclosure: I/we have no positions in any stocks mentioned, but may initiate a short position in CRM over the next 72 hours.
I wrote this article myself, and it expresses my own opinions. I am not receiving compensation for it (other than from Seeking Alpha). I have no business relationship with any company whose stock is mentioned in this article.