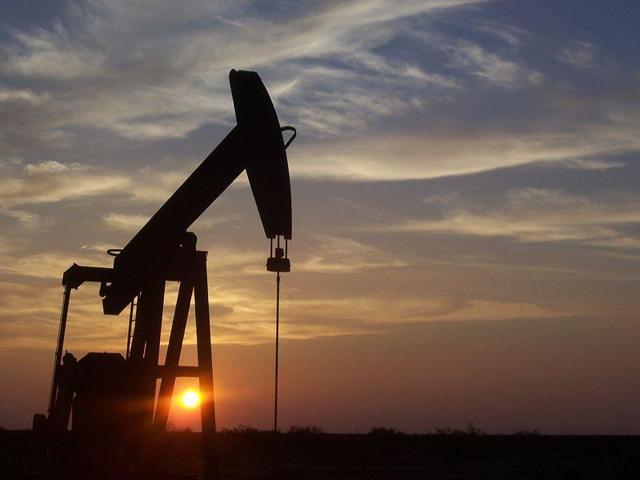 Important Note: This article is not an investment recommendation and should not to be relied upon when making investment decisions - investors should conduct their own comprehensive research. Please read the disclaimer at the end of this article.
While being endowed with the most formidable shale oil resource among the Oil Majors, Chevron (NYSE:CVX) has been cautious, if not slow, scaling up its shale oil business. One of the obstacles has been the high capital commitments to international mega projects that has consumed the company's cash flow. Insufficient in-house expertise in Unconventionals and relatively high cost structure have also stood in the way of Chevron taking a more aggressive approach to oil shale development. The situation appears to be gradually changing.
As shale oil technology has continued to advance and independent E&P operators made great progress delineating resource plays in the Permian, Chevron finally appears to recognize the need for a more decisive shift in capital allocation towards shales, specifically, to the Permian Basin. While Chevron still has a lot to prove in terms of its ability to match the operating efficiency of U.S. E&P independents, the company certainly has the resource base and the balance sheet to become, in short order, the largest shale oil producer in North America.
As Chevron's spend on a number of mega projects winds down in the next few years, the company's cash flow deficit is expected to shrink, providing greater flexibility to choose priorities for capital spending. At its analyst meeting, Chevron indicated that it will favor shorter-cycle investments, including oil shales and brownfield bolt-on developments. The message is clear - shale oil plays in the Permian Basin yield better risk-adjusted returns than deepwater exploration or multi-year projects in politically risky (and often fiscally unfriendly) environments.
Furthermore, a case can be made that Chevron has no viable alternatives to the Permian. An important advantage offered by shale oil is the ability to add significant production quickly and on a small budget. While the "treadmill" of rapid production declines is the obvious downside, lower-decline conventional projects may not be an option for Chevron as many are simply uneconomic at the current strip price, particularly once the execution risk and political risks are taken in consideration. In addition, cash flow deficit has become a concern, putting pressure on Chevron to deliver a balanced budget.
Top Tier Position In The Permian
So what makes Chevron a potential leader in shale oil?
The short answer: the existential need to adapt to low oil prices and the company's superb legacy acreage in the Permian.
Let's make no mistake, only a portion of Chevron's ~0.5 million net acres in the Midland Basin and ~$1.0 million net acres in the Delaware Basin fall within the core fairways of the most prospective resource plays. However, the company's "core of the core" position is still the largest among peers, rivaled only by Pioneer Natural Resources (NYSE:PXD). Of note, Pioneer is an independent with an enterprise value of ~$26 billion.
In addition to its superb acreage, Chevron has the advantage of a AA-rated balance sheet and massive future free cash flow from mature projects that can be deployed into production growth in the Permian.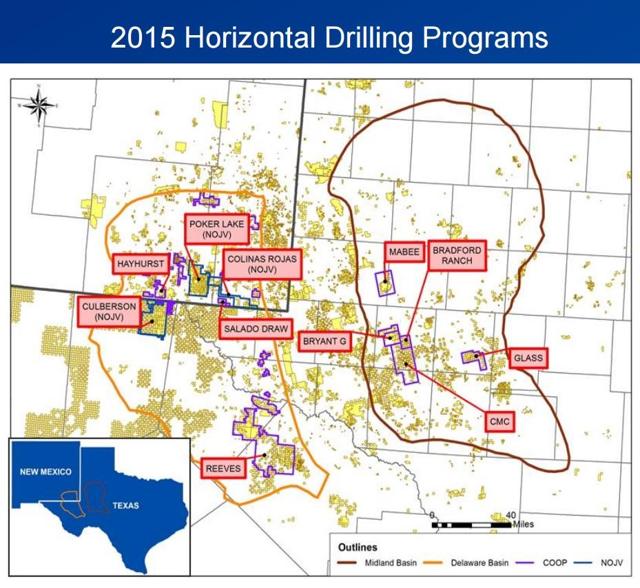 (Source: Chevron Corp., September 2015)
To appreciate the quality of Chevron's Permian acreage, it may be instructive to review the map below that zooms in on the company's position in Midland County and adjacent areas, one of the most prolific areas in the Midland Basin. Most of this acreage has "core" quality and yields a massive drilling inventory in multiple benches of the Wolfcamp, Spraberry and, possibly, few other formations. Of note, a large portion of the acreage is owned by Chevron in fee, providing a strong uplift to drilling economics. (Chevron has indicated that 85% of its acreage in the Permian is either owned in fee or has low royalty rates.)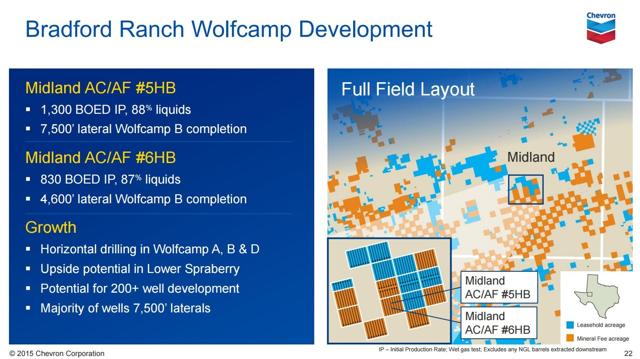 (Source: Chevron Corp., 2015)
The Operating Plan
In 2015, Chevron drilled 147 wells and participated in 180 non-operated wells in the Midland and Delaware basins, which represents a moderate investment in the context of the company's size. Chevron's Permian program will remain measured in 2016. The company will continue to advance horizontal development programs in nine of the eleven areas marked on the first map above, with approximately seven operated rigs and nine non-operated rigs running. Chevron expects to drill ~175 wells this year. The operating plan emphasizes the "horizontal factory" model utilizing four-well pads and extended reach laterals.
The following chart shows Chevron's outlook for growth in the Permian through 2020 which reflects a range of potential activity levels. The low end of the range is similar to the 2020 forecast that Chevron provided a year ago. The high end of the range, which calls for ~350 MMBoe/d production within five years, represents a ~100,000 barrels a day upside from increased capital allocation.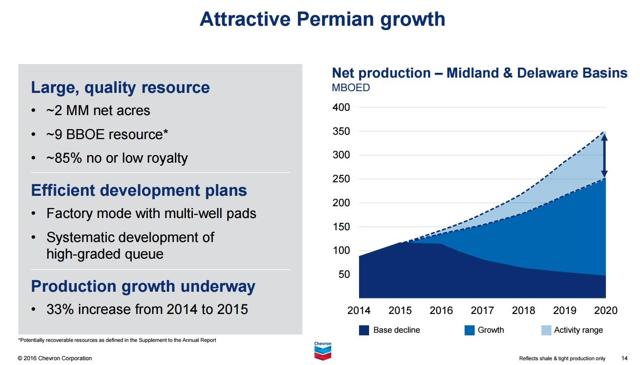 (Source: Chevron Corp., March 2016)
Chevron has increased the estimate for the total resource potential on its acreage and believes that ~1,300 operated well locations offer a 10% rate of return at $40 WTI or less. Of note, Chevron has only fully assessed about 30% of its operated acreage and expects that the ultimate drilling inventory will grow as the assessment effort continues.
Controlling Costs Has Been A Challenge For Oil Majors
Chevron has set an objective of being "fully competitive" with other operators in terms of unit development and operating costs. In its analyst meeting in March of this year, the company reported progress in execution performance as development programs have moved into factory mode. For example, for its operated Bradford Ranch horizontal program in the Midland Basin, Chevron reported a ~40% improvement in horizontal well costs as compared to a year ago, whereas drilling days per well improved by ~50%.
However, it appears that Chevron still has some work to do before it can match leading-edge cost metrics reported by smaller independents. The following slide shows Chevron's recent completed well costs in the Midland Basin and Delaware Basin. In the Midland Basin, peer operators have reported leading-edge completed wells costs in the $5.0-$6.5 million range for wells with 7,500 foot laterals (see Appendix). Even assuming that all of Chevron's wells are Wolfcamp wells (which tend to be somewhat more expensive than Lower and Middle Spraberry wells), the company's $7.4 million well cost is quite noticeably higher than peers'. One might wonder if a similar gap also exists on the lease operating expense side.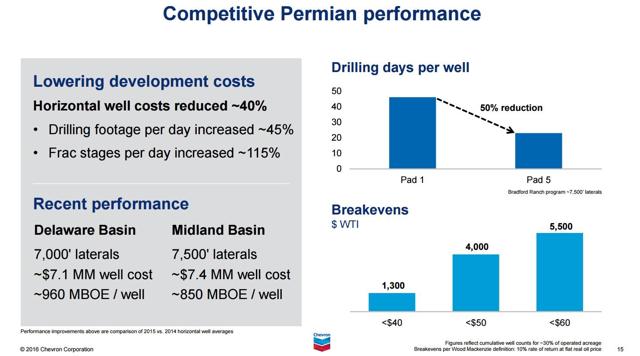 (Source: Chevron Corp., March 2016)
Matching E&P independents' cost structure has been a challenge for Oil Majors. Uncompetitive cost structure and slow adoption of new completion techniques were the key causes of Royal Dutch Shell's (RDS.A, RDS.B) failed attempt to develop a large-scale unconventional business in the U.S., in my opinion. Arguably, the same issues were the rationale behind Exxon Mobil's (NYSE:XOM) decision to acquire XTO Resources several years ago.
In this context, Chevron's lag in terms of cost metrics is not particularly surprising. Going forward, however, Chevron may have no other choice but to adapt and transform its culture in order to succeed in North American Unconventionals. In the Permian, a $1-$2 million difference in well cost can be the distance between solid profitability and value destruction. The 10% return which Chevron estimates for its best locations at $40 per barrel oil (which reflects the benefit of Chevron's ownership in fee) appears to lag the leading-edge return metrics reported by other Permian operators. As one can see from the slide below, Diamondback Energy (NASDAQ:FANG) estimates drilling returns for its best wells in the 90% range at $40 WTI. Similar to Chevron, Diamondback owns mineral interests in a significant portion of its acreage. Returns in the 10% range, as indicated by Chevron for its best locations, are hardly an acceptable level of return on new capital in the Upstream business.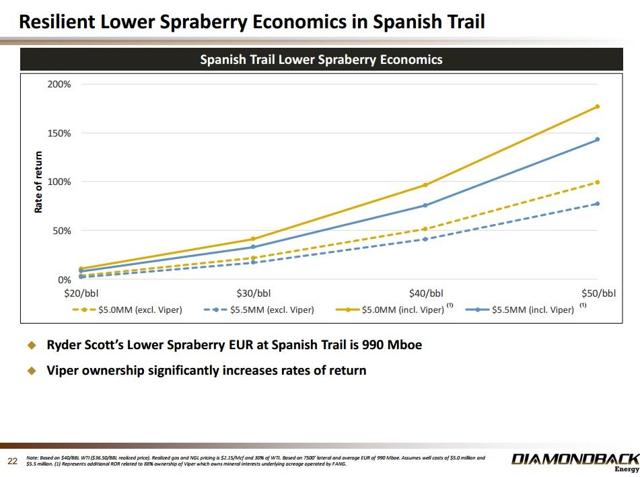 (Source: Diamondback Energy, March 2016)
Other Shale Plays
Permian is not the only shale operation in Chevron's portfolio.
In Alberta, Canada, Chevron holds ~228,000 net acres in the Duvernay Shale and ~200,000 overlying acres in the Montney tight rock formation, with a ~70% working interest. A total of 28 wells have been tied into production facilities since the program commenced in late 2014, including 16 wells in 2015.
In the Marcellus, Chevron controls a significant acreage position which, however, is mostly in the area where well productivity is uneconomic in the current natural gas price environment. As a result, a "measured pace is being taken in developing… Marcellus and Utica acreage."
Chevron holds a 50% operated interest in the proposed Kitimat LNG and Pacific Trail Pipeline projects and a 50% interest in 300,000 net acres in the Horn River and Liard shale gas basins in British Columbia. As a reminder, the Kitimat LNG Project is planned to include a two-train LNG facility and has a 10.0 million-metric-ton-per-year export license (1.6 Bcf/d of natural gas). Chevron became operator of the upstream portion of the project in May 2015 and continued with the horizontal appraisal drilling program that began in 2014. Spending is being paced until LNG market conditions and reductions in project costs are sufficient to support the development of this project.
Chevron holds a 50% non-operated interest in two concessions covering 73,000 net acres in the Vaca Muerta Shale in Argentina, as well as an 85% operated interest in one concession covering 94,000 net acres with both conventional production and Vaca Muerta Shale potential. The Vaca Muerta development is much smaller in scale than Chevron's opportunities in U.S. and Canada Unconventionals. Chevron's net production in Argentina in 2015 averaged 27,000 Boe/d, of which 21,000 barrels per day was crude. In 2015, 156 wells were drilled in the Vaca Muerta at the Loma Campana concession, most of which were vertical wells. In 2016, the drilling plan shifted to primarily horizontal wells. Initial 30-day peak production rates have been encouraging, according to Chevron, with some recent wells achieving rates of around 800 barrels of oil per day. Chevron is also slowly progressing the exploration of the Vaca Muerta in the Narambuena Block, with a plan to drill nine wells in two phases.
In Conclusion…
Chevron's high cost structure appears to be an obstacle to the company "discovering" the exceptional returns that its acreage in the Permian could potentially offer.
If Chevron could find a way of overcoming the cost and well performance lags versus peers, the company's capital spending shift towards the Permian would likely accelerate, with a major impact on Chevron's upstream results and asset complexion.
Chevron has the resource base and the balance sheet to emerge as the leader in shale oil industry, even though a major transformation of the company's organizational culture would likely be required.
Chevron's significant Permian asset may have contributed to the stock's remarkably resilient performance throughout the oil correction.
For in-depth data and analysis of commodity fundamentals, please consider subscribing to Zeits OIL ANALYTICS that provides analysis of the crude oil market.
APPENDIX: Leading-Edge Well Costs In The Midland Basin, As Reported By Peers
Diamondback Energy - Estimated 2016 Well Cost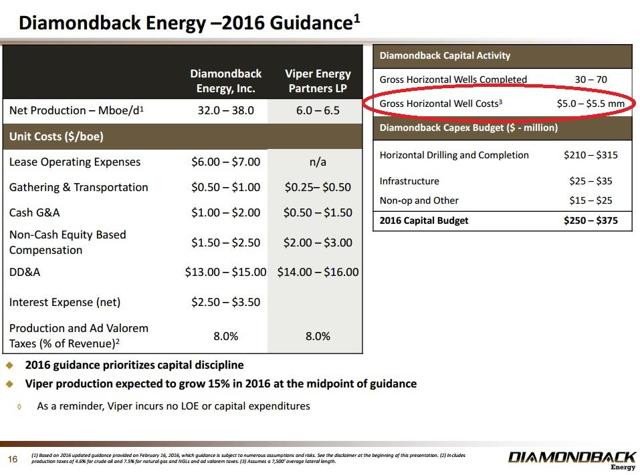 (Source: Diamondback Energy, March 2016)
Parsley Energy (NYSE:PE) - 2016 Estimated Well Cost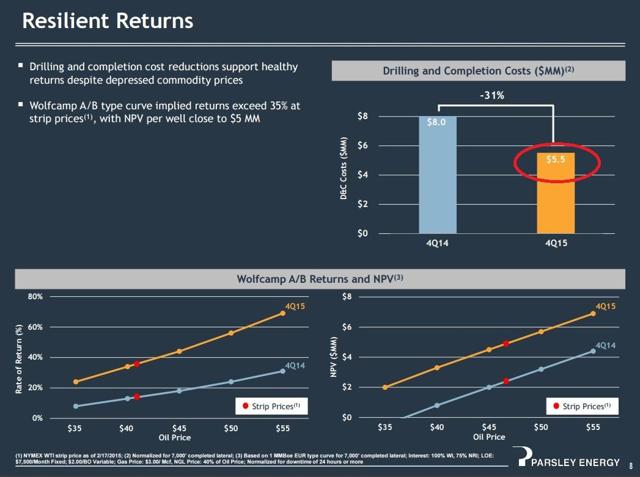 (Source: Parsley Energy, March 2016)
RSP Permian (NYSE:RSPP) - 2016 Estimated Well Cost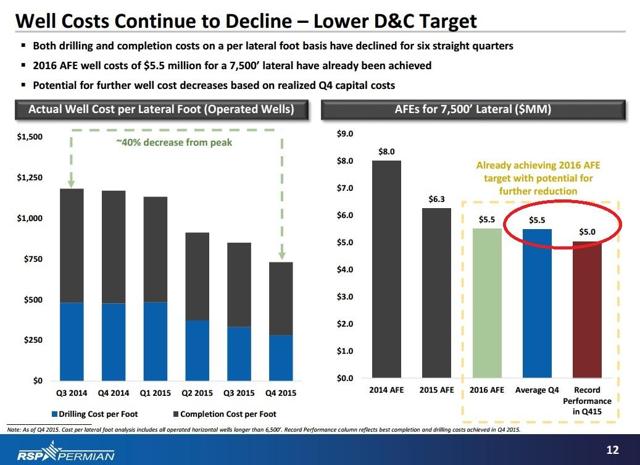 (Source: RSP Permain, March 2016)
Pioneer Natural Resources - Northern Midland Basin Wolfcamp B Well Cost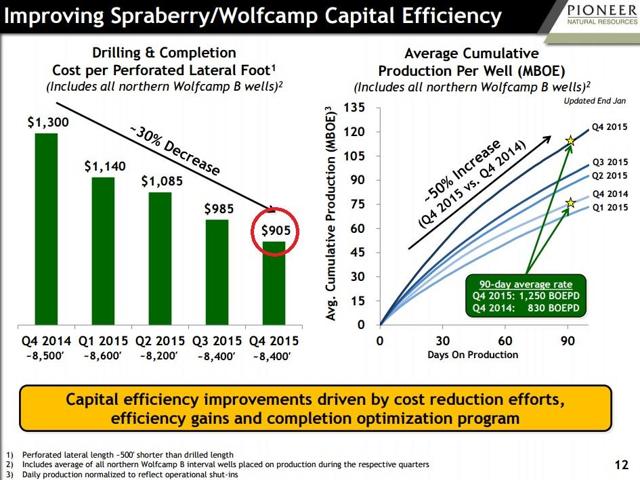 (Source: Pioneer Natural Resources, March 2016)
Disclaimer: Opinions expressed herein by the author are not an investment recommendation and are not meant to be relied upon in investment decisions. The author is not acting in an investment, tax, legal or any other advisory capacity. This is not an investment research report. The author's opinions expressed herein address only select aspects of potential investment in securities of the companies mentioned and cannot be a substitute for comprehensive investment analysis. Any analysis presented herein is illustrative in nature, limited in scope, based on an incomplete set of information, and has limitations to its accuracy. The author recommends that potential and existing investors conduct thorough investment research of their own, including detailed review of the companies' SEC filings, and consult a qualified investment advisor. The information upon which this material is based was obtained from sources believed to be reliable, but has not been independently verified. Therefore, the author cannot guarantee its accuracy. Any opinions or estimates constitute the author's best judgment as of the date of publication, and are subject to change without notice. The author explicitly disclaims any liability that may arise from the use of this material.
Disclosure: I/we have no positions in any stocks mentioned, and no plans to initiate any positions within the next 72 hours.
I wrote this article myself, and it expresses my own opinions. I am not receiving compensation for it (other than from Seeking Alpha). I have no business relationship with any company whose stock is mentioned in this article.