What Is The Risk Behind Risk-Adjusted Returns?
In January 2016, a London based hedge fund, The Nevsky Fund Plc, announced the closure of their fund after 15 years of successful business in which they averaged annualized returns of 18.4%. Their chief reasons for closing were:
There is a lack of transparency and accuracy in data releases from both governments and the private sector, especially in emerging markets (NYSE:EM) such as China and India. Nevsky assessed that the obfuscation and distortion of data made forecasting difficult. (See also an article we published about questionable data coming out of Chinese and Indian banks -- India: China's Emerging Market Doppelganger).
There is a lack of transparency in decision making from EM world leaders who have increasingly pursued nationalistic economic policies over sound long-term economic decision making.
Nevsky assessed that since they could no longer accurately assess global risk they could also no longer confidently deliver positive risk-adjusted returns to their investors.
Nevsky's point can be supported by looking at events such as China's recent spate of yuan devaluations starting in 4Q 2015. Prior to the Chinese stock market panic of August 2015, China had been trying to transition toward more value-added production, a larger domestic service sector, and less reliance on export-driven growth. However, the August 2015 Chinese stock market panic caused the Chinese to change course. The Chinese government devalued its currency in an attempt to alleviate overcapacity at home by winning back manufacturing market share from Southeast and South Asian neighbors whose manufacturing costs were lower than China's.

Below is a graph showing the contractionary manufacturing trend in both the official Chinese Manufacturing PMI and Chinese Caixin Manufacturing PMI.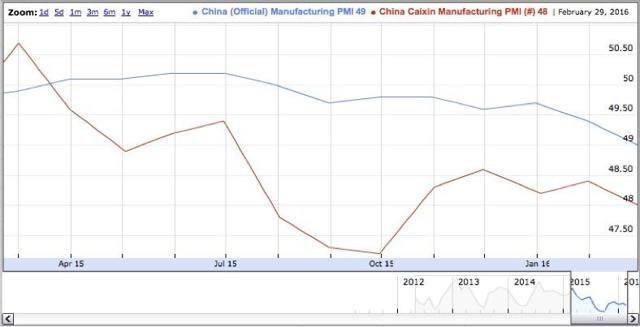 The problem with China's actions was that it precipitated a race to the bottom (in terms of monetary policy) among its Southeast Asian peers who also wanted to remain competitive and maintain their expanding portion of regional manufacturing market share. The Chinese yuan devaluation case is a prime example of what Nevsky Fund meant by nationalism trumping sound economic policy. The August 2015 Chinese market panic quickly derailed market reforms that were in the long-term interest of the Chinese economy, thus proving Nevsky's point.
Panama Papers And Chinese Market Reform
Nevsky's decision to close their fund due to concern about EM transparency appears to be very prescient as the Panama Papers shed light on the practice of tax evasion, corruption and nepotism among world leaders and their associates in China, Russia, Saudi Arabia, the United Kingdom, Argentina and other countries.
The New York Times published a useful primer and we encourage readers unfamiliar with the Panama Papers to read it. The bottom line of the Panama Papers is that we are increasingly operating in a two- tiered financial system in which the wealthy and influential are able to exploit gaps in the international financial system for personal enrichment at the expense of taxpayers and financial markets that rely on trust and transparency to function properly.
We assess China to be one of the countries most exposed to blowback from the Panama Papers, chiefly because President Xi Jinping has been on an aggressive anti-corruption campaign since taking office. He has made anti-corruption a centerpiece of his presidency and his efforts have resulted in the punishment of 336,000 officials, the most in 20 years.
He has also been a leading voice advocating for market reform in China, asserting that China needs to address the growing threat that debt poses to its financial system. In particular, increasing amounts of corporate and municipal debt have propped up failing State Owned Enterprises (SOE), many of which are classified as "zombie companies," in an effort to meet central government growth targets.
The Panama Papers implied financial wrongdoing by three of the seven members on the Communist Party Politburo Standing Committee, China's most powerful government committee. President Xi was implicated by extension of a family member (Xi's brother-in-law). Additionally, Liu Lefei (Vice Chairman of Citic Securities and daughter of China's Propaganda Chief) was implicated in the Panama Papers.
The Chinese government is aggressively censoring Panama Paper-related information, which may blunt the edge. However, we assess the impact of the Panama Papers could be the following:
First, President Xi has lost a lot of credibility as an anti-corruption crusader and it will be increasingly difficult to sell the Chinese people on market reform, especially as such reforms could result in bankruptcies or significant restructuring at SOEs, subsequent unemployment, and potentially a knock-on effect to China's increasingly overheating housing market. We assess that President Xi abandoning market reforms in China would be negative for international markets as Chinese debt problems will remain unaddressed, resulting in continued overcapacity and falling consumption in China.
Second, Liu Lefei's implication in the Panama Papers shed doubt on the accuracy and transparency at Citic Securities, the brokerage arm of China's largest financial conglomerate. Note that this is the very transparency problem that induced Nevsky to shutter their fund.
Citigroup: Searching for Growth in a Low-Growth Environment
While there is no connection between the Panama Papers and Citigroup (NYSE:C), we found it interesting that Citigroup recently (and coincidentally) announced that they were pursuing growth by increasing lending to EM, with specific focus on Turkey, the Middle East and Africa. We note Citigroup is simultaneously pulling back from Argentina, India, Colombia and Brazil.
The impetus for shifting toward EM was an attempt to find growth in a low-growth environment. Low interest rates, increasing bank regulation, increasing prospects for loan losses in the energy sector, a 9% decline (YoY) in trading revenue, and a forecasted overall decline in YoY revenue (for the quarter ending March 2016) were all factors driving Citigroup toward the aforementioned EM.
In a previous article titled Sell The Banks: The Invisible Hand Is Broken, we highlighted that Citigroup was relatively well positioned to absorb potential loses from bankruptcies in the oil and gas sector. However, their planned shift toward EM to make up for falling profits in other business segments concerns us.
1) The Panama Papers underscore the trend that global financial markets are increasingly void of transparency, with EM and China at the forefront of this trend. Additionally, debt is a problem in the Middle East and Turkey, where debt ratios are becoming elevated. In Turkey, non-financial corporations have debt to equity ratios of 0.8:1, similar to China and higher than Argentina -- a market from which Citigroup is pivoting away.
Due to low oil prices, the Middle East is suffering from a potent combination of falling GDP growth and increasing government debt levels required to maintain the social programs necessary for political cohesion. While oil dependency varies by government, in the Middle East's largest economy, Saudi Arabia, oil accounts for 90% of the annual budget. Currently, 26% of the total US $1.4 trillion in EM debt is directly related to oil either through EM oil and gas companies or sovereign debt dependent on oil for servicing. Increasing lending to non-diversified oil economies with rising debt levels does not appear to be a prudent means of finding growth and generating returns for shareholders. Note: King Salman of Saudi Arabia was also named in the Panama Papers.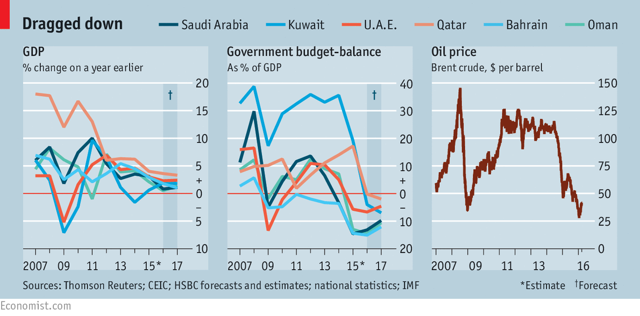 (Graph Source: The Economist)
2) Further, Middle East economic policy stands in direct opposition to any effort to gain control of rising debt loads. It has been widely suggested that Saudi Arabia is attempting to drive down oil prices through overproduction in an attempt to bankrupt higher (production) cost competitors. The historic precedent set during the 1986 oil glut in which OPEC increased production to drive out competition in the global oil market supports this assertion.
Further, the increase in supply agreements in which oil producing countries agree to directly supply to consumers (countries) at below-market prices to win market share reveals a race-to-bottom mentality pursued in the name of national interest.
Moreover, OPEC, Iran and Russia's inability to agree on a durable production freeze suggests that national interest in the form of maintaining market share will trump sound supply-demand economics in the oil industry, until a heightened risk of default forces significant international oil production declines.
3) While it is difficult to discuss a diverse continent like Africa in general terms, we assess that looking at Africa's exposure to China is an interesting lens through which to view Africa's durability as a growth EM. Africa's exposure to China is trending negative as African imports to China fell 40% in 2015. South Africa is forecasted to slide into recession and there have been widespread growth downgrades or lowered outlooks at commodity-reliant countries like Zambia, Ghana and Mozambique. Overall, a slowing China and persistent weakness in oil and commodities spell trouble for growth in Africa.
Our Take: Book Value Means Nothing When The Book Gets Rewritten
One of the many lessons to be gleaned from the Panama Papers is that it is dangerous to take information at face value. The Panama Papers have shown a disconnect between the public actions of world leaders and their private self-interested actions. Taking this in the investment context, we assess it prudent to be skeptical of data, especially EM-derived information. We assess Citigroup's foray into EM is misguided and driven by shareholder pressure to provide return. In addition to the above analysis on Turkey, the Middle East and Africa, we also assess the "known unknowns" of unreliable EM data to be a sufficient reason to sell Citigroup's EM pivot.
Citigroup does not stand alone with EM-market exposure. JPMorgan Chase (NYSE:JPM), the second most EM-exposed US bank behind Citigroup, and UK banks such Standard Chartered and HSBC (NYSE:HSBC) are additional banks whose EM credit exposure concerns us.
As a final illustration of skepticism over EM we will look at the MSCI Emerging Market price-to-book ratio. We can see the MSCI EM index (NYSEARCA:IEMG) is trading just slightly above book value (1.2:1) and at lows not seen since 2009. Many would see this as a strong buy signal, but we see it as market forces pushing for the book to get rewritten through defaults, bankruptcies and the associated asset devaluations.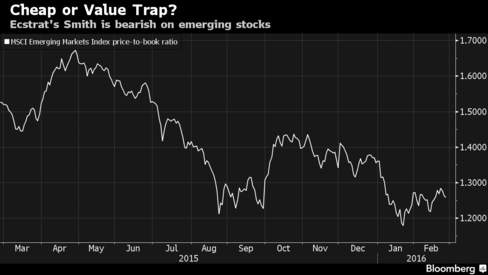 (Graph Source: Bloomberg)
Disclosure: I/we have no positions in any stocks mentioned, and no plans to initiate any positions within the next 72 hours.
I wrote this article myself, and it expresses my own opinions. I am not receiving compensation for it (other than from Seeking Alpha). I have no business relationship with any company whose stock is mentioned in this article.
Additional disclosure: This article is for informational purposes only.