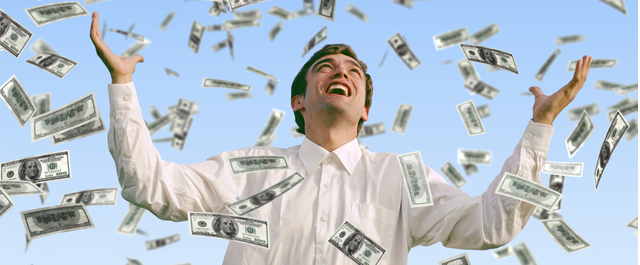 Hello, everyone, and welcome back to my portfolio update series. Once again 2016 is off to a flying start as we are already 4 months into the year! As I had previously mentioned, this year will be tight for me in terms of capital allocation due to other commitments, saving for a mortgage being one of them. Some unwelcome changes did force me to take action though in order to protect my nest egg. Hopefully Q1 was not as problematic for you as it was for me!

The portfolio now looks very healthy and I'm happy with the results thus far. In my previous update I had a Wish List section, and I've been able to buy some core positions that I thought were undervalued. Hopefully my followers will appreciate that I bought what I suggested to them over the past 3 months. These companies being none other than Boeing (NYSE: BA), 3M Company (NYSE: MMM), Apple (NYSE: AAPL), Stag Industrial (NYSE: STAG) and Disney (NYSE: DIS).
Portfolio Changes

After I had decided to invest in the ETNs to help my cash flow situation, I was relaxed for the first few days, this did not last unfortunately. A small run caused my MLP position to be up 15% so I felt good about potentially having bought at a perceived bottom. Low and behold this wasn't true! During a few volatile days in the market, oil decided to spike causing a huge down day, enough so that UBS announced a redemption of the ETN. This left me furious, buying low is one thing but being forced to sell lower with a gun to my head is not what I had planned. What made it worse was that oil had recovered from the move over the next 24 hours.
I want everyone to know that I blame myself and not UBS, the situation angered me enough to sell my other leveraged positions, I want to be the only person who can sell or close a trade.
My other sell comes from GlaxoSmithKline (NYSE: GSK) and there are only 2 reasons. The main factor is I believe its projected earnings growth is quite low, for this reason I would rather have CVS Health Corporation (NYSE: CVS), Amgen (NYSE: AMGN), Allergan (NYSE: AGN) or Gilead Sciences (NYSE: GILD). Reduced earnings also leads to my second assumption of minimal dividend growth. Though the special dividend was a nice gesture, with the dividend forecast to remain flat I decided it wasn't good enough to keep in the portfolio. For an income investment GSK is a great along with old names such as Pfizer (NYSE: PFE) and AstraZeneca (NYSE: AZN), but I'm currently in the growth phase so it won't benefit me going forward.
Dividends Received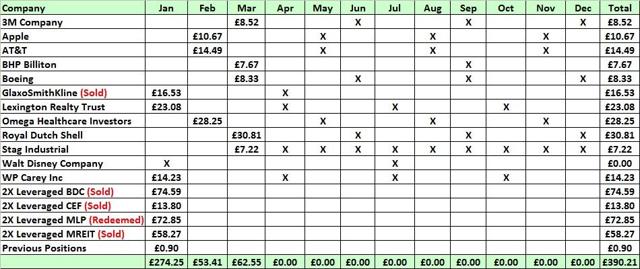 For Q1 the dividends amounted to £390.21 for a monthly average of £130.07 ($183.72). This figure is very deceptive due to the 3 months of leveraged dividends accounting for more than 50%. Therefore I expect the monthly figure to remain in the £60-70 range for the remainder of 2016.
BHP Billiton (NYSE: BHP) (NYSE: BBL) announced it was cutting its interim dividend by 74% in order to preserve their balance sheet. At this moment in time it is still receiving its "A" credit rating at Standard & Poors. It looks like I made my investment towards the end of the commodities cycle especially since China's growth rate is declining. With commodities you need to follow the notion of investing when the PE is at its highest, a decrease in earnings will have this effect. Though this company could produce strong returns if you invest now and wait, I will most likely sell this position once back in positive territory. The basic material sector and its cyclical nature is not really suited to my defensive portfolio.
I will be looking to sell my positions in BHP Billiton along with Royal Dutch Shell (NYSE: RDS.B) due to their inability to beat the overall market in the past 5-10-15 years. Royal Dutch Shell is an amazing company for an income oriented investor, but as previously mentioned, being in the growth phase I can use the capital to purchase another company on my wish list.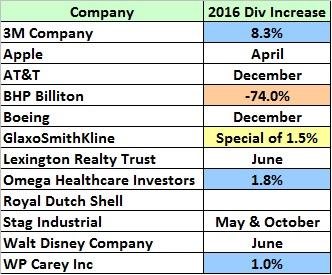 These are the dividend increases that have been received for Q1 with no real surprises other than from BHP. Though they did state that the balance sheet was their main priority rather than maintaining the dividend. Omega Healthcare Investors (NYSE: OHI) is one of my favorite companies and they tend to increase the dividend every 3 months by 1.8%, I would expect the end figure to be around 7.2% by the end of this year.
W.P. Carey (NYSE: WPC) is not as predictable compared to Omega Healthcare Investors, so I can't confirm if we'll see another increase next quarter, but I am expecting a total increase of at least 5.7% as seen from the previous year.
The dividend increase from 3M Company was a little on the small side compared to normal at 8%, but I'm happy with this new purchase from the dividend champion, which sports an impressive record of 58 years of consecutive annual dividend increases.
For Q2 we can look forward to dividend increases from Apple, Stag Industrial, Lexington Realty Trust (NYSE: LXP), Disney and hopefully a second increase from W.P. Carey and Omega Healthcare Investors.
Wish List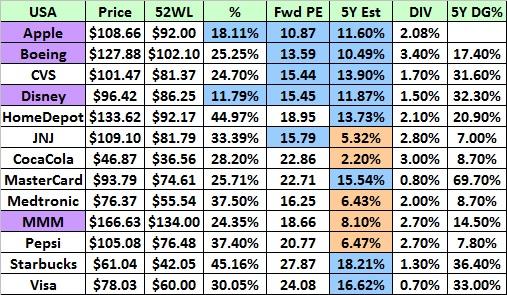 For my wish list above, I've updated it to provide some other financial metrics. These include the current forward PE ratio, and 5 year projected EPS growth rate from yahoo analysts, the current dividend yield and 5 year growth rate from seeking alpha.
CVS Health Corporation looks attractively valued as the health care sector is down 3.72% YTD. This is a prime candidate for the portfolio even though it's trading at nearly 25% above its 52 week low, the projected growth rate in the EPS and its history of dividend increases more than offset the risk of buying at a higher share price.
Home Depot (NYSE: HD), MasterCard (NYSE: MA), Starbucks (NYSE: SBUX) and Visa (NYSE: V) are my main priority when it comes to making a purchase. Unfortunately they all seem overvalued apart from Home Depot which has a 5 year average PE of 21.3 according to morningstar.com.
Many consumer staples such as Home Depot, Johnson & Johnson (NYSE: JNJ), Coca Cola (NYSE: KO), Pepsi (NYSE: PEP) are suffering from high valuations due to investors being increasingly defensive. The consumer staples sector is up 5.78% YTD while the utilities sector is up an amazing 12.87%. On a side note it's a shame I didn't continue with my utility sector articles over a year ago, all UK candidates I mentioned are now sporting some very impressive capital gains.
Conclusion
I've learned quite a few lessons since my portfolio started in 2014. These can be summarized by the notion that cash is king, when it comes to analyzing companies that are not on the main stock markets. Quindell was fraudulent and were manipulating their financial statements, even auditors failed at doing their job correctly, so in the whole scheme of things I can't feel too bad about that experience.
Secondly leveraging is bad unless you are in the income phase and need to increase risk to meet your income needs. Just because it didn't work for me, doesn't mean it can't for you. The feeling of not being 100% in control of my investment and risk UBS from pulling the rug from under me again, prompted me to liquidate those positions.
Thirdly I'm not comfortable with cyclical investments as I prefer companies that grow their earnings and dividends gradually over time. If the companies can't beat the SP500 over a certain period and are not projected to in the future, then they shouldn't be in the portfolio.
My wish list is constantly under review so nothing is final as I monitor hundreds of companies. I will most likely be publishing articles on mid-cap U.K. and USA companies that have the potential for strong returns, if you have any requests or suggestions then please feel free to leave a comment or inbox me.
I wish all of you the very best for Q2 and hope you were able to take advantage of my suggestions over the past few months.
Disclosure: I am/we are long MMM, AAPL, T, BA, LXP, OHI, STAG, DIS, WPC.
I wrote this article myself, and it expresses my own opinions. I am not receiving compensation for it (other than from Seeking Alpha). I have no business relationship with any company whose stock is mentioned in this article.
Additional disclosure: All information from my personal excel spreadsheet, data compiled from yahoo, morningstar, seeking alpha and David Fish's CCC spreadsheet.