Given Richardson Electronics (NASDAQ:RELL) share price of $5.23 today, its market cap is just over $65 million. That's interesting, because the company has $71.58 million of cash on its balance sheet and no debt. Its TTM EBITDA of negative $7 million helps to explain the discount to net cash, in addition about $50 million of it is held overseas. As the business is slowly improving I think the shares are a great deal.
The company ended up this way because it sold off part of its business (its RF, Wireless and Power Division to Arrow Electronics, Inc) but kept its global infrastructure. The strategic rationale behind holding on to the overhead is to find and buy new products/companies and roll them out through the existing infrastructure. Over the course of the years there has built up a lot of tension between Richardson who doesn't like the prices in the market and is taking his sweet time putting the cash to work and shareholders who are feeling very insecure and powerless (Richardson holds a majority of the voting rights).
To Richardson's credit he built up the company from somewhere between $1 and $10 million in revenue and has been with the company since 1961 when annual revenue was just over $50K.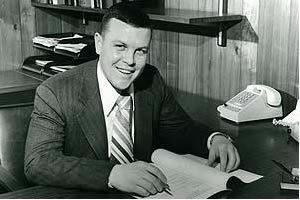 Source: company history
Shareholders are fed up footing the bill for the overhead while the management team is slow to take action; whether that's by returning a lot of cash to shareholders or by closing deals to start utilizing the operating leverage present in the business. The prior to last two earnings called (here and here) were far from friendly. The first one I reviewed in a piece titled: Shareholders Confront Management About Its Failure To Create Value and the subsequent one Richardson decided not to take any calls but from a friendly party, I reviewed it as Richardson Strikes Back.
This time, Richardson did take calls again and he probably regretted it. Investors kept hammering home he should use the balance sheet more efficiently and it makes no sense the company isn't buying back shares at ~$5. This message was communicated by a number of callers and it did seem to yield a little bit of information from management in that they are looking at the money that's trapped overseas and how it could be used more efficiently. Perhaps by borrowing against it or in another way.
The quarterly numbers didn't show a lot of progress and I can't blame the market for not getting excited about Richardson Electronics yet. However, a few remarks on the call leads me to believe we may be on the cusp of things turnings.
Management was very careful about offering any exact projections (sometimes I think they like the share price low) but you could read into their remarks operating cash flow is going to improve by a lot. It needs to, so that's good. Sales for the whole organisation are likely going to increase in Q4 YoY. A significant order just missed getting shipped this quarter, making this quarter look a little worse and the next one probably a little better than it should. Break-even on a company basis is likely not happening until well into next fiscal year but there seems to be a preliminary plan to get there and the conviction it is possible within a reasonable time frame.
Finally, management more or less admitted the PMT division could get profitable if the global organisation were decreased. Management also said it wasn't going to happen but it's a good way to think about this investment opportunity. The existing business consists of a lot of costs/infrastructure that isn't needed to support it. The company is doing $140 million in revenue and can go to $180 without increasing its cost base much. The business is loss making but it is improving. The cash on the balance sheet exceeds the company's market cap. There are so many ways out of this pickle, the company is in. Richardson is taking the long winding road that is annoying shareholders but perhaps one day we arrive at that spot with the dazzling view where he is taking us. If we don't and we get stuck somewhere along that road, there are lots of other options to explore.
I continue to hold, impatiently (I am human) but curious what the next few twists and turns will bring. I'm expecting this investment can't turn out too bad and could possibly turn out very good.
Disclosure: I am/we are long RELL.
I wrote this article myself, and it expresses my own opinions. I am not receiving compensation for it (other than from Seeking Alpha). I have no business relationship with any company whose stock is mentioned in this article.
Editor's Note: This article covers one or more stocks trading at less than $1 per share and/or with less than a $100 million market cap. Please be aware of the risks associated with these stocks.