Daimler (OTCPK:DDAIF) (OTCPK:DDAIY) continues to grow at a very attractive pace in 2016, but (likely unjustified) fears about diesel engine issues lead to a sell-off over the last week, which made Daimler's already inexpensive shares even cheaper.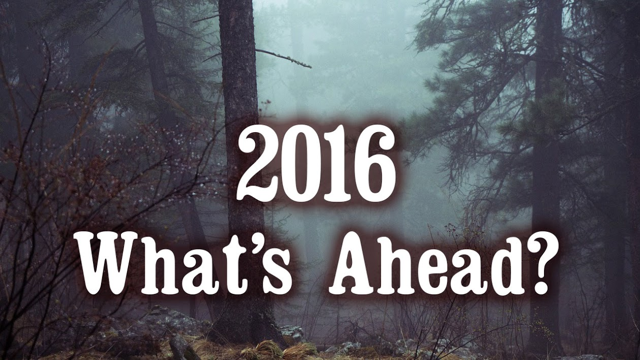 Daimler reported record results for 2015, and 2016 is looking good as well: In March Daimler's biggest brand Mercedes-Benz was able to lock in the best sales results the company has ever recorded in any month in its history: Mercedes-Benz sold 199,000 cars in March, which represents an 8.4% increase over the prior year's month.
March's strong sales numbers were the result of a 9.8% growth rate in Europe (Mercedes-Benz' most important region) to 98,000 cars, and an astonishing 17.9% growth rate in Mercedes-Benz' second biggest market -- Asia (to 64,000 units). In Asia the leading market in terms of overall sales as well as sales growth was China, which showed a very strong 26.6% growth rate. After some struggles over the past quarters the Chinese consumer market (at least when it comes to premium automobiles) looks very healthy again. SUVs once again were a leading contributor to Mercedes-Benz' volume growth, as 63,000 customers got their Mercedes-Benz SUV in March, an increase of 44% in comparison to the prior year's month. With oil prices (and thus also gasoline prices) being low, customers are more likely to purchase bigger, less fuel efficient cars, which is a positive for Daimler as these bigger cars are also more expensive, which translates to higher average selling prices for Daimler's cars.
Year to date Mercedes-Benz has sold 483,000 cars, an increase of 12.6% over the prior year's quarter, which shows that the company's strong March results were not an outlier, but rather the continuation of strong results in the current year. We can expect strong financial results for Daimler's first quarter, but results are not announced yet.
Over the last week Daimler has sold off substantially (about 10%):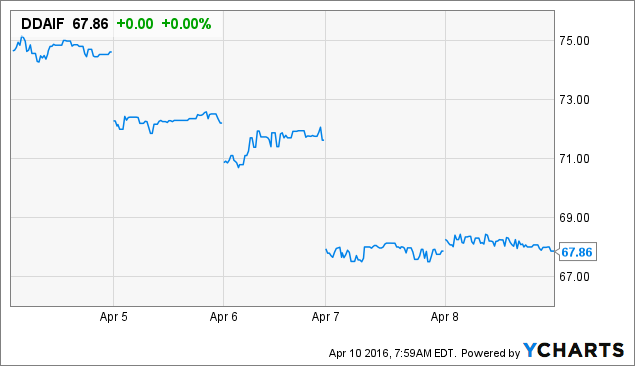 This sell-off was based on fears about problems with the company's diesel engines, but so far it looks like these issues are not relevant for the company.
A couple of American Mercedes owners have sued Daimler for using a defeat device in its diesel engines, but so fat there is no trace of any defeat device found. The company claims it does not use any such device, and there is no outside evidence of the use of such a device either. German regulators, who have tested diesel models from all major automobile companies, have stated that Volkswagen (OTCPK:VLKAY) (OTCPK:VLKAF) was the only one using such a defeat device (i.e. the only company who cheated emission testing). If Volkswagen was the only automobile manufacturer to use defeat devices, this in turn means that Mercedes-Benz is not guilty of doing so, which, in turn, means that the sell-off Daimler's shares have seen over the last week looks unjustified.
If the sell-off was unjustified, this means that investors can use the current price for their advantage and enter a position at a very attractive price: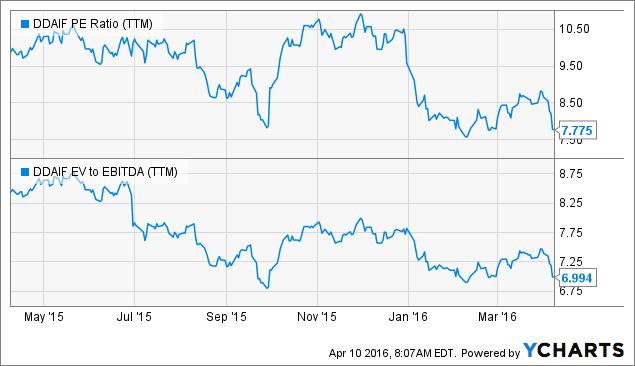 Daimler's shares can be purchased at just 7.8 times trailing earnings and 7.0 times EV to EBITDA, which is cheap relative to other automakers (e.g. Ford (NYSE:F), General Motors (NYSE:GM) and Toyota (NYSE:TM) all have EV to EBITDA multiples which are higher than Daimler's valuation), and which is also cheap relative to how Daimler was valued in the past.
Over the last year Daimler has traded at the current valuation twice, (as you can see in the above chart, once in late 2015 and one in February), and both times Daimler's shares bounced off the lows in a short time. I thus believe we could have a good buying opportunity right now, which will likely not persist for a long time.
For income investors Daimler is attractive as well: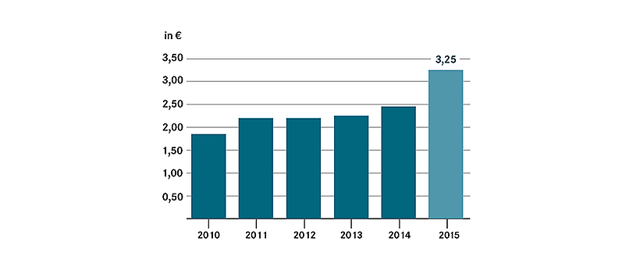 With Daimler's most recent dividend hike (by an immense 35%) Daimler's annual dividend of $3.67 per share now equals a dividend yield of 5.4% (using the current share price of $68 for DDAIF). This is a higher yield than most other automobile companies offer, and the dividend growth rate is unusually high for automobile companies as well (e.g. GM increased its dividend by just 6% this year, and its current dividend yield is lower than Daimler's dividend yield nevertheless).
Takeaway
Daimler keeps on reaching from record month to record month, showing very attractive growth rates. With the worries about its diesel engines very likely not justified, it looks like we have a good buying opportunity right now, as Daimler is very inexpensive and offers a high dividend yield of 5.4% (which is also very safe, as the dividend payout ratio is just 40%).
Disclosure: I/we have no positions in any stocks mentioned, and no plans to initiate any positions within the next 72 hours.
I wrote this article myself, and it expresses my own opinions. I am not receiving compensation for it (other than from Seeking Alpha). I have no business relationship with any company whose stock is mentioned in this article.
Editor's Note: This article discusses one or more securities that do not trade on a major U.S. exchange. Please be aware of the risks associated with these stocks.