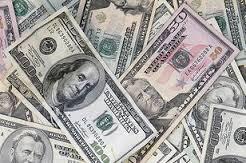 Annaly Capital Management (NYSE:NLY) is the largest mortgage REIT on the NYSE. Its primary business objective is to generate net income for distribution to shareholders through prudent selection and management of investments. NLY is externally managed by Annaly Management Company LLC. It is considered by many to be one of the "blue chip" mortgage REITs. NLY has far outperformed many of the indices, such as the S&P 500, over the years (mostly through its dividend payouts). Its current dividend is 11.5%. The chart below shows the outperformance of Annaly Capital Management compared to a variety of other possible investments from December 31, 2014, through January 29, 2016.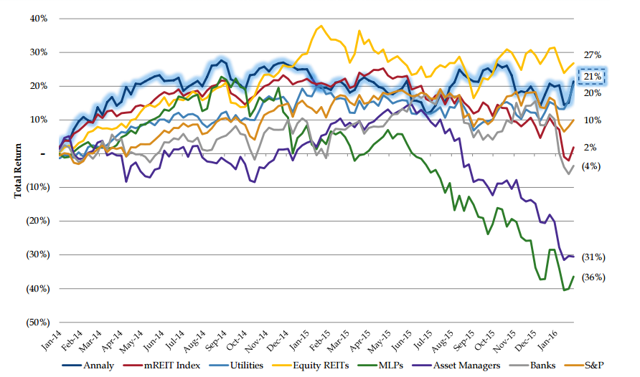 NLY has far outperformed asset managers (purple line), the S&P 500 (gold line) and the mREIT index (its peers - the red line). When you look further at the performance of NLY over the long term (see chart below), you can see that it has performed reasonably well during the last two recessions.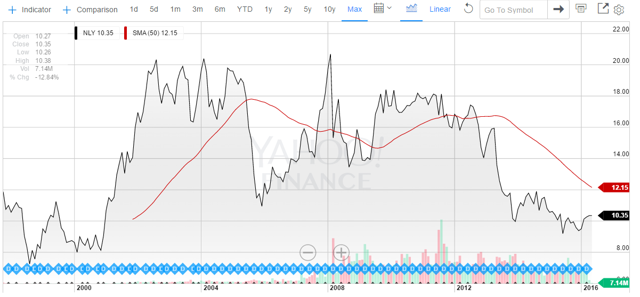 In addition to Annaly's history, which shows outperformance of other stocks and other mortgage REITs, Annaly has recently moved from investing almost completely in Agency RMBS to a more diversified portfolio that includes both the interest rate sensitive Agency RMBS portfolio (>= 75% of capital) and the more credit sensitive Commercial Real Estate, Residential Credit and Middle Market Lending Investments (up to 25% of capital). The table below details this strategy more fully.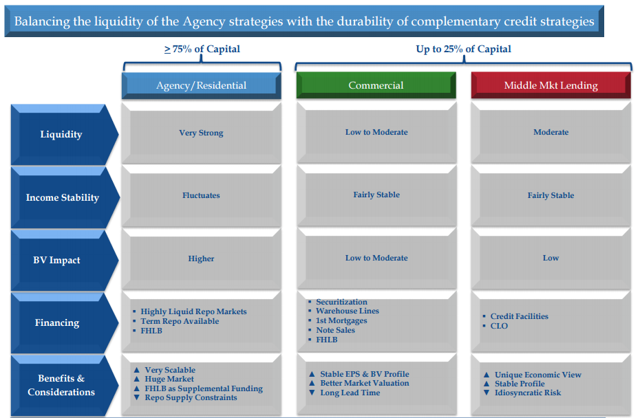 The above table is self-explanatory. When you combine it with a table of NLY's actual assets as of December 31, 2015, you get a good picture of how resilient NLY's book value and its dividend may be (see table below).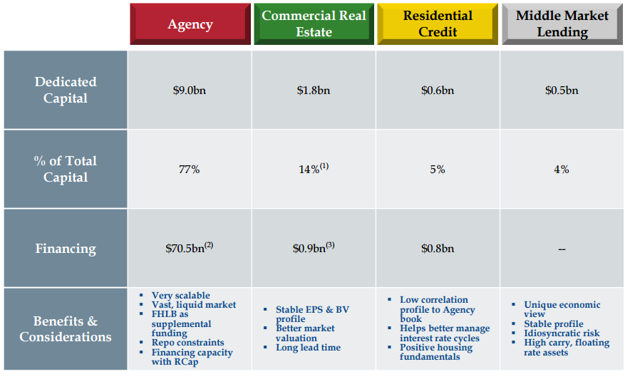 At the end of Q4 2015, NLY had 77% of its capital in Agency RMBS; and it had 23% in other less liquid, but more interest rate insensitive investments. This should lead to a more stable NLY dividend over time in a variety of different investing environments.
When the interest rate sensitive investment area falters, the income from the credit sensitive (less interest rate sensitive) investments should help make the dividend more stable. For instance if rates go down, the net interest spread will likely go down for Agency RMBS; but the book value of those Agency RMBS will likely go up. Meanwhile the income provided by the "credit sensitive" investments should remain relatively unchanged. If rates go up, the book value of the Agency RMBS will likely go down; but the net interest spread will likely go up (i.e. deliver more income). At the same time, the book value of the credit sensitive investments would likely rise in the case of a stronger economy that caused the interest rate increases.
The only real flaw in NLY's strategy would seem to be the case of STAGFLATION (no or negative growth with inflation). For now we will hope that scenario does not rear its ugly head. Investors should have adequate time to exit their NLY investments if it does. It might be an ugly one for NLY; but NLY's management has proven they can handle almost all scenarios well.
The chart of the 10 year US Treasury Note yield below shows the -50 bps drop from December 31, 2015, to March 31, 2016.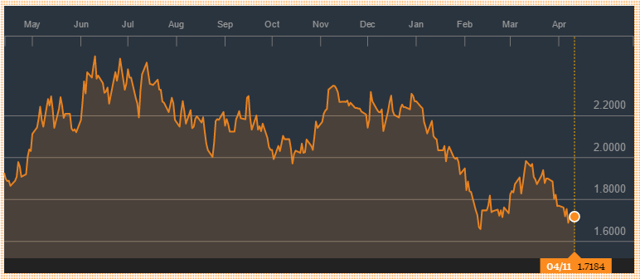 The actual rates were 2.27% (Q4E 205) and 1.77% (Q1E 2016), respectively. The rate as of this writing is slightly lower at 1.73%. The intermediate term trend appears to be downward. Some have even predicted that the rate will fall to 1.25% at some point this year. For that to happen, the Fed would likely have to make no further Fed Funds rate hikes; and it might have to at least hint at further QE (if not actually implement a program). For the moment this seems unlikely; but the world economy has been weakening of late. At least most estimates, including the estimates for US Q1 GDP Growth have been going down. As of April 8, 2016, the Atlanta Fed was estimating Q1 2016 GDP Growth of only +0.1%. Given estimates have been falling rapidly of late, the actual number could easily turn out to be negative. The FactSet Q1 estimates are for a hugely weak S&P 500 EPS blended decline of -9.1% and a revenue decline of -1.2%. These numbers don't make one think that interest rates are about to rise quickly soon.
The chart below of the BAGY - the Bloomberg US Agency Bond Index - should give investors a general idea of how NLY's Agency RBMS may have fared in Q1 2016. The chart of the 10-year US Treasury Note yield already seems to indicate that the book value of NLY's Agency RMBS was likely to have gone up during Q1 2016.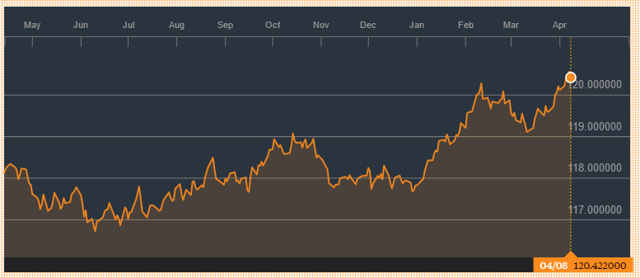 The index was 117.83 as of December 31, 2015, and 120.21 as of March 31, 2016. That's a +2.38 point move (or +2.02%). NLY says it tries to keep its leverage for its Agency RMBS Portfolio in the 6.0x to 8.0x range. The total portfolio economic leverage ratio was 6.0x at the end of Q4 2015. The Agency portfolio leverage was probably higher than this. This would translate into a gain of roughly 12% on the Agency portfolio before taking into account hedges, expenses, etc. These latter can be quite costly, so the end result will be nowhere near the roughly 0.12 * 0.77 = 0.0924 (or approximately +9%) gain due to the 77% allocation of stockholders' equity to the Agency RMBS portfolio. The actual gain might be perhaps 1%-4% if NLY has not had further problems.
One of the further problems might be that the basis spreads for its MBS might have widened further. I believe they did widen at the beginning of the quarter. However, one would think that they would have settled down as the S&P500 Volatility Index finished Q1 2016 lower that it began it (18.21 at Q4E 2015 to 13.95 at Q1E 2016). Since NLY is known for its longer term perspective, it probably had fewer trading related losses than most other mortgage REITs. Investors still have to worry about the TBAs (Dollar Roll investments); but we can hope that those turned out no worse than a wash. The rest of NLY's portfolio (about 23%) should have been able to at least hold its own. That makes me think that NLY should have had a decent book value gain in Q1 2016. When you add the $0.30 per quarter dividend on top of that, NLY did very well in Q1 2016. The outlook for Q2 2016 should be similar, although that is hard to predict (at least until the end of or very near the end of Q2 2016).
NLY has navigated some very troubled waters with much less pain than many of its peers. In Q4 2015, the company had core earnings of $329.2 million (or $0.33 per average common share). NLY had Normalized Core Earnings of $311.1 million (or $0.31 per common share). This last covered the $0.30 per common share dividend nicely. It had a book value on December 31, 2015, of $11.73 per common share. This was down -$0.26 per common share from the $11.99 per common share book value on September 30, 2015. Considering the $0.30 per share dividend, NLY's total economic return was barely positive at +$0.04 per common share for Q4 2015. However, this was still a decent result in a quarter that saw high volatility (wider-than-expected basis spreads). In Q4 2015, NLY had a net interest spread of 1.47% and a net interest margin of 1.80%. This will likely be narrower in Q1 and Q2 2016. However, NLY seems likely to leave the dividend unchanged at least through Q2 2016. If interest rates go too low, NLY might have to cut its dividend a bit; but remember it now has 23% of stockholders' equity invested in its credit portfolio. It should be less susceptible to interest rate moves going forward. However, one might expect the spring selling season to cause CPRs (constant prepayment rates) to rise due to the start of the selling season. This should not be a huge negative impact.
The 10-year US Treasury Note yield also rose from 2.04% on September 30, 2015, to 2.27% on December 31, 2015 (+23 bps). This normally leads to bond value losses. It is not surprising that even with hedging, the company sustained a small book value loss in Q4 2015. This should reverse in Q1 2016 with a -50 bps drop from Q4E 2015 through Q1E 2016.
In FY2015, NLY increased its Credit Investment Portfolio to 23% of stockholders' equity at Q4E 2015 from about 11% at Q4E 2014. These investments should have held their own in Q1 2016. They should have provided good, stable income as interest rates fell during Q1 2016. This should make the dividend less susceptible to interest rates going forward. Core Logic reports that US housing prices were up 6.8% year-over-year in February 2016. Core Logic expects home prices to increase by another +5.2% year-over-year through February 2017. This seems to indicate stability with some growth. It is hard to imagine the bottom falling out of the credit market under the forecast scenario. Rather under the current Core Logic forecast, NLY's Credit Investment Portfolio should perform well in FY2016.
Some people will want to take a look at NLY's various portfolios for themselves. The Agency RMBS portfolio is below.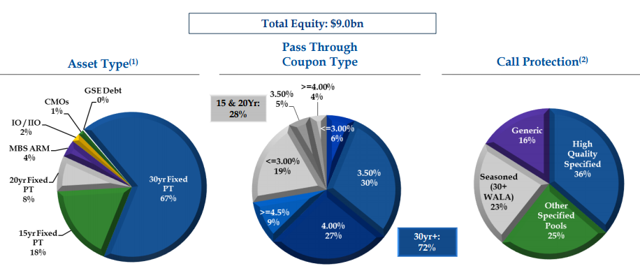 This portfolio looks reasonably diversified. If rates were rising quickly, one might be worried that the large percentage of 30-year fixed Agency RMBS might suffer from extension risk. However, interest rates have been falling thus far in 2016. With the Fed threatening to raise the Fed Funds rate still, it seems unlikely that they will fall dramatically from here. The fact that they are trending downward seems to indicate that they are unlikely to rise quickly from here. Stability in rates, slowly rising rates and slowly falling rates are all scenarios under which NLY should perform decently or well in its Agency Portfolio, which is 77% of its stockholders' equity.
The descriptions of the Credit Investment Portfolio parts are below:
The Residential Credit Portfolio: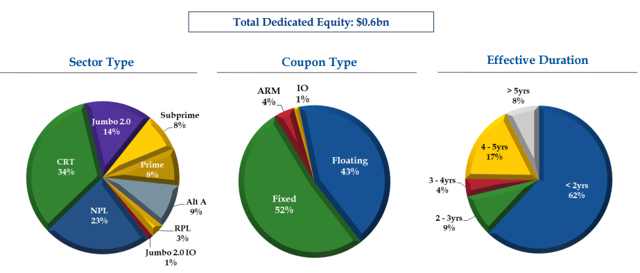 The Commercial Real Estate Portfolio: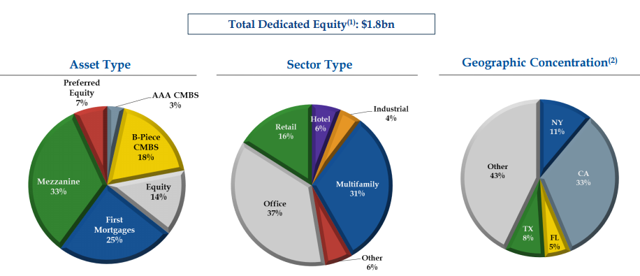 The Middle Market Lending Portfolio: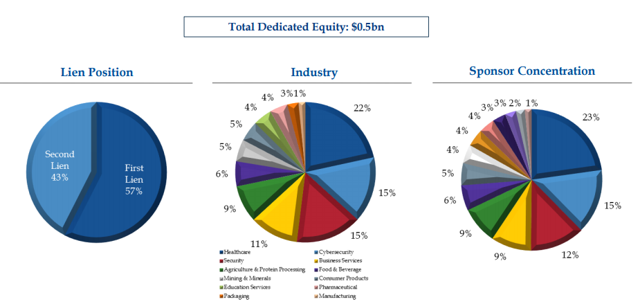 All of the above portfolios look adequately diverse. They should hold up well under the conditions generally expected for FY2016. They should have already performed decently in Q1 2016. If there is a definition "recession" declared later in 2016, that may impact the results you can expect from NLY. It would likely be negatively impacted. However, you can see from the charts at the top of the article that NLY has navigated recessions well - much better than most stocks. Even if there is a recession, NLY may still be a good place to have your money. Plus it does pay a healthy 11.5% annual dividend.
The ten year chart of NLY shows its recent performance and its performance during the last recession. It may provide some technical direction for a trade/investment.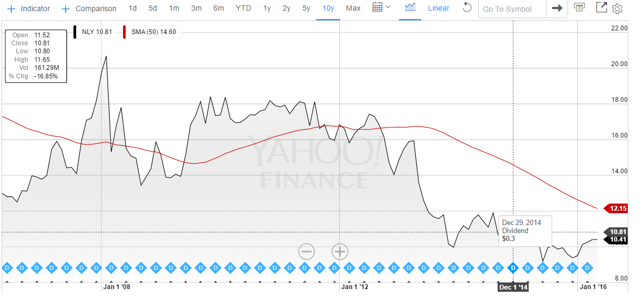 NLY appears to have bottomed after a long downtrend. The fundamentals so far this year lead one to believe that NLY is likely to perform decently to well during FY2016, especially during 1H 2016. Its Q4E 2015 book value of $11.73 per common share should go up upon the Q1 2016 earnings report for the reasons outlined in this article. If one used $12 per share as a rough book value basis, then NLY is trading at a discount of about 13% to its book value. If you use the Q4E 2015 book value, then NLY is trading at about an 11% discount to its book value. Both of these discount numbers argue that Annaly Capital Management Inc. is at least a low buy, if not a buy, for its dividend income, its discount to book value and its relative stability in troubled times. Remember even if there is a recession soon, the real estate market is unlikely to crater the way it did the last time, although it may still fall a bit.
NOTE: Some of the fundamental fiscal data above is from Yahoo Finance.
Good Luck Trading/Investing.
Disclosure: I/we have no positions in any stocks mentioned, but may initiate a long position in NLY over the next 72 hours.
I wrote this article myself, and it expresses my own opinions. I am not receiving compensation for it (other than from Seeking Alpha). I have no business relationship with any company whose stock is mentioned in this article.