The upcoming week kicks off "earnings season", as U.S. companies announce corporate profits for Q1. Alcoa begins earnings season by announcing its results on April 11. This will be a litmus test for the equity rally, as the momentum from the Fed's recent "verbal softening" should now be priced into equities. To push higher, however, the rally needs more than the overly-repetitious messages of Fed officials espousing a "cautious", "gradual" approach to monetary policy. Will earnings seasons propel equities higher? Not likely, in our opinion, given forecasts for the steepest earnings slump (Q1 profits expected to fall -10%) since the financial crisis. Indeed, analysts forecast earnings will decline for a fourth straight quarter. Can companies "surprise" by announcing results not as poor as forecasted? Yes, but that belies the problem of valuations. Should earnings come back into focus, it will still be hard to push up stocks in a meaningful way at this point. Rather, earnings season should draw investor attention to this disconnect between prices and earnings. Our chart of S&P 500 aggregate earnings per share [EPS] versus price shows the gap at its widest point in at least 25 years.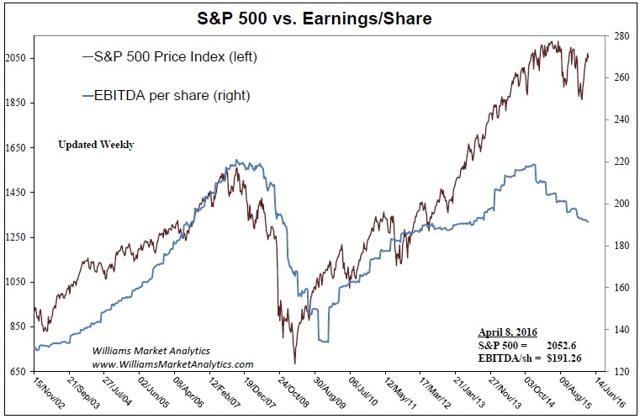 Our S&P 500 Price-to-EBITDA and Price versus Operating Margin charts give the same message. Even if we get earnings surprises, in the current context of (already) "Fed-inflated asset prices", we feel any rise in equity prices will be short-lived (as in a matter of weeks, not months). A widening decline in earnings is no recipe for higher prices in a seven-year bull market weeks away from becoming the second-longest in history. While much has changed in the world of finance since 2008, we are certain of one thing that has not changed: the finiteness of business cycles. With or without rate hikes, at some point this cycle will also end.
This fundamentally-justified argument for a limited upside in equities ties in nicely with our market indicator-based work, presented below. Most of our trend and seasonality indicators are 4 to 7 weeks out from hitting a major inflexion period. In the run-up to our predicted inflexion period, equity markets will:
get a complete look at U.S. company earnings
experience a coincidental drop-off in company share repurchases
On the first point, this reminder of the disconnect between earnings and price may serve as a splash of cold water in the face of value investors. Concerning the second point, many argue that share repurchases by companies themselves are the main force driving equity prices higher. The table below demonstrates the importance of company buybacks thus far in 2016.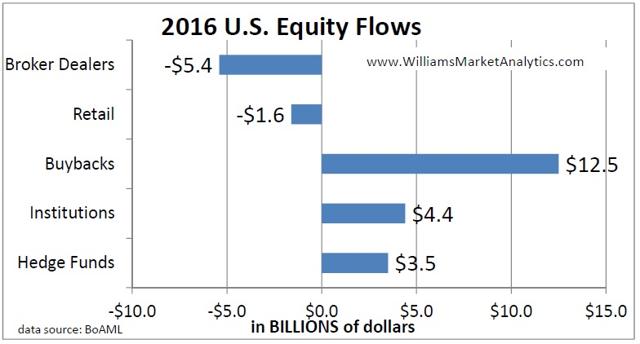 Therefore, three confluent factors - a "Triple Threat" - may unite to tip the balance in favour of the Bears in the coming weeks:
a re-concentration of investor focus from the macro / Fed-following behaviour to domestic, earnings-specific issues,
the potential of falling Buyback demand from firms, and
negative seasonality.
Add to this mix the quick March run-up in equities (leaving over-bought condition in many equity classes) and skittish traders who have experienced two cascading sell-offs in the past six months (and who will likely have their fingers on the trigger should major supports start getting taken out). It should not take much imagination to see how this potentially explosive cocktail may indeed provoke a major inflexion point in equities.
Probability-Weighted Seasonality Trends
In last week's Commentary, we posted two charts that feature temporal trends in U.S. equities using the S&P 500 (NYSEARCA:SPY) as a proxy. The first chart shows the propensity of market tops to form over several months, in a process we call "backing-and-filling" (bulls slowly relinquish their hold on the market). The second chart overlays the path of the S&P 500 from the June 2015 high with the path from the more recent November 2015 high. This "Take-Two Scenario" is proceeding on queue. We have been alerting our readers to expect at least one lower high on the S&P 500 in April, before the scheduled drop-off begins.
Finally, we completed a new set of seasonality trend indicators, drilling down to weekly price patterns. Our work corroborates the tendency to see an inflexion point between Week 20 and Week 22 in U.S. broad market equity indexes (we are entering Week 15 of 2016). The unique feature of these indicators is both in comparing each specific week's performance across all years and calculating the frequency the specific week tends to be positive. For each of the 52 weeks, we combine historical performance and the frequency of up-weeks, and then geometrically link the results to arrive at a probability-weighted glide path for the year. The analysis is taken one step further by dividing the sample into years with a positive Week 1 and a negative Week 1 in order to capture the First Week of January Barometer.
Taking the S&P Industrials Index (NYSEARCA:XLI) as an example of our weekly probability-weighted trend indicators, its chart below shows three curves. The dotted black line is the weighted trend pattern over all years, regardless of the performance in Week 1. The blue line is the weighted trend pattern using years when Week 1 was negative. The red line is the un-weighted 2016 price action that you see on your charting software. To begin the year, all three price curves are re-based to 100.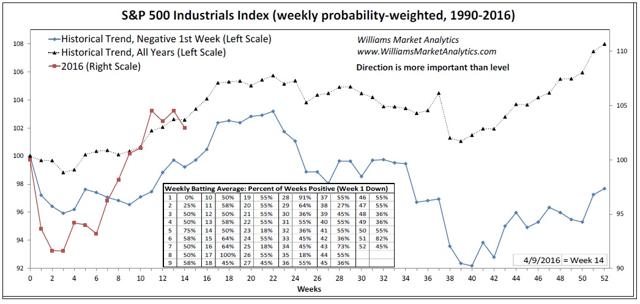 Note the following on the chart above:
The historic annual return for all years since 1990 has been exactly +8%.
For years with a down Week 1 (current scenario, in blue) annual performance drops to -2.5%.
The Batting Average box gives the frequency of positive weeks (in this case, only for "Down Week 1" years, hence the 0% next to Week 1). For example, in Week 15, 64% of the time the Industrials Index finishes up for the week.
We consider probabilities between 40% and 60% to be statistically indifferent from 50%. In other words, the odds of a given week being positive are a coin toss. However, outside of this probability range, there is significance in the probability score. For S&P Industrials with a 64% success rate in Week 15, we esteem that there is a seasonal bias to the upside for this week. In addition, for years with a positive Week 1 (not plotted), annual performance jumps to +17.5% for S&P Industrials. This pattern of positive/negative Week 1 divergences holds for almost all indexes we track, confirming that the first week of January does have predictive power. The Industrials have been conforming to the Negative Week 1 glide path (again, we are looking more at the big picture direction, not the relative magnitude of gains/losses in the current year). Similar probability-weighted glide paths for a few dozen major sector and country equity indexes are updated weekly on our site. For an active trader or investor, these seasonality trend indicators should be part of any market analysis. A complete explanation on reading these charts is given in our full Commentary.
Conclusion
The market has rallied hard from February into April. But the situation today is no different than in last November. Equities should not be able to push higher on simply old news of Fed verbal easing. Markets expect no further action out of the Fed, therefore the Fed's magic will be wearing off. Earnings news must push equities higher. However, it is unlikely that positive earnings surprises will be sufficiently strong to overcome seasonality headwinds on the horizon.
Disclosure: I/we have no positions in any stocks mentioned, and no plans to initiate any positions within the next 72 hours.
I wrote this article myself, and it expresses my own opinions. I am not receiving compensation for it (other than from Seeking Alpha). I have no business relationship with any company whose stock is mentioned in this article.