It seems strange to refer to a trading week that began with Monday, 7 April as "Week 1" of the month of April, but we're stuck with it because we referred to the previous week as "Week 5" of March 2016!
But now that it is in the rear view mirror, let's take this opportunity to look at the big picture for the S&P 500 in 2016.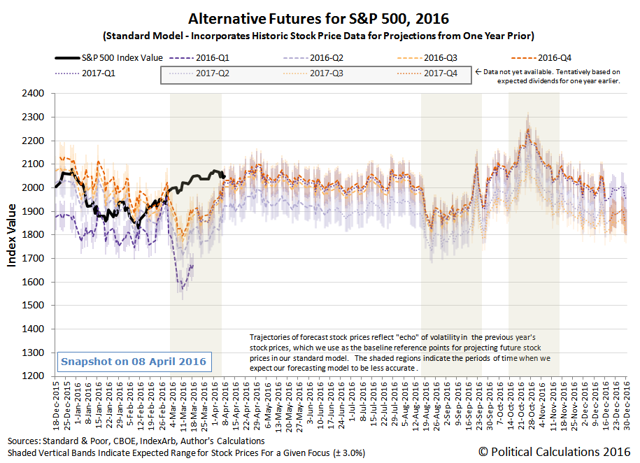 Overall, the remainder of the year ahead looks like a whole lot of sideways. At least up until we get to the anniversary of the August 2015 China crash, which is when the historic stock prices we use as base reference points for projecting the future trajectory of the S&P 500 in our futures-based model will once again negatively affect its accuracy. Just as the less severe level of volatility in stock prices from a year earlier impacted its accuracy in the period from 2 March 2016 through 6 April 2016.
The good news is that compared to the first quarter, our model forecasts a narrower range for potential volatility in the S&P 500 during 2016-Q2, which is something we'll explore in greater depth later this week.
Let's zoom in now on what the alternative future for 2016-Q2 looks like.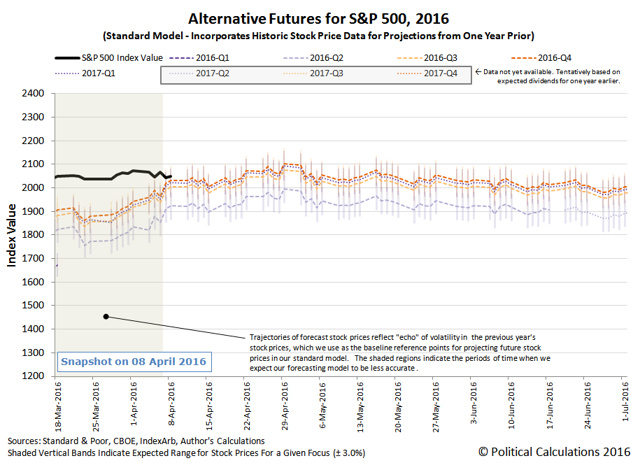 As expected, the actual trajectory of stock prices converged with our model's forecast associated with investors being focused on the distant future of the fourth quarter of 2016 following the dissipation of the echo effect upon our model last week, if a bit on the high side. This outcome is consistent with the expectation of stock market investors that the Fed's next short-term interest rate hike would most likely take place in that quarter, which was reinforced by last week's market moving news.
For historical reference, here are the headlines that stood out to us during the previous week.
7 April 2016:

U.S. factory data signals further slowdown in economic growth
Dollar slips but oil still loses ground
Wall Street pulls back after recent rally

8 April 2016:

U.S. economy seen growing 0.4 pct in first quarter: Atlanta Fed
After rally, earnings gloom takes hold on Wall Street

9 April 2016:
10 April 2016:

Dollar continues slide vs. yen as global stocks drop
Fed's Williams eyes two 2016 rate hikes: Fox Business Network
Wall St. falls amid global growth worries - Actually, not so much. 7 April 2016 is the first day outside of the echo effect we've been coping with in our model during the past five weeks, so it's nice to have the return to a higher level of forecasting accuracy. To us, the action of stock prices during this day is more consistent with there having been an element of noise-driven speculation that boosted stock prices above the level they would be during the previous day's trading, which simply dissipated with no additional news to sustain it before the market closed on 7 April 2016.

11 April 2016:

Fed's Dudley sees risks lingering, cautious on U.S. rate hikes
Global stocks gain on oil boost; dollar fades vs. yen
Fed to Hold Closed, Unexpected Meeting Under 'Expedited Procedures' on Monday to Discuss Rates - this is likely the most significant story of the week. Although the Tyler Durdens put a lot of weight on the last time the Fed held such a meeting, a month before the Fed officially announced it would hike short- term interest rates at its December 2015 meeting, we think that something else is happening now. Given the conflicts that we've observed in the statements of Fed officials during the last several weeks, we think it's likely that Janet Yellen is having the meeting in order to more firmly set her preferred policies and to also establish some greater forward guidance/messaging discipline among the Fed's minions.
They certainly need it. From our perspective, the worst-case scenario for the S&P 500 in 2016-Q2 would involve investors being prompted by the Fed's new forward guidance to suddenly shift their forward-looking focus from 2016-Q4 to the current quarter of 2016-Q2, which would send stock prices considerably lower than they are today.
That possibility leads to some interesting questions for investors. What is the actual probability of that happening? And how might an investor take advantage of such a situation if it were to play out, even if it now appears to be a low probability event?