Reverse splits can be initiated for numerous reasons. Many companies need to maintain compliance with their respective exchange to avoid delisting, and if the closing stock price in the previous 30 days falls below a threshold, $1 on the NYSE (New York Stock Exchange) for example, the company runs the risk of being delisted. Management might also feel that the current PPS (price-per-share) might not accurately reflect the value of the business. Either way, a reverse split is done with one goal in mind - increase shareholder value.
California Resources Corporation (NYSE:CRC), to which I will refer to in this article as CRC, has been struggling to maintain an acceptable stock price as of recent. First spun-off from Occidental Petroleum Corporation in late 2014 at a starting price of $8.10, the stock appeared to be heading in the right direction when it hit a high of $9.70 on April 20, 2015. However after the high, market conditions began to deteriorate. Oil continued the plummet, and CRC was quick to follow. Reaching an all-time low on February 24, 2016 at a price of 30 cents per share, the situation reached critical mass when a non-compliance notice from the NYSE on the same day indicated that their trailing 30 day average closing price fell below $1. Currently, CRC has an equity float of 381.87 million shares. With a closing price of $1.3 on April 8, 2016, the market cap rests at $504.64 million. That is a far cry from the once massive market cap of roughly $2 billion when the stock first hit the market.
As a result of this notice, management has presented the idea of a reverse stock split in a proxy filing dated March 23, 2016, to be voted on during the company's annual meeting on May 7, 2016. Contained in the proxy statement is proposal 6:
Approval of the Amendment and Restatement of our Amended and Restated Certificate of Incorporation to Effect, at the Discretion of our Board of Directors, [A] a Reverse Stock Split which will Reduce the Number of Shares of Outstanding Common Stock in Accordance with a Ratio to be Determined by our Board of Directors from within a Range of One Share of Common Stock for Every 5 to 30 Shares of Common Stock (or Any Number in Between) Currently Outstanding; and [B] a Reduction of the Number of Authorized Shares of Common Stock and Preferred Stock in a Corresponding Proportion
Below are examples of the different proposed split ratio amounts, their effects on the number of common and preferred stocks, as well as number of shares outstanding. The proposed ratios range from 1-5 all the way up to 1-30.

Source: CRC Def 14A
Let's take a moment to assess the proposed reverse split. For one, I don't see anything above 1-15 happening. The amount of shares outstanding would be too marginal to allow for the stock to truly appreciate at a faster rate once market conditions improve. The ratio of 1-10 seems to be the best choice, as the amount of shares isn't small enough to make the share volume non-existent, and at the same time isn't overwhelmingly dilutive. The positives of a theoretical reverse split are: reduced listing and administrative fees, continued listing on the NYSE, and a greater share price that could attract new retail and institutional investors.
Not only does the stock price rise as a result of a reverse split, but the implied volatility of the stock also declines. Consider the average three month volume for CRC has been 17.7 million shares, it becomes clear that becoming a penny stock has hurt the stock stability. Non-volatility in the oil and natural gas industry is not a guaranteed, but anything management can do to shield long-term investors from major price fluctuations ensures meaningfully preservation of value.
However, there are downsides to reverse stock splits. Although PPS will increase, there is nothing stopping to price from dropping further upon commencement of the split. Take for example Great Basin Scientific Inc. (NASDAQ:GBSN), which recently had a 1-35 reverse split that took effect on March 30, 2016.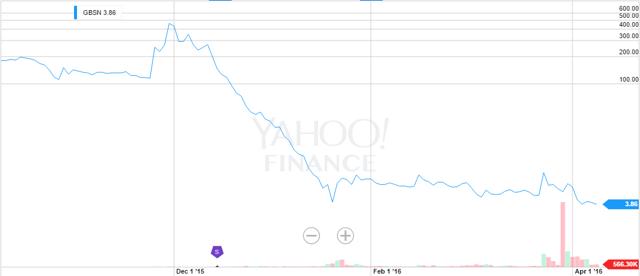 Source: Yahoo! Finance
Going back six months, the comparable stock price was around $500 per share. Notice the massive red bar right before April 1, 2016. The initial spike before the drop occurred on March 23, the day the reverse split was announced, where it reached almost $10 per share in equivalent value. However, following the reverse split on March 30, the share price has continued to go down. As of the close on April 8, it ended with a low of $3.86 per share; down 23% from two weeks before.
CRC will face a similar issue if it decides to pursue a reverse split. The initial PPS will increase, but at the risk that the underlying value of the stock declines further than what it would have been pre-reverse split. If you are interested in day trading, buying CRC at the current market price could yield a gain assuming a reverse split is announced. For the risk averse, avoid the stock entirely. The price will most likely keep declining in an unpredictable market environment.
Update:
CRC formally announced in an 8-K filed on May 5th, 2016 that the company's stockholders approved a reverse split of 1-10. This is right in line with what I predicted would happen as a result of pricing pressure and extreme market volatility. The split goes effective May 31, 2016.
Disclosure: I/we have no positions in any stocks mentioned, and no plans to initiate any positions within the next 72 hours.
I wrote this article myself, and it expresses my own opinions. I am not receiving compensation for it (other than from Seeking Alpha). I have no business relationship with any company whose stock is mentioned in this article.