Introduction
Sometimes the best and nicest gems are hidden in plain sight, and a few weeks ago I came across Chase Corp (NYSEMKT:CCF). I downloaded the company's financial statements of the first half of FY 2016 as I wanted to find out if the company remained on track to generate another substantial amount of free cash flow in the current financial year.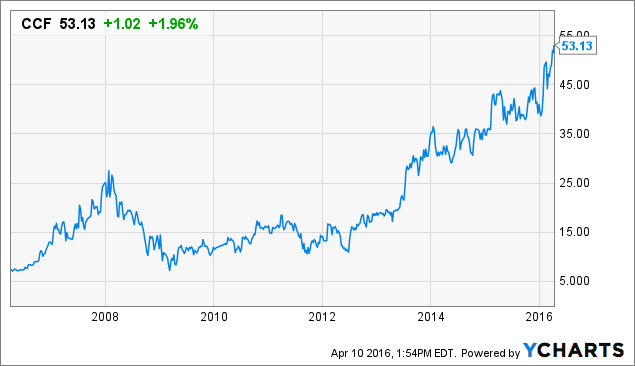 CCF data by YCharts
2016 has started really well, and I have to admit I'm impressed
As providing coatings for pipelines and insulating materials for cable and wire manufacturers can be quite a volatile business to be in (as Chase's results will be influenced by the general state of the economy), the lower oil price environment that started last year resulted in Chase becoming quite cautious as the company said there was some 'confusion' in the market. The company expects the reduced visibility to continue throughout the financial year 2016, but despite the company's very cautious outlook, the financial results are actually pretty robust considering the company's revenue and net profit increased in the first semester of FY 2016, compared to the first six months of the previous financial year.

Source: annual report
In the first six months of the year, Chase's revenue increased by approximately 4% to $112.4M, and even in the second quarter (which was weaker than the first quarter), the revenue increased by approximately 5% to almost $55M.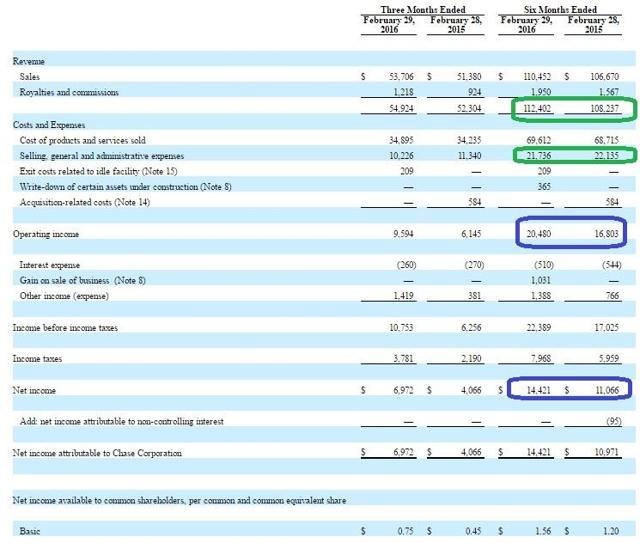 Source: SEC filings
But let's focus on the H1 results, as those will provide you with a better overview compared to just highlighting one single quarter. Even though the total revenue increased by approximately 4%, the COGS increased by less than 2% and the SG&A expenses actually decreased by 2%! This resulted in an operating income of $20.5M, which is a 22% increase compared to the first half of last year. That really is an excellent result, as Chase was able to expand its operating margin from 15.5% to almost 18.25%, so it does look like Chase has been able to navigate through these 'confusing' times. At least, for now, as I guess nobody will be particularly sad with the net profit of $14.4M and an EPS of $1.56.
That's great, but I'm always intrigued to find out what percentage of the net income has been converted into effective free cash flow. You can't pay bills with a nice net profit, you need to make sure you have enough cash on hand to pay for everything, so yes, I usually consider the cash flow statements to be more important!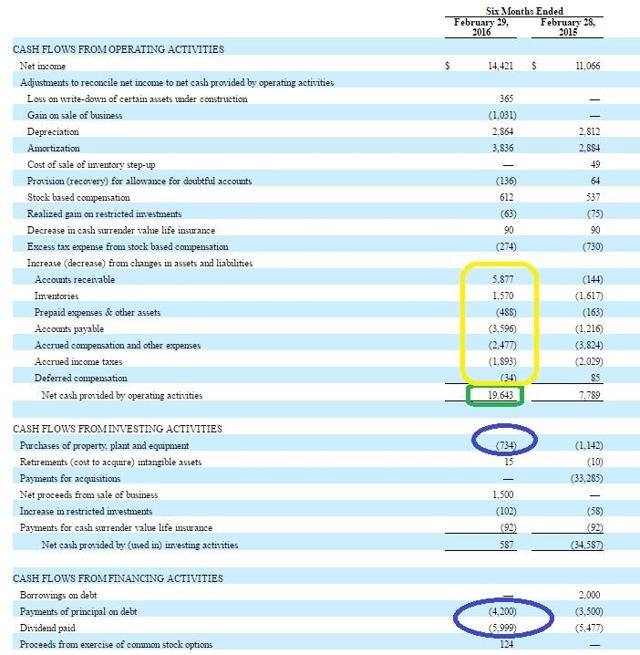 Source: SEC filings
In Chase's case, the operating cash flow was $19.6M, but after deducting the net cash amount the company had to 'invest' in its working capital position (predominantly caused by paying some bills), the adjusted operating cash flow was $20.6M, and as the total capital expenditures were less than $1M, Chase's adjusted free cash flow was almost $20M. That's once again a great performance and actually a remarkable improvement compared to the adjusted free cash flow of $15.5M in the previous financial year.
This year might remain volatile, but the robust balance sheet provides a margin of safety
So, even though the company seems to be very cautious (and I think this is a good approach), Chase's management has been working really hard to make sure the company keeps its financial flexibility. Indeed, generating a double digit dollar amount of free cash flow is great, and after paying the dividend, Chase had approximately $14M left to spend. Of that $14M, $4.2M has been used to reduce the net debt by repaying some of its long-term debt. And the remaining $10M? That has just been added to the balance sheet!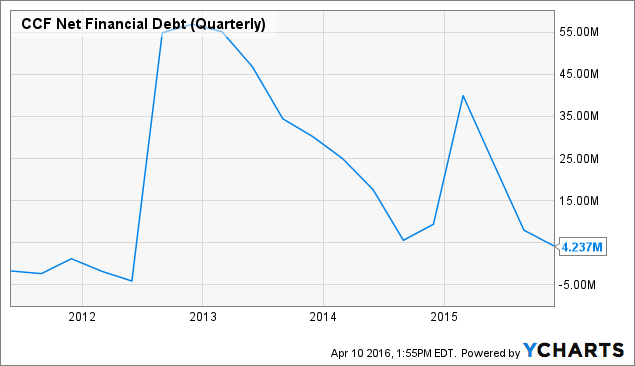 CCF Net Financial Debt (Quarterly) data by YCharts
Chase now has a net cash position of approximately $4M versus a net debt position of $8M just six months ago, and I think the company definitely deserves a lot of credit for keeping its balance sheet in an excellent shape! As the net debt is continuously being reduced, Chase's interest expenses should also go down but this probably won't move the needle as Chase had access to a very cheap financing facility.
And that's where the importance of having a lender that's backing you comes in. Chase deals with the Bank of America (NYSE:BAC) which arranged Chase a $70M financing deal when the company acquired NEPTCO. BAC offered Chase a relatively cheap line of credit with an interest cost of LIBOR + 1.75-2.25%, and the effective interest rate in the first half of the year was just 2.18%. The facility has to be repaid in June 2017, but I have no doubt Chase and BAC will enter into a new, longer-term agreement and extend the maturity date of the credit facility (and perhaps reduce the interest rate a little bit, as Chase's financial situation has improved).
On top of the $70M financing arrangement, Bank of America also is providing an additional credit facility of $15M, and Chase might want to use this to close other acquisition opportunities. Good relationships with its bankers are important, and Chase's net cash position will make BAC quite happy.
Investment thesis
An annualized free cash flow of approximately $40M is a great achievement, and as Chase is required to repay $2.1M of its long-term debt on a quarterly basis, the total interest expenses should also drop by $40,000 per quarter, further boosting the cash position. Chase also continues to hint at 'non-organic growth opportunities', so I wouldn't be surprised to see the company zeroing in on another acquisition.
'Our M&A program will remain robust in FY2016 as we seek opportunities to build for the future.'
According to the company's debt covenants, the Bank of America would allow Chase to leverage up to 3 times its EBITDA and as the H1 EBITDA was almost $30M, this means Chase will be able to spend $180-200M on an acquisition. Of course, the company doesn't 'have' to do anything, and the current adjusted free cash flow yield is approximately 8%, which is more than my minimum requirement. I would expect the net cash position to increase on the back of Chase's free cash flow and the fact the company will sell the Randolph property to unlock more cash.
Disclosure: I/we have no positions in any stocks mentioned, but may initiate a long position in CCF over the next 72 hours.
I wrote this article myself, and it expresses my own opinions. I am not receiving compensation for it (other than from Seeking Alpha). I have no business relationship with any company whose stock is mentioned in this article.