Introduction
So the much talked-about $160B merger of Pfizer(NYSE:PFE) and Allergan (NYSE:AGN) is not going ahead. What exactly happened? There's been lots of "he-said she-said" recriminations that the media has enjoyed covering, but I found it hard workout the specifics of why the deal actually fell apart. Here's my take on it.
One of the main drivers behind the merger was to allow Pfizer to change its head office to Ireland so as to avoid the US Corporation Tax rate of 35% and become subject to Ireland's far more lenient 12.5% Corporation Tax rate. Under US law, Pfizer could merge into Allergan and change its tax base to Ireland so long as Pfizer accounted for less than 60% of the combined entity after the transaction.
And so the deal was structured, but then the rules were changed last week.
The US Treasury Department introduced new rules meaning Allergan's M&A conquests over the last 3 years could not be included in its "Calculation of Value" for merger purposes. Allergan was deemed a "serial inverter" by the US Treasury. The result was that Allergan was now worth a much smaller piece of the overall combined pie (purely under the prism of merger rules) and Pfizer, all of a sudden, was worth more than 60% of the proposed combination. Hence, Pfizer would no longer be able to change its tax base to Ireland under US law. A central plank that rationalized the deal had been destroyed.
I would stress that the theoretical "merger-rules" value does not impact the core fundamental values of either Pfizer or Allergan. Pfizer lost the opportunity to a substantially lower corporation tax rate but was probably over-paying for that right anyway. Allergan still has the right to pay Irish Corporation Tax on its profits and its share price has come down since the deal fell apart. Both companies could still be decent investment candidates.
In light of last week's events, I wanted to look at both Pfizer and Allergan on a stand-alone basis to determine if either is an attractively valued investment.
I wanted to take a look at Pfizer today and will follow-up with an article on Allergan.
Mining for Valuation - Where does Pfizer fit in?
When I consider a stock for purchase, the first thing I work-out is its Free Cash Flow as a percentage of Enterprise Value. I believe this an elegant valuation metric with several advantages over the traditional P/E approach:
FCF is a good measure of what's left over for debt holders and share holders after the business has taken its cut of the profit to re-invest in its business operations.
Enterprise Value accounts for Net Debt on the Balance Sheet.
In 2015, Pfizer generated Free Cashflow of around $13B. The Market Capitalization of Pfizer today is about $200B. To work out the Enterprise Value we adjust the Market Cap for Net Debt (Total Debt less Cash). The Net Debt of Pfizer stood at $20B on Dec 31, 2015 ($43B Total Debt less $23B Cash). The Enterprise Value thus stands at about $220B. You can verify the estimate of EV by looking up the Yahoo Finance estimate for EV on the Key Statistics page for Pfizer (which incidentally shows an EV of $222B).
The Free Cashflow Yield can now be solved:
Free Cashflow $13B
Enterprise Value $220B
FCF Yield 6%
Readers will note that higher Free Cashflow will increase the FCF Yield. Likewise, a lower EV will increase the FCF Yield. By using the $220B EV for Pfizer as opposed to its Market Cap of $200B, we have driven down the FCF Yield. This is reasonable to me since I want to penalize Pfizer for the material Net Debt position on its Balance Sheet. This is why the FCF/EV calculation is so damn elegant. Afterall I can buy stocks like Microsoft, Apple and Cisco with lots of Free Cash on their Balance Sheets that I need to give credit for.
| | | | | | |
| --- | --- | --- | --- | --- | --- |
| Name | Ticker | Mkt Cap | Enterprise Value | 2015 FCF | FCF/EV |
| Cisco | CSCO | 139.79 | 112.29 | 11.00 | 9.80% |
| Apple | AAPL | 603.14 | 471.14 | 63.00 | 13.37% |
| Microsoft | MSFT | 430.11 | 387.11 | 24.00 | 6.20% |
| Gilead | GILD | 130.88 | 127.88 | 20.00 | 15.64% |
| Amgen | AMGN | 116.66 | 116.66 | 8.50 | 7.29% |
| Shire | SHPG | 35.43 | 36.73 | 2.20 | 5.99% |
| Pfizer | PFE | 199.76 | 219.76 | 13.00 | 5.92% |
| American Express | AXP | 57.66 | 87.60 | 9.50 | 10.84% |
| Eaton | ETN | 27.44 | 35.44 | 2.20 | 6.21% |
A FCF Yield of 6% maybe doesn't turn the head too much, particularly when I look at the FCF Yields that are available today on the market e.g. Gilead has a FCF yield of around 15%!
But when one digs deeper into Pfizer, one can see why a FCF Yield of 6% is probably a fair enough deal.
Revenue Diversity Like You Have Never Seen
The Pfizer Revenue portfolio is extremely diversified. I have analyzed Gilead, Amgen and Shire in recent weeks on SA and none of these companies comes close to Pfizer for Revenue Diversity.
Pfizer sells so many products that is impossible to show them all in a legible way on a pie chart. So I developed the following high-level chart to depict the diverse product ecosystem at Pfizer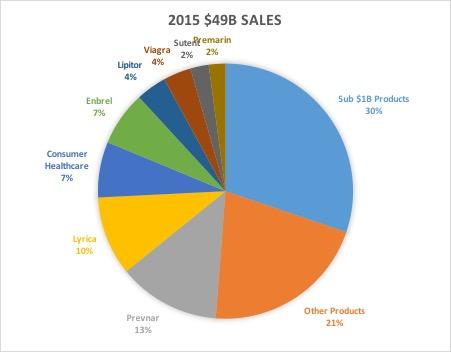 Source: My own analysis of Pfizer's 2015 Product Sales. Individual product sales of $100M+ are listed in the Pfizer Annual 2015 Report and in the Appendix below
The main take away here is that nearly 60% of Pfizer's 2015 Sales came from "smaller" products:
30% of Revenues were generated from Products that had under $1B in Sales but still enough Sales to be individually listed (see Appendix to this article)
7% of Revenues were generated from Consumer Healthcare
21% of Revenues were from Products that were too small to individually list in the Pfizer Annual Report
About 40% of Sales came from blockbuster drugs that had generated over $1B in Sales each: Prevnar, Lyrica, Enbrel, Lipitor, Viagra, Sutent and Premarin.
Pfizer seems to have a revenue diversity on a par with a P&G, a Nestle or a Unilever.
But consumer staple companies don't have to worry about patent cliffs.
The Pfizer Patent Cliff
Investors should be aware that 35% of Pfizer's Revenue is generated by its Legacy and Peri-Legacy Established Products business that includes legendary drugs like Lipitor that still sell well today. All products in the Legacy or Peri-Legacy Established Products have lost patent protection or are about to do so, per Pfizer's 2015 Annual Report. Lipitor lost patent protection 5 years ago and still generates 4% of Total Sales.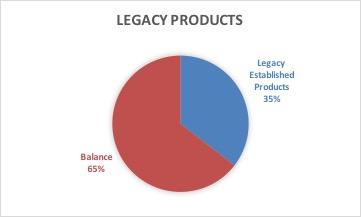 Revenue Growth
One would imagine that such vast revenue diversity should protect against declining product revenues caused by patent cliffs, generics, lower pricing and patented head-to-head competition.
But unfortunately this has not been the case.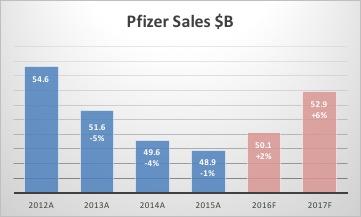 Source: Actual 2012-2015 Sales Google Finance, Forecast Sales 2016-2017 Reuters Survey of Analyst Estimates
As we can see, Pfizer Sales have fallen steadily over the last 4 years. Revenue diversity at Pfizer is not doing the job we might intuitively expect it to do.
Per a Financial Times article on April 7th 2016, Pfizer has also invested $25B into acquisitions since 2011 which has failed so far to deliver Revenue growth.
But new products are expected to grow into massive blockbusters.
Ibrance, the breast cancer drug, is expected to grow rapidly and significantly from $720M Sales in 2015 to $3.2B Sales in 2017.
Eliquis, the blood clot treatment, developed in an alliance with Bristol Myers Squibb is expected to reach $1.9B in Sales by 2017. Pfizer did not break out the individual Eliquis Sales for 2015. Total Alliance Products Revenue came in at $1.25B in 2015 per Pfizer's 2015 Annual Report.
Revenue forecasts for Ibrance and Eliquis to 2017 were sourced from a Financial Times article on April 7th 2016.
Analysts are forecasting that the success of these new blockbusters will outweigh the recent history of Sales declines and the forthcoming Patent Cliff risks around major Sellers like Enbrel and Lyrica.
Total Returns at Pfizer
Here's the Total Return history for Pfizer sourced from the longrundata website.
| | |
| --- | --- |
| 20 Year | 8.00% |
| 15 Year | 1.74% |
| 10 Year | 7.80% |
| 5 Year | 14.5% |
| 3 Year | 7.80% |
| 1 Year | -1.50% |
Pfizer currently yields a 3.66% dividend and $44B of share buybacks since 2011 (source: FT article April 7th 2016) has helped to protect the EPS over the time period against even more severe declines.
Pfizer has the peculiar distinction of being a "perennial" Dog of the Dow for the last decade. Every year for the last decade, it has been one of the top 10 highest yield stocks on the DJIA on Dec 31st. I am not sure of this is a good or a bad distinction!
Pfizer has a good and solid dividend, but meaningful share price appreciation does not appear to be part of the mission at Pfizer given its perennial Dogs of the Dow status and market-tracking Total Return performance.
Life After Allergan
Per a Financial Time article on April 7th 2016, Pfizer management has now declared in the aftermath of Allergan that it will examine splitting the company in two: Pfizer Innovative Products and Pfizer Established Products. Pfizer's acquisition of Hospira in 2015 gives credibility to an Established Products spin-off since Hospira was a big player in bio-similars and injectable drugs. A spin-off could create value for shareholders should the market become bullish once again, but the diversity of the overall business would be highly diluted by this action. For me, Revenue Diversity is a key part to the attraction of Pfizer as an investment
The only other option after Allergan is to focus on developing new drugs internally, acquiring new drugs at value, controlling costs, focusing on pricing and increasing the diversity of the revenue stream.
Conclusion
So for that 6% FCF Yield an investor is getting:
3.66% Dividend Yield (more than 50% of the FCFs)
a decent buyback yield
an awesomely diverse revenue stream
potential revenue growth for the next few years
no distracting, major M&A activity
hopefully a business that focuses on its fundamentals
maybe a nice spin-off
I think overall Pfizer is not a bad deal. If it comes back to a 4% dividend yield I would consider it a buy.
I will write-up my thoughts on Allergan as an investment opportunity in the next few days.
Appendix 1 - Listed Product Sales Pfizer 2015 Annual Report
| | |
| --- | --- |
| Product | Sales $000M |
| Prevnar | 6,245 |
| Lyrica | 4,839 |
| Enbrel | 3,333 |
| Lipitor | 1,860 |
| Viagra | 1,708 |
| Sutent | 1,120 |
| Premarin | 1,018 |
| Norvasc | 991 |
| Zyvox | 883 |
| Celebrex | 830 |
| Benefix | 752 |
| Ibrance | 723 |
| Pristiq | 715 |
| Vlend | 682 |
| Chnatix/Champix | 671 |
| Genotropin | 617 |
| Refacto AF | 533 |
| Xeljanz | 523 |
| Xalkori | 488 |
| Inlyta | 430 |
| Infusion | 403 |
| Medrol | 402 |
| Xalatan | 399 |
| Zoloft | 374 |
| Relpax | 352 |
| EpiPen | 339 |
| Sulperazon | 339 |
| Tygacil | 304 |
| Effexor | 288 |
| Zmax | 275 |
| Toviaz | 267 |
| Revatio | 260 |
| BMP2 | 232 |
| Xanax | 224 |
| Somavert | 218 |
| Cardura | 210 |
| Neurotin | 196 |
| Diflucan | 181 |
| Tikosyn | 179 |
| Depo Provera | 170 |
| Unasyn | 118 |
Disclosure: I am/we are long GILD, CSCO, SHPG, MSFT.
I wrote this article myself, and it expresses my own opinions. I am not receiving compensation for it (other than from Seeking Alpha). I have no business relationship with any company whose stock is mentioned in this article.