By Raul de Frutos
Our stainless MMI didn't move for the third-consecutive month. Despite a momentary recovery in commodity markets (thanks in part to the recent rally in oil prices), nickel prices were unable to move up.
Although some industrial metals, such as steel and tin, moved up in Q1, important metals such as aluminum, copper and nickel are all lagging badly in this base metals rally. That gives the rally less credibility and make us think that markets could pull back as soon as momentum vanishes.
Trade Case
The biggest headline in the U.S. involves Chinese stainless, cold-rolled-anti-dumping and countervailing duty investigations. The U.S. International Trade Commission made a unanimous preliminary determination on March 25 that unfairly-traded imports of stainless steel sheet and strip are causing injury to U.S. stainless producers. The petitioners were AK Steel (NYSE:AKS), ATI's Flat Rolled Products Division, North American Stainless and Outokumpu Coil Americas.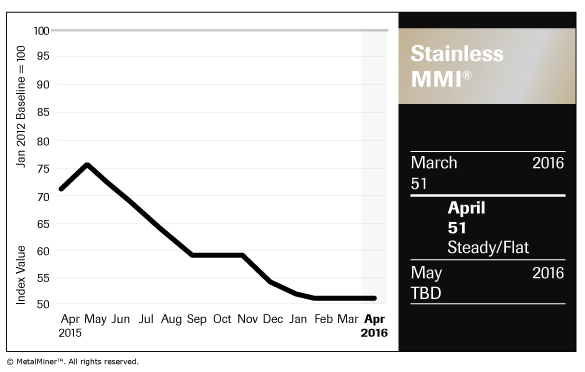 With the threat of anti-dumping petitions looming, Chinese mills have been canceling open orders with U.S. customers, pushing domestic lead times for cold-rolled stainless steel beyond 8-12 weeks. For Q2, steel mills are in "controlled order entry" mode, trying to ensure volume for their key customers. With higher lead times and while China is under investigation, domestic mills are seeing the opportunity to increase stainless base prices. That could help support prices short-term, particularly if strength in the metal complex continues, which remains questionable.
Longer-term, U.S mills need to be mindful of any price increases as long as international prices remain low. Global nickel supply is still running strong as the supply side has proved quite inelastic to low prices with most producers hanging on while they hope Chinese pig iron producers will close first. Moreover, demand is not improving and stocks remain at elevated levels, which could prevent any market deficit and translate into tangible tightness.
Stainless domestic mills have the natural advantage of short lead times due to proximity but when domestic lead times rise, metal buyers might prefer importing and if they do so successfully, domestic mills might have a hard time winning that business back.
Russia's Norilsk Nickel's Earnings Sink
Another headline in March was when Russia's Norilsk Nickel (OTCPK:NILSY), the world's second-largest nickel producer, reported a 24% decline in 2015 core earnings (in spite of a weaker dollar offsetting losses) and forecasted global primary nickel consumption to remain flat this year.
Outokumpu Changes Freight Equalization Policy
Recently, Outokumpu Coil Americans announced changes to its equalized freight schedules. Bright annealed and rolled-on finishes will have the most significant increases since the point of equalization has been changed to San Luis Potosi, Mexico. This will amount of at least a $.05 per pound increase in these products.
Editor's Note: This article discusses one or more securities that do not trade on a major U.S. exchange. Please be aware of the risks associated with these stocks.