A couple of months ago, I talked about the upcoming potential dividend raise investors are expecting to see from Apple (NASDAQ:AAPL) on the company's April 25th earnings report. With interest rates low, I detailed how I figured buybacks would remain the preferred strategy, meaning a large dividend raise was out of the question. At this point, Apple's strategy continues to be dependent on Mr. Market as low bond yields make share repurchases worthwhile.
Back in February, Apple had another large bond issuance, and I'm expecting in a few weeks to find out that money was funneled to the buyback. After the 10-Year US Treasury rate rose to 2.00% in mid March, rates have come back down in recent weeks. The chart below shows where things stand now.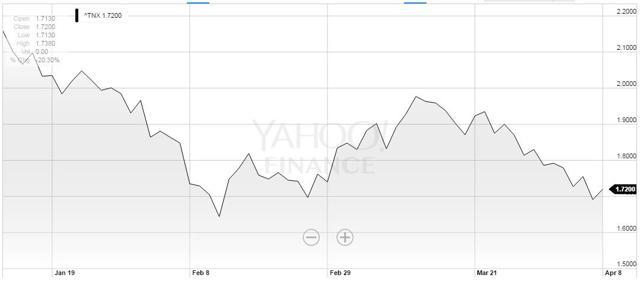 (Source: Yahoo Finance)
With the 10-year rate down about 10 basis points since Apple's last bond deal was priced, the company remains in a good situation to use debt for share repurchases. At this point, every $10 billion or so a debt issuance comes around a weighted average interest cost of a little more than 3.00% on an annual basis.
So if we assume Apple raises its dividend by about 10%, and we'll go to $2.30 annually for a round number, the dividend yield based on Friday's close would be 2.12%. When you take into account the tax savings on debt, Apple's interest costs are basically covered by the cash flow increase from reduced dividend payments on the shares it buys back.
With the continued concerns in Apple's revenues and earnings per share, both projected to decline in this fiscal year, it also makes sense to buy back shares to help soften the EPS blow. Why should the company just give investors cash when it can reduce the share count and improve EPS? Additionally, if you expect the iPhone 7 cycle will help the company return to growth, buying shares now is the best strategy, especially when the street thinks they are undervalued.
While I know many investors are hoping for a large dividend raise from Apple, it just doesn't make sense in this market. If interest rates were a few percentage points higher, the scenario would be different. But when your after tax interest expenses are basically equal to your dividend yield, and you're worried about declining EPS, share repurchases are the better way to go. I expect that to be the case in a couple of weeks when we get both a dividend raise and a strong commitment to buybacks from Apple management.
Disclosure: I/we have no positions in any stocks mentioned, and no plans to initiate any positions within the next 72 hours.
I wrote this article myself, and it expresses my own opinions. I am not receiving compensation for it (other than from Seeking Alpha). I have no business relationship with any company whose stock is mentioned in this article.
Additional disclosure: Investors are always reminded that before making any investment, you should do your own proper due diligence on any name directly or indirectly mentioned in this article. Investors should also consider seeking advice from a broker or financial adviser before making any investment decisions. Any material in this article should be considered general information, and not relied on as a formal investment recommendation.