Alcoa (NYSE:AA) reports their Q1 '16 after the bell tonight, Monday, April 11, 2016, with analyst consensus expecting $0.02 - $0.03 in earnings per share on $5.1 billion in revenue for expected year-over-year declines of 93% and 13% respectively.
To be frank and honest with readers, I did a CNBC Asia segment about 18 months talking about Alcoa and the co-anchor, a kid about 25 years old, lucky enough to find himself dead center in the business fat-box, referred to Alcoa as a "value-trap" and my first thought was "somewhere Starbucks is missing a barista" and it turns out in hindsight this kid may have been right.
The stock actually rallied after the show from $10 to roughly $13 - $14, couldn't break the downtrend, and I ended up selling the stock after watching and owning this dog for years, even in the good commodity markets during the mid-2000's.
Is it time to re-enter Alcoa ? Remarkably, Klaus Kleinfeld and Alcoa management have told investors the last two quarters that the Downstream business - the part of the business that is supposed to be spun-off and creating value - is now behind schedule (the Firth-Rixson acquisition that is) and the drag on the business, the Upstream business might now be stabilizing.
"Downstream" has been weaker the last quarters, which was the part of the business that is value-added Aerospace and Auto.
(Seriously I can't make this stuff up.)
However, here is what was really surprising: the growth in the fully-diluted share count the last two years, and to be frank about this metric I missed it as well:
| | | |
| --- | --- | --- |
| Quarter end | f/d shares outstanding | y/y growth in f/d shares |
| 12/31/15 | 1.310 bl | +8% |
| 3/31/15 | 1.222 bl | +12% |
| 3/31/14 | 1.093 bl | -6% |
| 3/31/13 | 1.169 bl | 0% |
| 3/31/12 | 1.164 bl | 1% |
The fully diluted shares were verified with a data service that provides full P/L metrics as well as a brokerage Income statement model, so the shares outstanding shown are good.
Maybe a better table to show the dilution would be to look at the last 8 quarters starting from 3/3/14:
| | | |
| --- | --- | --- |
| | fully diluted shares o/s | y/y growth |
| 12/31/15 | 1.310 | +8% |
| 9/30/15 | 1.294 | +7% |
| 6/30/15 | 1.237 | +4% |
| 3/31/15 | 1.222 | +12% |
| 12/31/14 | 1.217 | +14% |
| 9/30/14 | 1.205 | +12% |
| 6/30/14 | 1.189 | +11% |
| 3/31/14 | 1.093 bl | -6% |
Source: earnings releases, 10-Q's tracked on internal spreadsheet.
The importance of all this for readers whose eyes might have fogged over by now is that with 30% more common equity outstanding over the last 2 years, Alcoa would need to generate "net income' that is 30% higher just to generate the same level of "earnings per share" in 2013.
Perhaps management needed to do this to improve liquidity for the spin-off?
With the possible turn in Energy and Commodity prices, is a turn for Alcoa at hand?
If we would look at the asset class return tables for the last 4 - 5 years, commodities have been at the absolute bottom of the relative performance charts, and within the commodity asset class, aluminum has been particularly strained.
That being said, EPS estimates for Alcoa have stabilized which means that since Q4 '15's report in early January '16, the 2016, 2017 and 2018 EPS estimates have remained pretty stable, which is a positive.
Valuation: with consensus analyst expectations looking for $0.34, $0.55 and $0.68 over the next three years, which is an average 15% growth rate over the next three years, and trading at an average P.E of 18(x) the stock looks fairly valued on a P.E and PEG basis, readers really need to look at the Downstream business on its own to get a fix on any value within the breakup.
The key thing is Upstream represents roughly 75% of AA's operating income. The Downstream business is projected to generate $13 bl in revenue and $2 billion of EBITDA (earnings before interest, taxes, depreciation and amortization), thus Downstream has a lower EBIT margin of roughly 15% versus the Downstream's 22%, and the Downstream has been below plan for the last two quarters.
The biggest positive to the Downstream segment is that these segments are generating faster growth.
Trading at 6(x) cash-flow and still free-cash-flow positive, it seems like the Street's price targets and SOP (sum-of-the-parts) valuation work is clustered between high-single-digits and low teens for AA's share price (pre-split).
Analysis/conclusion: Technically, AA is oversold on all three charts (daily, weekly and monthly) although the daily chart is now overbought.
I've followed the company (and the stock) since the late 1990's and Alcoa missed the giant commodity ramp in the mid 2000's and then fell apart after 2008 and has struggled since. While some see value in the Downstream spinoff, the drop in crude oil prices might have tempered the auto and aerospace demand for aluminum (at least temporarily).
It was shocking to me to hear Downstream be below plan for the last 2 quarters when management is preparing for the spinoff.
Readers might get a few bucks out of it for an upside trade and if the commodity price turn is real, the Street could be looking for catalyst names with reasonable valuations. At one time I though AA was worth high teens, low $20's per share, but the valuation has now come down to high single-digit, low teens fair value.
A trade above $10.87 - $11 per share and the stock could run.
However over the years Alcoa seems to have destroyed more shareholder value than the airlines.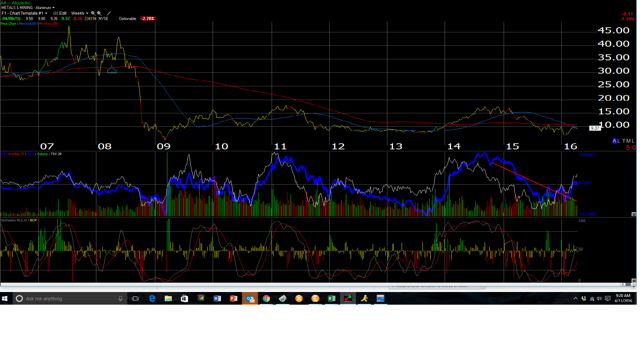 Disclosure: I/we have no positions in any stocks mentioned, but may initiate a long position in AA over the next 72 hours.
I wrote this article myself, and it expresses my own opinions. I am not receiving compensation for it (other than from Seeking Alpha). I have no business relationship with any company whose stock is mentioned in this article.