Aflac (NYSE:AFL) is a major insurance company which offers attractive income opportunities to investors. With a good outlook the company's shares look attractive, and by utilizing an options strategy investors can boost their income further.
Aflac's net income rose 43% over the last five years, which does, however, not show the company's true underlying earnings power. Since most of Aflac's income is generated in Japan, the company's bottom line depends on the Yen-Dollar exchange rate a lot. Over the last years the Yen has devalued a lot: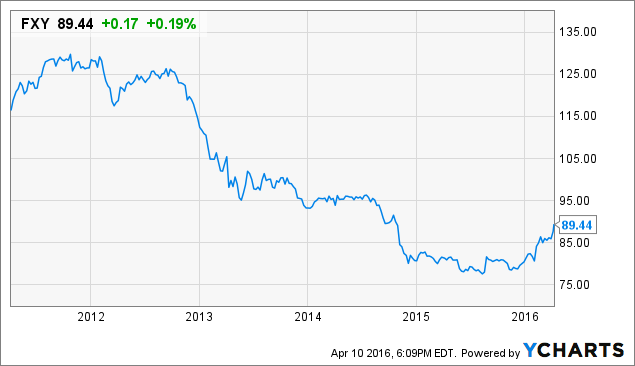 Over the last five years the Yen has lost more than 20%, which means Aflac's results (reported in $) were pressured substantially by adverse currency movements. Adjusting for the negative currency impact, Aflac's earnings increased at a faster rate over the last five years than the company's GAAP earnings did. This means that Aflac was doing even better operationally than the company's net income growth of 43% over the last five years makes us believe, unfortunately currency rates masked the business strength of Aflac. In recent months though, currency rates were more benevolent: Despite a lot of analysts calling for the Yen dropping even lower, and despite negative yields at the BOJ and positive yields at the FED, the Yen is actually up in the most recent past. This shows that the movements we have seen in the last years (i.e. the Yen dropping) may have been overdone, and if the Yen has indeed bottomed, this would mean that one of the major headwinds Aflac has been facing over the last years may stop working against the company. If the Yen remains stable at the current level (or increases in value further) Aflac will be able to report substantially growing earnings.
Since Aflac is active in a very non-cyclical business, and reports above average returns on capital, investors can count on earnings growing at an attractive pace going forward. With Aflac repurchasing a substantial amount of shares at the same time, Aflac's earnings per share will grow at an even higher rate: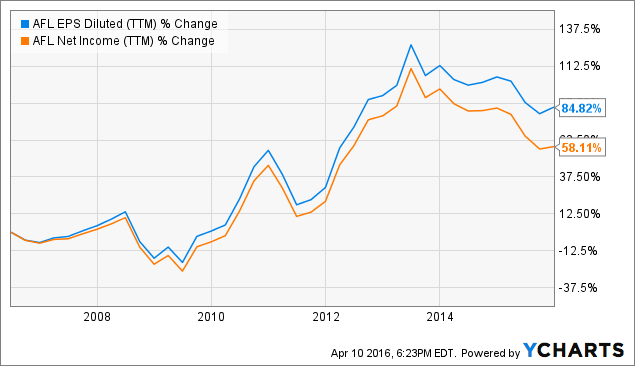 Over the last ten years Aflac's earnings per share grew by 85%, whereas the company's net income grew by 58% -- Aflac's EPS growth rate is thus about one and a half times as high as its income growth rate, which shows the huge impact share repurchases can have in the long run.
Since Aflac's price to free cash flow ratio is extremely low at just 4.3 right now (which equals a free cash flow yield of 23%) the company is able to return a lot of cash to its owners. Aflac does so by repurchasing shares continuously, but also pays out an attractive dividend to its owners: The company's $0.41 quarterly dividend equals a dividend yield of 2.6%, which is well above market average (S&P500 offers a dividend yield of 2.1%). Aflac has also increased its dividend each year for a long time, the most recent dividend increase (in late 2015) was a 5.1% hike.
A 2.6% dividend yield is already attractive, but investors aiming for income can further increase their yield by utilizing option strategies, such as selling covered calls. Let's first look at Aflac's options chain:

As an example we can use an investment of 100 Aflac shares. At today's price that investment would be valued at $6,400, and would pour out $164 in annual dividends. When we choose to sell the January 2017 calls with a strike price of $70, we would get $98 in additional income (the premium for selling the option, $0.98 per share). This would boost our income we would receive over the next year to $262. Over the next nine months (until the option expires) we would receive $221 (three dividend payments plus the option premium), for an income yield of 3.5%. The annualized income yield would be even higher at 4.7%, or more than 200 base points higher than the income yield we get when we don't use any option strategies.
The downside to using this strategy is that our capital gains are capped, if Aflac's shares trade above $70 in January, out shares would get called away. We would then receive a total of $7000 (for our 100 shares) + $98 in option premiums + $121 in dividends, for a total gain of $820 on our initial $6,400 investment (an annualized gain of 17.4%). If Aflac's shares don't reach $70, we have only gained additional income without losing anything. This strategy is thus mainly interesting for those focused on income generation, not so much for those looking for capital appreciation.
Takeaway
Aflac's business is doing well, even with currency rates moving into an unfavourable direction Aflac was able to grow its net income by 40% over the last five years. With the Yen increasing in strength in the last weeks the company's results could see a substantial boost this year. Shareholder returns are high as well, and by utilizing an option strategy investors can generate attractive income streams from their Aflac investment.
Disclosure: I/we have no positions in any stocks mentioned, and no plans to initiate any positions within the next 72 hours.
I wrote this article myself, and it expresses my own opinions. I am not receiving compensation for it (other than from Seeking Alpha). I have no business relationship with any company whose stock is mentioned in this article.