After writing my IPO analysis on Ferrari (NYSE: RACE) in October 2015, some recent events have lead me to follow up on my first Seeking Alpha article. This company is only 6 months old, and shares have tanked ever since IPO. This was as I suspected when writing my IPO analysis, hence the title "caution before calling shotgun". Now, the question that resides; is Ferrari cheap enough to buy? Shares are currently priced at $41.13, but they could have been found anywhere between $60.97 and $31.66 in the past 6 months. Interestingly enough, there are many ways to own Ferrari without actually purchasing a car or becoming a shareholder. Ferrari is not just a supercar manufacturer, but a clothing brand as well. Recent events have lead Ferrari into the Chinese market. I believe that focusing growth in China has the potential to do a lot of good for this company and their shares of common stock. Although this international expansion has potential, it is important to recognize trends on their balance sheet before considering an investment in Ferrari.
To start, it is interesting to note that Ferrari spiked just like Crude Oil prices this year. This is interesting because typically, one would think that cheaper oil leads to cheaper gas. If gas is cheaper for the consumer, this leads to more disposable income, which can affect a ton of different markets. One market to definitely observe is the Auto Industry. One would think more disposable income could lead to gasoline consumers purchasing a new vehicle. When observing luxury car manufacturers like BMW and Rolls Royce, we see the same positive correlation to Crude Oil, which is shown below;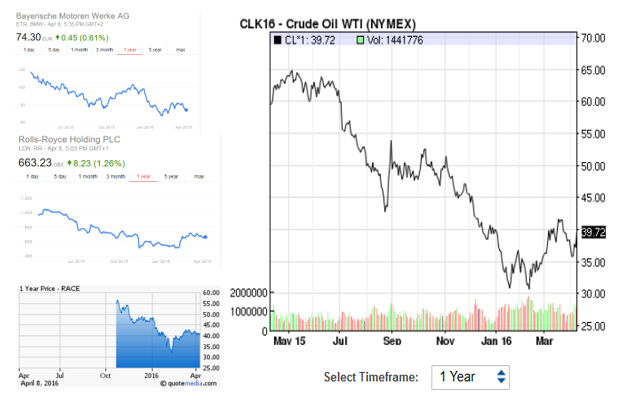 Google Finance Google Finance Seeking Alpha Nasdaq
One thing I always keep in mind when observing Ferrari and car manufacturers alike is that they are luxurious brands. More disposable income can most certainly lead to the purchase of a new vehicle. However, the graphs above show that this is not the case when going luxury. It is important to remember that Ferrari is priced at a premium. Even though people are saving money, there is no way the "average Joe" will save enough for a supercar. When looking at Ferrari and Crude Oil, I suspect this correlation relates to a lot of sales in the Middle East. Ferrari has a lot of influence in oil rich countries, like the United Arab Emirates. The largest indoor amusement park in the world can be found in Abu Dhabi, themed after Ferrari. In the UAE, oil can account for about 1/3 of the country's GDP. This number has been decreasing because historically, the UAE was way too dependent on the performance of oil. Even though they have taken these steps to decrease volatility with crude oil, 33% is still a significant portion of their GDP. I suspect that because oil has not been performing so well, the UAE has been experiencing little to no economic growth. With little growth in the UAE, this leads me to believe that their favorite supercar may not be seeing the highest volume in sales.
Oil rich countries in the Middle East are not the only places in the world with a heavy influence of Ferrari. Recently, Ferrari has been prospecting growth in east Asia. An announcement was just made about a new Ferrari World opening in China. Ferrari just signed an agreement with Beijing Automotive Group and BAIC Eternaland to develop and operate the theme park. The companies are currently deciding a city on mainland China to locate this new Ferrari World. Aside from the amusement park, on April 5th Ferrari opened its first youth store in China. This store is located in the Jing An Kerry Center, which is one of Shanghai's most important and popular shopping centers. When prospecting an investment in Ferrari, it is important to observe this expansion and the Chinese economy. The Chinese economy is very rapidly growing, which can do a lot of good for shares of Ferrari. However, the company financials below are telling me otherwise:




My first negative observation was that total assets have consistently decreased on a quarterly basis through 2015. Aside from that, about 100% of those assets were financed with debt as of December 2015. Also as of last quarter, Ferrari financed their assets with negative stockholder's equity. When comparing the other 3 quarters of the year to last quarter, potential investors can observe that Ferrari did not look bad at all. Debt-Equity ratio was well balanced throughout the year up until last quarter.
When first researching current events and Ferrari, I thought very highly on a long term investment with the luxury brand. I believe that Crude Oil will soon recover. With a limited supply on this earth, it is only a matter of time before the price per barrel goes back up. I believe that higher oil prices tend to grow select markets in the Middle East, like the UAE and their favorite supercar. Originally, my stance on Crude Oil paired with Ferrari's expansion into a healthy and growing Chinese economy gave me high hopes for standing long. However, observing the current financial health of the company has me very skeptical. It is a shame that Ferrari was not able to maintain a consistent debt to equity ratio throughout the year. If they were able to, my stance on a long term investment in Ferrari would be different. Before this luxury supercar manufacturer can see my investment, they have to show me a healthier and consistent balance sheet.
Disclosure: I/we have no positions in any stocks mentioned, and no plans to initiate any positions within the next 72 hours.
I wrote this article myself, and it expresses my own opinions. I am not receiving compensation for it (other than from Seeking Alpha). I have no business relationship with any company whose stock is mentioned in this article.