During my quest to discover new oil stories, I took a closer look at Northern Blizzard (OTC:NBZZF) as the company looks quite attracted at first sight due to its very strong cash flow performance. However, the majority of these cash flows were caused by Northern Blizzard cashing in its hedge book, and I was curious to see how the company would cope with this in the current financial year.
Northern Blizzard is a Canadian company, and its listing on the Toronto Stock exchange is much more liquid than its American listing as the average daily volume is in excess of 200,000 shares. The ticker symbol is NBZ.
2015 Was Good Thanks to the Hedge Book
In my previous article, I noted that I was pleased to see the company was operating with a positive operating cash flow. But I didn't realize that the majority of the operating cash flow was from nonrecurring revenues, as Northern Blizzard was definitely taking advantage of its very strong hedge position. This has now been reconfirmed by the company's recently filed full-year financial results. So let's have a look at how the company performed with and without the impact of its hedge book.
In the final quarter of 2015, the company saw its total oil equivalent production rate decrease by approximately 5% to just a little bit over 19,000 barrels a day. Of course, as the price of oil also went down, the total revenue of the final quarter fell by approximately 20% compared to the previous quarter. So, no one was really expecting NBZ to still show the same financial results. Indeed, total revenue fell by approximately 30%, despite a higher revenue from cashing in its hedge book to the tune of C$40 million ($30M).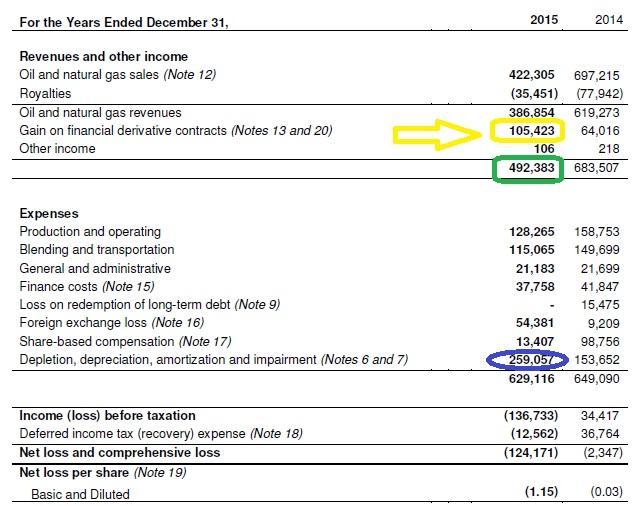 Source: Financial statements.
As Northern Blizzard also reported a total depletion, depreciation and impairment charge of almost C$260 million ($195M), the bottom line was most definitely written in red. Northern Blizzard had a net loss of approximately C$124 million ($92M), and that's even after including a $80M benefit from its hedge book.
But, of course, we all know that you should not judge an oil and gas company based on its income statement, as the non-cash charges are usually higher than the effective amount of cash needed to keep the production rate stable. The only way to find out if this is also the case for Northern Blizzard is by diving into the company's cash flow results.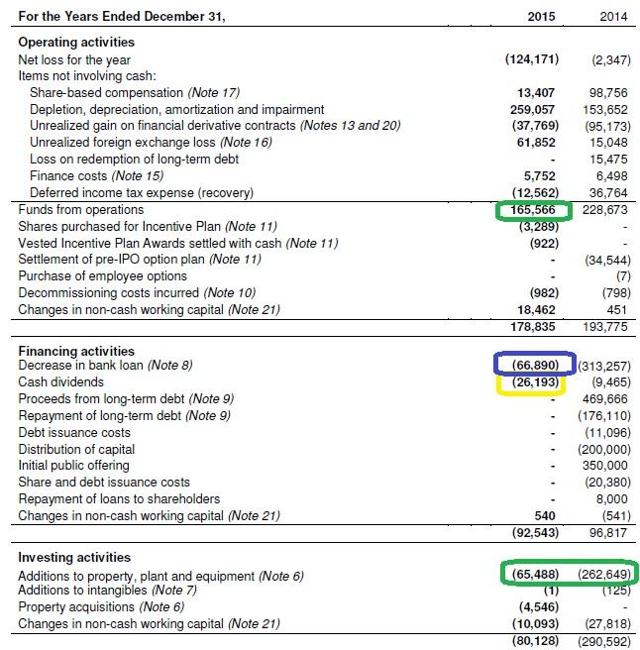 Source: Financial statements.
NBZ generated a total operating cash flow of approximately C$165M ($124M), which included approximately 70% of the theoretical gain on its hedge book (the remaining 30% benefit was a non-cash benefit as the value of the hedge book increased, but hasn't been converted into cash yet). After deducting the C$66M ($44M) in capital expenditures and C$4.5M ($3/5M) spent on property acquisitions, Northern Blizzard was free cash flow positive to the tune of C$95M -- that's fantastic. Even after paying a total dividend of C$26M ($19.5M, as a lot of the existing shareholders preferred to receive the dividend in shares rather than in cash), NBZ was able to spend C$67M ($50M) on reducing its net debt. That's a very smart move.
Why 2016 Guidance Reconfirms My Desire to See the Dividend Get Cut
However, there are a couple of things you need to be aware of. Even though a large number of the shareholders don't require its dividend to be paid in cash, I'm not particularly fond of this system as it only leads to additional dilution due to the new shares. Take a look at the next chart and you'll understand what I mean, as Northern Blizzard's share count increased by 12% in FY 2015. Even at the reduced rate of C$0.04/month (US$0.03), the total "cost" of the dividend (both in cash and non-cash expenses) remains very high at US$42M. That's something that could and should really be avoided.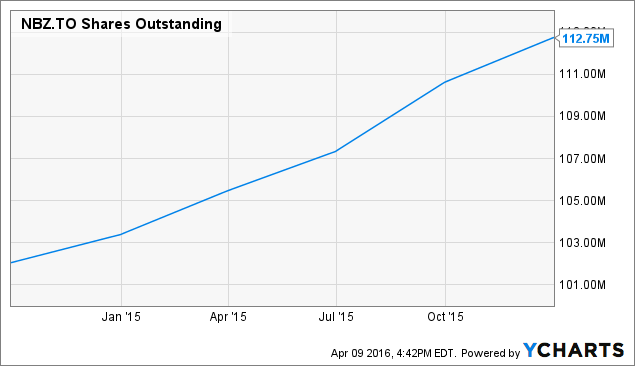 NBZ Shares Outstanding data by YCharts
Why? Because if you deduct the positive impact of the company's hedge book the adjusted free cash flow would not have been C$95M ($71M), but more like C$35M ($26M) -- which wouldn't even be sufficient to cover the total value of the dividend. So, I still think the dividend should be cut -- especially when you know the C$26M adjusted free cash flow also took the higher oil price in the first half of 2015 into consideration.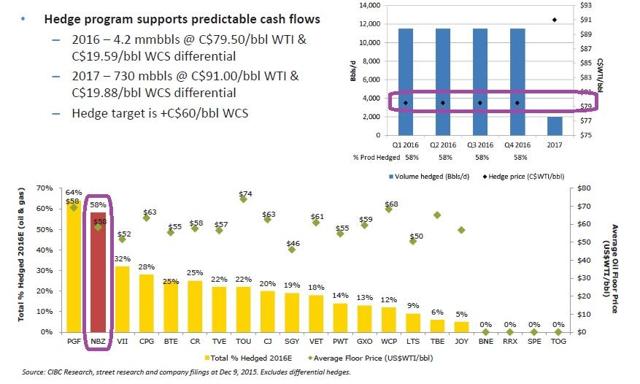 Source: Company presentation.
My suspicions about the dividend not being covered by a sustaining cash flow are confirmed in the guidance for 2016. Northern Blizzard's base case uses an oil price of US$40/barrel (which is a price point I'm perfectly fine with) and a full-year capex of just C$40M (US$30M) to keep the production rate stable at 19,000 barrels per day.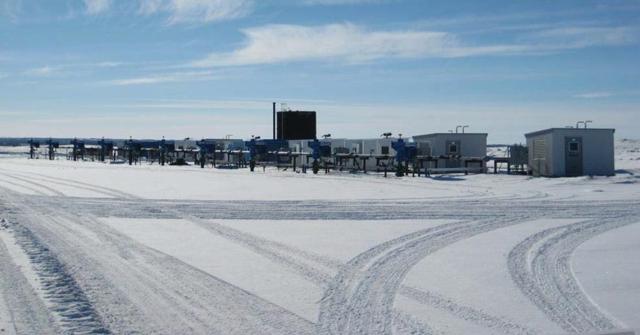 Source: Company presentation.
OK, let's get to work. The company expects to generate an operating cash flow of approximately C$120M (US$90M). (Based on my calculations, Northern Blizzard's "funds from operations" already take the capital expenditures into consideration; otherwise, the calculation based on the per-barrel expenses don't make sense and the result would be much lower.) This includes the benefit of its hedge book, which is expected to contribute in excess of US$75M to FY 2016 cash flows. Indeed, if you look at the company's cash flow expectations, excluding the impact of the hedge book, the expected operating cash flow would drop to just US$11M. That wouldn't even be sufficient to cover (half of) the dividend at all.
Investment Thesis
That's why I have been arguing for a while to cut the dividend completely (whether 70%-75% of the shareholders accept being paid in shares or not, that doesn't matter here as you're just destroying the per-share value). 2016 is the final year for Northern Blizzard to take advantage of its hedge book, as the company has only hedged 10% of its anticipated production (compared to in excess of 60% of its expected production in 2016). I think it would be wiser to use this year's excess cash flow to reduce its net debt position of US$300M, as you simply don't know what 2017 will bring.
I like the company's low decline rates, but this might be the right time to be a bit more prudent and suspend the generous 12% dividend yield until there's more visibility on the cash flows for 2017 and beyond. Some people will think I'm too cautious (considering Northern Blizzard has access to an undrawn credit facility), but overspending on dividends is against my nature.
Disclosure: I/we have no positions in any stocks mentioned, and no plans to initiate any positions within the next 72 hours.
I wrote this article myself, and it expresses my own opinions. I am not receiving compensation for it (other than from Seeking Alpha). I have no business relationship with any company whose stock is mentioned in this article.