"A house divided against itself cannot stand." - Abraham Lincoln
If you follow the homebuilding industry, watch CNBC or read mainstream financial media, it would be hard to miss the headlines regarding the boardroom squabble at PulteGroup (NYSE: PHM).
In a nutshell, PulteGroup founder and homebuilding icon, 83-year-old William Pulte, believes the time has come for an immediate CEO change. He continues to own 8.8% of outstanding PHM shares, which also makes him the largest shareholder.
Richard Dugas began his career with Pulte Homes in 1994, after previously working with PepsiCo in process improvement and plant operational efficiency. Dugas was elevated to CEO by Mr. Pulte in 2003, and has also served as PHM board chairman since 2009, when Mr. Pulte stepped down from that position.
The PulteGroup board led by Chairman and CEO Richard Dugas believes that shareholders will benefit from continuing to follow his 2011 Value Creation Model. Dugas has been fully supported by lead independent director John Postl and the current board.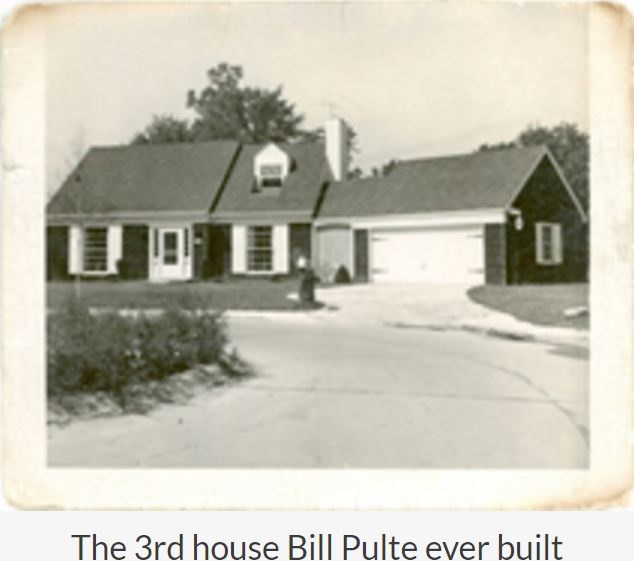 Source: PulteGroup
As a former homebuilder, I was naturally intrigued by these events. As a financial writer and analyst, I was pleased that Bill Pulte, Jr., agreed to several interviews, which provided invaluable starting points for my research.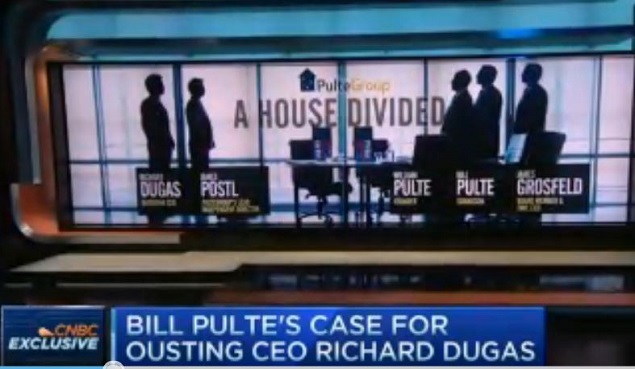 Source: CNBC Bill Pulte Jr interview - Apr. 6, 2016
I also successfully reached out to former PulteGroup executives who were willing to speak candidly, off the record, to help shed some light on the situation for investors.
The Gathering Storm
Although Mr. Pulte had handpicked then 38-year-old Dugas to carry the PHM torch in 2003, it was a series of events unfolding over several years which actually led up to what could easily be misconstrued as a sudden decision.
In fact, the PulteGroup founder previously voiced concerns regarding the $1.5 billion in write-downs stemming from the acquisition of Centex Homes back in 2010, the disruptive move of the Michigan-based builder to a new headquarters in Atlanta in 2014, and the ongoing loss of long-tenured Pulte executives who possessed both the homebuilding DNA and cultural DNA which reflected Pulte family values.
Based upon a review of LinkedIn profiles, there were over a dozen long-tenured former Pulte execs who had left the company since Mr. Pulte retired in 2010. According to my sources, apart from one retirement, the majority had either been terminated, forced out or chose to go to work for a competitor.
I now understand why Mr. Dugas and Mr. Pulte are not on the same page and why a new CEO was viewed as the only solution. Here's what the new CEO needs to understand.
The Big Picture
PulteGroup is an S&P 500 company with $6 billion in annual sales, competing with fellow homebuilding giants Lennar Corp. (NYSE: LEN) and D.H. Horton (NYSE: DHI), the newly minted CalAtlantic Group (NYSE: CAA) and even luxury builder Toll Brothers (NYSE: TOL) in certain markets.
PulteGroup closed on the ~$440 million cash acquisition of Atlanta-based luxury builder John Wieland Homes and Neighborhoods in January 2016.
Tale Of The Tape - Pulte Shares vs. Peers
D.H. Horton and Lennar have begun to distance themselves from PulteGroup, now a distant third when it comes to the number of homes delivered on an annual basis.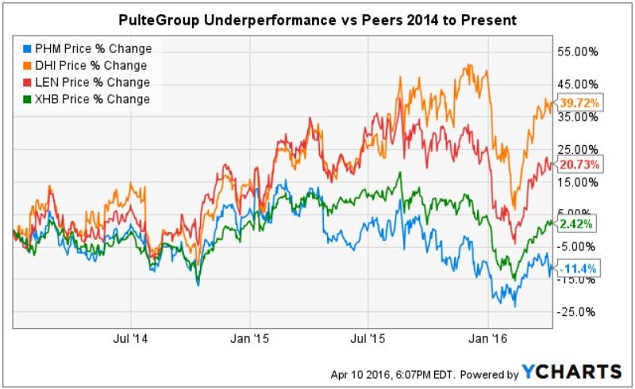 Frankly, these aren't very attractive charts, especially if your name is on the building and you happen to own over 30 million shares of PulteGroup stock.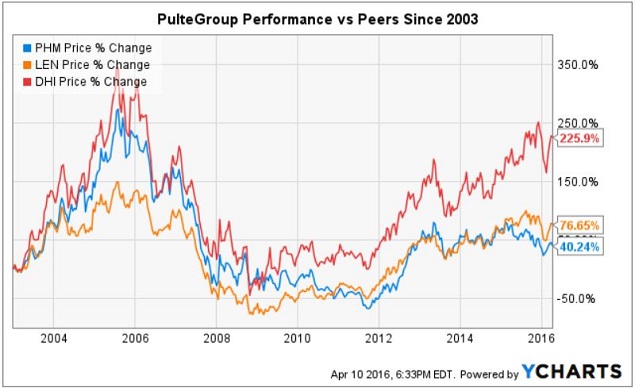 The Pivotal Meeting
Mr. Pulte, along with grandson Bill Pulte, arranged a private meeting on March 21 with CEO Richard Dugas which was held in an Atlanta hotel. James Grosfeld also was in attendance at this meeting when William Pulte broached the subject of Dugas stepping down prior to this year's annual meeting.
On April 4, PulteGroup announced the resignation of CEO Richard Dugas, to be effective after the shareholder meeting to be held in May 2017.
The Pulte family was surprised by the announcement, which set off a media feeding frenzy last week. Mr. Pulte's intention was for Dugas to step down amicably in favor of a CEO who could "help make Pulte great again."
The battle over the timing of Dugas' departure has set off a chain of events, including several analyst downgrades, which were directly attributed to the boardroom battle.
James Grosfeld Board Drama
As recently as December 2, at least on the surface, things seemed to be progressing quite nicely at PulteGroup.
There was an announcement of a penny increase of the quarterly dividend to $0.09 and a $300 million increase in share repurchase authorization. On the same day, PulteGroup announced the appointment of Richard Dreiling and James Grosfeld - expanding the board of directors from nine to 11 members - honoring a request from the company founder and largest shareholder.
On the current board, Grosfeld is the only independent director with significant homebuilding experience, including his tenure as Pulte Homes CEO from 1974-1990. That is old school homebuilding DNA in spades.
Additionally, Mr. Grosfeld has been a member of the BlackRock Inc. (NYSE: BLK) board since 1999 and he is the third-largest BLK individual shareholder. Notably, BlackRock, the leading global asset manager with $4.6 trillion of AUM, also happens to be one of the largest institutional owners of PHM shares. According to a recent Marketwatch article, Mr. Grosfeld personally owns 1.7 million PulteGroup shares.
As a result of his presence at the March 21 meeting between Dugas and Mr. Pulte, Grosfeld was not included on the slate of PulteGroup board members recommended to shareholders for election at the annual meeting in May.
Grosfeld's dissenting views regarding the succession plan proposed on April 4 also were cited as rationale for his exclusion. In all likelihood, Grosfeld was viewed as a heretic by the rest of the board because he didn't buy in to the "Value Creation" group-think.
Defined Strategy for Creating Shareholder Value
A Boston Consulting Group monograph: PulteGroup: Transforming the Business Model lays out a detailed rationale for the current business strategy being pursued by Dugas and his team. Here is an excerpt:
A detailed analysis of the company's value-creation performance over the 20-year period from 1990 to 2010 concluded that Pulte's problem wasn't that it had underperformed during the downturn. Rather, the company had consistently underperformed its peers - in both good times and bad. Throughout the entire 20-year period, the company was in the second quartile of its peer group in revenue growth, but it was in the third quartile for asset turns and the bottom quartile for gross margin, returns on capital employed, and revenue per employee. And the majority of its divisions were delivering returns below Pulte's cost of capital. Little wonder, then, that the company was in the bottom third of its peer group when it came to TSR (Total Shareholder Return).

"BCG's findings were eye opening and difficult to accept at first," remembers Dugas. "But the underlying data and related analysis made it impossible for us to ignore. Our success in driving strong topline and EPS growth disguised weaknesses and risks in our underlying business model. We needed to change fundamentally how we ran the business."
In order to understand the dynamic tension between Mr. Pulte and the current management approach, it is well worth taking the time to read the entire article.
Basically, it explains how the pendulum swung from old school homebuilding practices over to a highly centralized management style, intended to standardize operations across the entire company.
According to the PulteGroup website:
PulteGroup is focused on delivering earnings growth and driving improved returns on invested capital over the housing cycle. The company's Value Creation initiatives are focused on improving fundamental operations:
Expand homebuilding gross margin
Drive greater overhead leverage
Increase inventory turns
More effectively allocate capital
That is the short version.
There were good outcomes from this strategy. Most notably, a decrease in balance sheet leverage from 60% down to 30%, increased dividend distributions to shareholders as well as stock repurchases.
PulteGroup has the lowest debt to total capitalization among its peers, the highest gross margins at 23.5% last quarter, and has been leading the pack on ROE and ROIC measures as well. Notably, some of that performance may be due to harvesting land written down in prior years.
However, when other top homebuilders were buying land at depressed prices during 2010-2012 Pulte wasn't as active. This is one of the reasons that PulteGroup has lagged its Fortune 500 peers D.R. Horton and Lennar Corp. in revenue growth.
This has resulted in a fairly stagnant share price from 2014 to present in no small part because PulteGroup has not been able to grow its closings per year from ~17,200. Meanwhile, top builder D.R. Horton closed 36,700 homes in 2015 vs 30,450 the previous year, while Lennar tallied 24,290 in 2015 vs 21,000 closings in 2014.
Basically, the pendulum may have swung too far in the Value Creation direction. My sense is that PulteGroup execs viewing the world through the lens of this model may have been unable to react to events as nimbly as "less sophisticated" homebuilding peers.
Diluting The Culture
In 2013, the company decided to spend about $30 million to relocate its corporate office from Michigan to Atlanta, ostensibly to be closer to its customers and a larger portion of its investment portfolio.
In my discussions with Bill Pulte Jr., I asked why his grandfather had gone along with moving the Bloomfield Hills, MI, headquarters to Atlanta in the first place. I was surprised to learn that Mr. Pulte and most of the top company managers were only informed after the PulteGroup board authorization to uproot and move to Atlanta was already final.
Richard Dugas returned to Atlanta, where he had previously resided and has become quite active in the local business community according to published reports.
What I was surprised to learn about this move was that less than one-third of the 265 corporate employees in Bloomfield Hills actually made the move to Atlanta. This was a move that clearly diluted the existing corporate culture and accelerated the loss of experienced Pulte executives.
Revenue growth remained stagnant for PulteGroup during 2014, the year of the move. Meanwhile, during the same time period, Lennar and D.R. Horton chalked up revenue growth of 31% and 28.2%, respectively.
At this point, it is impossible to tell just how much this headquarters move really cost PHM shareholders. It appears to me that Dugas and his team wanted to start fresh in Atlanta, with a group of employees who would be willing to drink the Value Creation "Kool-Aid," without those pesky old school habits.
Lack Of Homebuilding DNA
According to Bill Pulte, one of the major concerns shared by his grandfather was the lack of homebuilding experience among current top managers and board members.
This is exacerbated by a preponderance of the purchasing decisions being made at the corporate vs. the divisional or field level. One former PulteGroup executive pointed out that decisions made in Atlanta have caused the loss of decades-long relationships with suppliers and contractors in some markets, which also negatively impacted the ability to deliver high-quality construction.
In homebuilding, there is no substitute for quality. Warranty problems can become expensive both in dollars and reputation. Value engineering without input from experienced field personnel can lead to some horrific problems.
Talent Pool Evaporating
Notably, one of William Pulte's concerns in his letter to management was the ongoing loss of "key and irreplaceable homebuilding talent."
Based upon a cursory review of LinkedIn profiles, there were over a dozen long-tenured former Pulte execs who had left the company since 2010. According to my sources, most had either been terminated, forced out, or chose to leave to go to work for a competitor.
Here are a few examples:
Roger Cregg, was a highly respected PulteGroup CFO, who also serves on the Board of Comerica Bank. Cregg left in 2011, after 13 years of service. He is now CEO of AV Homes, Inc. (NASDAQ: AVHI).
Steve Petruska, left in 2010, having served in multiple capacities, including as a Division President, Regional President, Area President, and spending the last six years of his 26 year Pulte Group career as Chief Operating Officer.
Patrick Beirne, a 28-year PulteGroup veteran, left in 2014. He had also served in multiple capacities including: District President, Regional President and Area President with full P&L responsibility.
Dominion Homes - Latest Casualty
The latest loss, Keith Tomlinson, illustrates that this Value Creation/Pulte Homes cultural divide isn't going to solve itself. In 2014, PulteGroup acquired Dominion Homes, an entry-level building operation focused on markets in and around Central Ohio (Columbus) and Lexington, KY.
This purchase also reunited Keith Tomlinson with PulteGroup. Tomlinson had originally worked as a Division-level CFO in the Midwest for PHM beginning in 2002. When he left PulteGroup the first time in 2006, he was a Division president in charge of Minnesota operations, which won the JD Power No. 1 award four consecutive years.
After PulteGroup purchased Dominion, Tomlinson became Pulte's Division President of Ohio and Kentucky markets. On March 24, it was announced internally that Tomlinson would be leaving PulteGroup by early April. Tomlinson is just the latest experienced homebuilding executive whose departure deeply troubled Pulte's founder, according to Bill Pulte Jr.
Mr. Tomlinson did not respond to my request for an interview.
Value Creation Model - Achilles' Heel
The biggest surprise that I discovered during my research and interviews for this article was the unintended consequences of the 2011 Value Creation Model.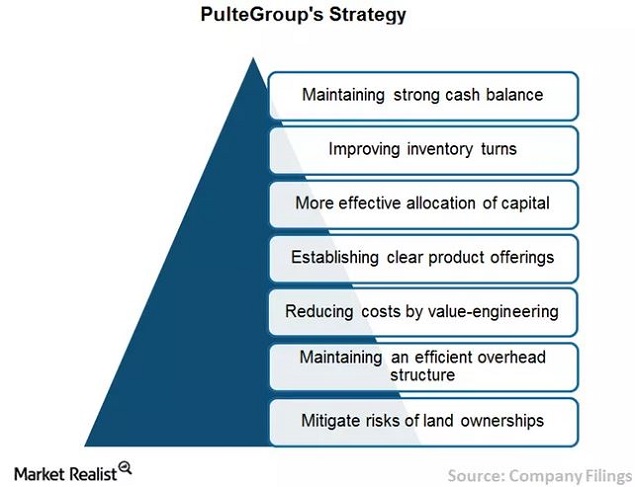 Source: Market Realist
In a lengthy interview with a former long-time PulteGroup executive, I got a better feel for what these initiatives have meant for the managers who operate at the Division or field level.
Gross Margin Focus - Unintended Consequences
My source explained to me that much of the PulteGroup relative underperformance stems from the corporate office largely focused on the goal of achieving gross margin of 25%. He said that pressure to achieve this target was often counterproductive.
Entry-level home buyers are more price sensitive than move-up, luxury and active adult purchasers. Historically, the Centex communities were higher volume and lower margin operations. Higher throughput can help deliver the same ROIC as lower-volume, higher-priced communities. Expecting the same margins from these lower priced homes seems absurd on the face of it. Predictably the number of entry-level home closings has declined.
This is exacerbated by Pulte Division Presidents being responsible for all of the brands in a geographic area. Naturally, the higher margin brands will get more focus. This means that market opportunities are squandered, which is reflected in the stagnant closings for PulteGroup over the past two years.
Historically, Pulte Division Presidents were incentivized on quality and on IRR, while retaining P&L responsibility. This gave Division and Regional executives the flexibility to respond to local market conditions while meeting financial targets in any number of ways.
Any infantry officer will tell you that "the map is not the terrain." What works for a Centex community in Southern California might be a total fiasco in Las Vegas or Denver. While it might be cost effective, one size does not fit all when it comes to regional markets.
I was told by one former company executive that the corporate office in Atlanta is essentially a command economy, run by very intelligent and highly educated managers who simply do not understand the nuts and bolts of the homebuilding business. Division presidents have the responsibility to make the numbers dictated by corporate, without enough flexibility to adjust to local market conditions.
Bottom Line
The current Value Creation Strategy has served the purpose of strengthening the PHM balance sheet. It should be retired with a "Mission Accomplished" banner. Apparently, the attractive balance sheet metrics have come at a very high "hidden" cost. PulteGroup has lost much of its experienced homebuilding talent.
Homebuilding is an entrepreneurial endeavor and requires local market knowledge to be successful. Nobody understands this better than PulteGroup's largest shareholder.
A common sense approach is needed at PulteGroup to meld the best of both worlds. I now understand why this will require a new CEO, and the sooner the better.
Investor Takeaway
On April 5, JP Morgan downgraded PulteGroup from Overweight to Neutral, lowering the target price from $21.50 to $18.00. This was specifically due to reducing the EPS multiples on PHM shares due to the uncertainty regarding how long the boardroom drama will play out.
Bill Pulte, Jr., shared, "If Richard Dugas is allowed to be in the company for another year, we believe that the company will continue to have lackluster returns, negligible growth, and less profitability than its peers." I happen to agree with him on this.
PHM shares could be a value play at current $17.00-$18.00 levels, if Dugas were to step down quickly and removing the cloud of uncertainty. That would probably require other large institutional shareholders to align with Pulte, Grosfeld and BlackRock, to apply pressure.
However, assuming Dugas is replaced by an ideal CEO candidate, a financially sophisticated, charismatic leader with extensive ground-up homebuilding experience, even with the support of both founder William Pulte and the board, the positive impacts would likely be seen in 2018 and beyond.
Disclosure: I/we have no positions in any stocks mentioned, and no plans to initiate any positions within the next 72 hours.
I wrote this article myself, and it expresses my own opinions. I am not receiving compensation for it (other than from Seeking Alpha). I have no business relationship with any company whose stock is mentioned in this article.