On April 1, 2016, the merger of Cameron International Corporation (NYSE:CAM) and Schlumberger (NYSE:SLB) was officially completed. It is known that Schlumberger had been eyeing to acquire Cameron for a long time due to the benefits like the expansion of production, the increase in competitiveness, and further profit growth. Cameron is a specialist in deep-water oil production, which opens up access to a large market for Schlumberger. However, in the short term, it seems as if the acquisition creates certain pitfalls.
An important fact is that Cameron repeatedly refused to merger with Schlumberger, and the company only agreed to sell itself at the peak of its performance. Its Q4 2015 revenues were ~$2.1B, which is almost 26% less than in Q4 2014. However, the profits decreased uniformly with the whole industry, where profits fell by about 25%. This means that the company operated efficiently without significantly reducing production and staff. The company worked on contracts signed before the beginning of the fall in oil prices and global production in late 2014, which allowed it to limit operating losses (essentially, a natural hedge). Thus, Cameron's management selected the best time for the merger with Schlumberger, as further operating activities at the present time require significant efforts to remain competitive and efficient.
Keep in mind that Cameron specializes in the production of oil in the high seas. Barclays predicts stagnation on the deep-water oil production market through 2018. In the meantime, E&P companies will be occupied with improving their balance sheets and will likely avoid engaging in new offshore projects. Therefore, for Schlumberger, the Cameron's acquisition is likely to begin paying off only in 2018.
The Oil Service Sector Is Going Through a "Cash Crisis"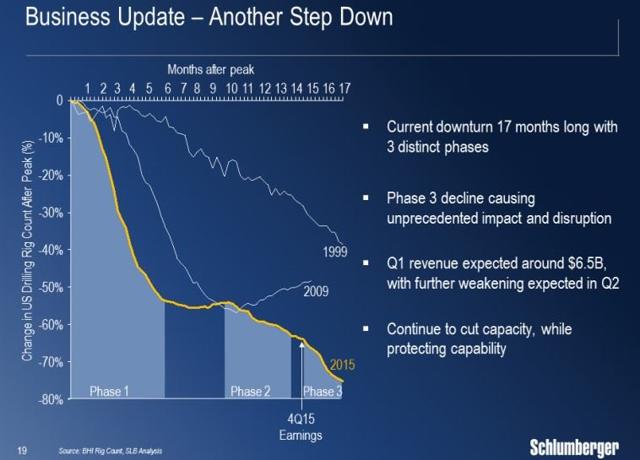 (Source: Oilpro)
The number of drilling rigs is rapidly falling after the historical peak in 2014. Starting in October 2014, the number was reduced by 1,247 rigs and now stands at 362 rigs as of April 1, 2016. The recent oil price recovery has not fueled growth in the number of rigs, mainly due to a substantial reduction in oil consumption and a credit crunch among oil producers. Schlumberger, being the largest and the most established company in the industry, simply could not handle the strong decrease in demand for oil extraction technologies and related products and services.

(Source: Ycharts)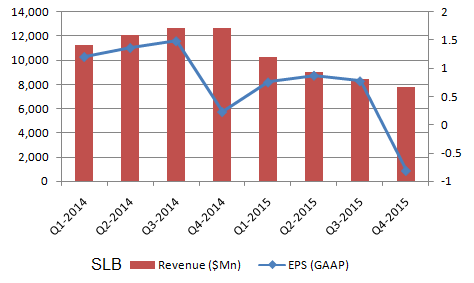 (Source: Schlumberger)
The Q4 2015 revenues fell by 27% year over year and totaled $7.7B. Net income from operations in North America decreased by 55% and by 30% on the international markets, respectively. The Q4 2015 EPS stood at $0.65 per share, down by approximately 57% compared to the same period a year ago. Currency devaluation is responsible for one-third of the profit decrease, as USD gained substantially on the forex market. In addition, the number of land-based drilling rigs fell by 68% since the start of the turmoil on the crude oil market.
Conclusion
The reduction of crude oil consumption contributes to a reduction in crude oil production. Thus, the demand for services provided by Schlumberger decreases, which significantly affects the company's bottom line. Due to the weak macroeconomic environment, especially because of lower-than-expected growth in China, we do not see positive catalysts for further growth in oil prices and, therefore, oil production. In our opinion, Schlumberger's capitalization will drop to $67 per share after the Q2 earnings release.
Disclaimer: Societe Financiers is an investment research team focused on long-term, long- and short-only ideas. Our research objective is to cover equities in various regions, such as North America, EMEA, Asia, Australia, and Emerging Markets. Readers should consider whether any advice or recommendation in our research articles is suitable for their particular circumstances and, if appropriate, seek professional advice, including tax advice. The price and value of investments referred to in our research articles and the income from them may fluctuate. Past performance is not a guide to future performance, future returns are not guaranteed, and a loss of original capital may occur. Fluctuations in exchange rates could have adverse effects on the value or price of, or income derived from, certain investments. Certain transactions, including those involving futures, options, and other derivatives, give rise to substantial risk and are not suitable for all investors. Transaction costs may be significant in option strategies calling for multiple purchase and sales of options such as spreads.
Disclosure: I/we have no positions in any stocks mentioned, and no plans to initiate any positions within the next 72 hours.
I wrote this article myself, and it expresses my own opinions. I am not receiving compensation for it (other than from Seeking Alpha). I have no business relationship with any company whose stock is mentioned in this article.