I. Introduction
It's been quite a ride since the March 31 Model 3 reveal.
Between crowing about the climbing reservation total, telegraphing another capital raise and taunting Tesla (NASDAQ:TSLA) shorts, CEO Elon Musk has kept twitter humming.
And why shouldn't Musk celebrate? The Model 3 looks terrific. I agree with the chorus of enthusiasts who think it's the best $35,000 car in automotive history. (Or, at least, it would be, if there were any chance Tesla could actually make it for $35,000.)
By setting the deposit requirement so low, Tesla hoped to create a tsunami of new customers and excite enthusiasm among its investors, and it certainly succeeded. However, the primary target of Tesla's Model 3 pre-marking was not customers or investors. The primary target was Panasonic (OTCPK:PCRFY).
More about that in my next article. In this one, I focus on the two Tesla cars that are actually being sold, the Model X and the Model S. And I'll climb out on a limb with a forecast about Q1 financial results.
II. Two Hits And A Miss
Before get to my latest forecasts, let's look back on past predictions. As the late great Mayor Ed Koch used to say when he greeted passersby in New York City, "How'm I doin'?"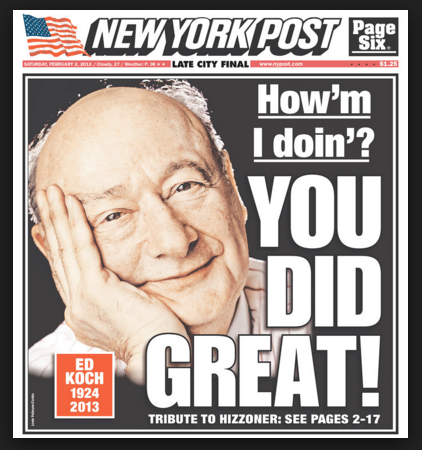 Model 3 Reservations: Bulls Eye
A few days in advance of the reveal, I estimated Tesla would receive 300,000 to 400,000 reservations during the first month. My estimate was met with indignation and disbelief from some Seeking Alpha commenters (for examples, see here, here, here, and here) and from at least one Seeking Alpha contributor (here).
As of April 7, one week after reservations opened, and with the new tallies having slowed, the total stood at just above 325,000.
Model X Deliveries: Bulls Eye
My Model 3 surmise reminds me of another time I had to duck the rotten tomatoes - last November, when I forecast that Tesla would achieve significantly fewer Model X deliveries than Elon Musk was promising.
With the Q1 delivery numbers now published, here's an update: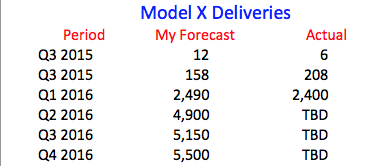 Q1 Deliveries: Oops
In early March, I forecast that Tesla likely would fall short its Q1 delivery guidance by 1,000 or so cars. I estimated Model S deliveries at 12,500 and Model X at no more than 2,500.
Three weeks later, with Tesla making a huge push to deliver Model X cars, even though many were plagued with problems, I revised my forecast, believing Tesla was likely to deliver 3,500 Model X's.
In fact, while Tesla delivered 12,420 Model S cars, it managed only 2,400 Model X. What happened? It appears that near the end of March, Tesla temporarily put the brakes on Model X deliveries.
The last minute slowdown in Model X deliveries, while bad for Q1 guidance, was certainly good for Tesla Model X customers, some of whom were reporting immense frustration with the Model X quality problems.
III. Model X Update - Q2 Will Be The High Water Mark
The good news is that Tesla will deliver as many as 6,000 Model X cars in Q2.
The bad news is that Q2 deliveries will completely clear the reservation backlog, with demand looking exceedingly weak.
Model X deliveries in Q2 will approach 6,000 . . .
Tesla invited its European Model X reservation holders to configure in early March. However, it's probably too late for Tesla to schedule, build, and deliver those cars before the end of June. So, the Q2 deliveries will have to come from North America.
In assessing Model X demand, I rely heavily on the reporting of temagami at the Yahoo message board and Bonaire at Seeking Alpha. Both are careful observers of VIN assignments and order tracking. Their estimates of Model S and Model X demand and deliveries have been impressively accurate for the past several years.
Right now, temagami sees about 4,200 assigned Model X VINs that remain to be delivered. He expects another 300 Model X cars to head to Canada (making for a 20% yield on 1,500 reservations).
Add in 500 more for 70D orders (which have been about 10% of total Model X orders), another 300 for 5-seat 90's and 400 for new 90D order, and your Q2 grand total is 5,700 Model X deliveries. Bonaire's numbers are no different.
The Model X car commands a significantly larger margin than the Model S. If Tesla can achieve 5,700 or so Model X deliveries in Q2, it might actually break even on its income statement, or even achieve a slight profit.
. . . but Q2 deliveries are as good as it gets for the Model X.
I agree with Seeking Alpha contributor Mark Hibben - Tesla has turned the corner on Model X production. Supply will no longer be a constraint. But, what about demand? I turn once again to one of my Tesla delivery data gurus, temagami.
Based on what he admits is sparse data, temagami calculates Tesla received 125 new Model X orders in March.
Given how few data points we have, let's triple that number and assume that new orders in March were 375. That's still a terrible monthly number, especially compared to Elon Musk's promise last year that by now Tesla would be achieving 800 to 1,000 Model X deliveries per week.
Of course, temagami could be wrong. There's a first for everything, I suppose. But assuming temagami is his usual self, Tesla will completely clear its North American Model X reservation backlog in Q2 and deliver all remaining worldwide Model X reservations in Q3.
In light of these numbers, it's no surprise that Tesla will open its Model X configurator this week. No longer will one need to make a Model X reservation. Just step right up and place your order.
Though this news is certain to be splashed about, there's really nothing new about it. Since mid-February, those making reservations have immediately received invitations to configure. Tesla has simply been shy about admitting it.
Will Favorable Reviews Save The Model X?
Tesla understandably has been reluctant to release the Model X to the professional automobile press for extensive testing. We still await a detailed analysis from Car and Driver, Road & Track, or Edmunds.com.
However, Tesla recently loaned a Model X to Dan Neil, whose brilliantly written Rumble Seat column appears weekly in The Wall Street Journal. Tesla allowed Neil several days with a P90D equipped with the Ludicrous option, weighing in at 5,400 pounds and pricing out at $135,400.
Neil was certainly a safe choice. He has been a reliable Tesla cheerleader who believes EVs are saving the planet (while conveniently ignoring the batteries' cradle-to-grave environmental costs and the fact that the grid is largely electrified with fossil fuels).
In reporting on the Model X, Neil defends the falcon wing doors as the "shrewdest design money ever spent" in the cause of "emotional engineering."
Neil suggests you picture yourself "as you pull up to Nobu in West Hollywood and supermodels come running out to the valet to take pictures with your Model X with the doors up…"
But what about those doors? Aren't they, well, impractical?
Yeah, okay, admits Neil, mini-van style doors would have been "a more sensible technical solution." But, please, we're discussing emotional engineering.
What if it snows overnight? What if it's raining? Where do you put the ski racks and bicycles and the Thule roof module full of hiking gear?

Who cares? Have you seen the doors open?
Right. Supermodels.
By the way, Dan, lots of Model X owners have seen the doors open. They love the look. They just wish the doors would reliably close again.
And, Dan, if you want to see supermodels flock to your flapping falcon wings, you can buy a Model X at or below Tesla's price, and with absolutely no wait. The eBay site now lists 30 Model X cars, lightly used or not used at all.
If the eBay prices are not yet within your reach, just be patient. The number of listings grows each week, and many of them already have seen one or more price reductions.
For an EV enthusiast and car lover like Neil, the Model X may be, as he calls it, "a suede-lined pachinko parlor of the soul." But for a Tesla investor, it's likely to prove more like a haunted house.
Bottom line: the Model X costs too much and is too complicated. It may have supermodel sexiness, but it also comes with a high risk of reputational and financial harm.
The Model X already has created massive backlogs at Service Centers. It has engendered unhappiness in a customer base that heretofore has been loyal to the point of fanaticism.
It has diverted design resources from the Model 3. It very likely will create warranty headaches for years to come.
IV. A Word About Model S Demand
The word is "weak."
I've written before that Model S demand appears to be flattening, and I stand by that. Tesla achieved its Q4 delivery number only by hiking incentives and discounting loaners and demo cars. That was impressive, but there's only so often a car company can pull off that kind of trick.
Perhaps a rumored Model S refresh will boost sales. However, Tesla investors should also contemplate what such a refresh might do for Tesla's resale value guarantee and residual value guarantee liabilities.
If the Model S were a money maker, the plateauing of Model S demand would not be as great of a concern. But Tesla is losing money on the Model S at an alarming clip.
Some Tesla apologists have insisted that once Model S deliveries grow above a magic level (usually unspecified), the profits will start rolling in. However, there were record Model S deliveries in Q4, and those record deliveries led to record losses.
What will be the likely effect on Model S demand of the enormous Model 3 buzz?
Does anyone believe that hundreds of thousands of reservation holders excited about getting a Model 3 for $35,000 (and by the way, good luck with that) in 2017 (good luck with that, too) will help Model S demand?
Here's a business strategy that will save hundreds of millions: shut down Model S and Model X operations altogether, and focus solely on the Model 3. You're welcome, Tesla.
V. Q1 Earnings Outlook - Duck And Cover
A year ago, the "consensus" estimate among the analyst experts for 2016 Q1 earnings was close to a dollar per share. Three months ago, it dropped to 12 cents per share. Today, it stands at (.59) per share (non-GAAP, of course; GAAP is much too challenging for buy-side "analysts").
Once again, the consensus of the so-called experts is too optimistic. I forecast (.69) EPS non-GAAP and (2.15) EPS GAAP. Here's why:
Q1 Earnings: Whatever happened to positive free cash flow?
After Q4's fire sale of inventory cars, Tesla will achieve a higher Q1 ASP. I assume a non-GAAP ASP of $95K for the 12,420 Model S cars and $135K for the 2,400 Model X cars, for a total of $1.6 billion in non-GAAP auto revenue.
Add another $100 million in services and other to reach $1.7 billion.
Assume an average gross margin of 20.9% (an improvement over Q4), and we have non-GAAP gross revenues of $355 million.
I assume that, despite the decrease in deliveries, R&D, SG&A, and interest will remain the same as Q4. That might be optimistic, given the extra expenses occasioned by Model X overtime.
R&D at $190 million + SG&A at $290 million + interest at $40 million = $520 million.
To get to non-GAAP, we add $55 million for stock-based compensation and $20 million for non-cash interest expense, which brings our non-GAAP loss to $90 million ($355 million gross revenues - $520 million R&D, SG&A, interest + $75 million in non-GAAP adjustments = $90 million) or (.69) per share.
To arrive at GAAP, we add back $110 million in gross profit due to lease accounting, $55 million of stock-based compensation, and $20 million in non-cash interest, to get to a GAAP loss of $275 million, or (2.15) per share.
Wild card: ZEV credits.
Q1 Cash Burn: Model 3 deposits, we hardly knew ye.
As for cash burn, there will be $150 million or so of Model 3 deposits collected on the final day of March. However, missing will be $70 million or so in Model X revenues that were collected (as deposits) and spent years ago.
So, the net "Customer deposits" increase will be no more than $80 million and if, as I suspect, a significant number of Model X reservations were cancelled during Q1, then the net growth in deposits could be less than $80 million.
CFO Jason "cash is king" Wheeler appears to have put the brakes on lots of cap ex, including Supercharger expansion and the Gigafactory. I'll guess that Q1 capital expenditures will come in significantly lower than the $375 million quarterly average implied by Tesla's $1.5 billion of 2016 cap ex guidance. Let's say only $325 million.
So, $90 million of non-GAAP operating loss plus $325 million in cap ex is $415 million in cash burn, offset by $150 million in Model 3 deposits, but reduced by $70 million in reduced Model X revenues.
Add it all up, and cash burn will be $335 million.
Guess what. Those $350 million or so in Model 3 deposits that Tesla may have collected by the time it reports earnings in early May? Tesla will have been burned through most of them in one quarter, even falling behind its capital expenditure budget which, presumably, is vital to delivering the Model 3 on time.
Tweet that one out, Elon.
V. Conclusion
Tesla has sometimes spoken of the Model S and the Model X as bridges to the Model 3. Not just technically, but financially.
The Tacoma Narrows was a bridge, too.
A note about other contributors
As always, I am indebted for many of my ideas and much of my analysis to other thoughtful commenters, both at Seeking Alpha and at the Yahoo Tesla board.
For this article, I particularly owe thanks to temagami, Bonaire, n0m0renancy, and investor.gator. None of them is responsible for my errors, and none of them necessarily joins in all points of my analysis.
Disclosure: I am/we are short TSLA VIA PUTS.
I wrote this article myself, and it expresses my own opinions. I am not receiving compensation for it (other than from Seeking Alpha). I have no business relationship with any company whose stock is mentioned in this article.
Editor's Note: This article discusses one or more securities that do not trade on a major U.S. exchange. Please be aware of the risks associated with these stocks.