Since my last article, I have gotten two more company requests to profile. So, this article will be about a company called Impact Silver (OTCPK:ISVLF), and I have to say this company does look intriguing, but it is a speculative company.
When it comes to valuation, this company's EV/EBITDA ratio stands at roughly 11. That is at a higher range then I would like to see, but its price to book value is calculated to be .57, and its book value per share price is calculated to be $0.55 per share, while currently its stock price is trading at a price of $0.31-.32 per share. So in terms of current valuation, its book value valuation is great, but its other ones are a little high.
In terms of its assets, currently, it has four producing mines. The mines are its San Ramone mine, its Noche Buena Mine, its Cuchara-Oscar mine, and its Capire mine. According to drill hole results, and conference calls, these mines are of a higher grade quality, but my problem with their reporting is that they haven't giving a resource report, of at least total reserves available, which should be disclosed using the measured and indicated (M&I) metric at the very least. Preferably I would like to see companies disclose their resources on a proven and probable (2P) estimate basis, but I can live with an M&I basis.
In terms of its assets, most of its exploration budget will be derived towards its San Ramone mine, with a little bit of the work derived towards its higher grade Mirasol mine. In terms of their projects production costs, based on the company's financials (which I will dive into later), I am guessing their costs are roughly $12-14 dollars per ounce at an all in sustaining measure. To give you an idea of the mines grades, click here, and then go to page 25 of its corporate presentation, and they do disclose their recent drill hole results. That will give you an idea of the company's grades. Based on their drill hole results, I would say they have overall grades of the assets are, but nothing salivating.
In terms of the company's financials, their balance sheet appears to be good, but not great. Its current ratio stands at roughly 1.99, which is pretty good, but only contains $717,369 of cash in the treasury. Its total assets to total liabilities ratio stands at 6.6, with no long term debt on its balance sheet. In terms of its balance sheet, I would like to see more cash, but I would say it's a strong balance sheet.
In terms of its net income, I would say it is in much better shape then what the bottom line suggests. In terms of the company's net income, its bottom line posted a loss of $(1,427,838). But it had some non-cash charges to its net income that needs to be taken into consideration when evaluating the company. The main write-down I am referring to is its amortization and depletion write-down. That write-down equated to an amount of $2,107,807 dollars. If you add this back, you can see that their operations are still profitable. This conclusion is also supported by its cash flow analysis.
In terms of the company's cash flow, I calculated it to be positive at $146,616 dollars of free cash flow. So one can tell from its cash flow statement, their operations are just about profitable, at least in my opinion that's what it seems like.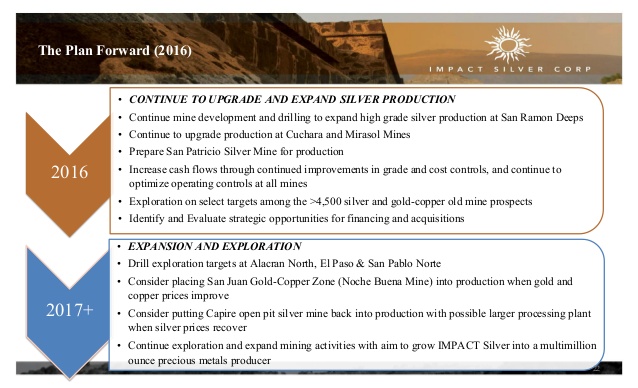 What stands out to me is their increase in cash flow through continued improvements in grade and cost controls, and their eagerness to acquire new assets by acquisition. They are also aiming to become a multimillion ounce precious metals producer. I believe this will be achieved by a combination exploration success, acquisition, new mine production, and by expansion of current assets.
What stood out to me though was this quote from their most recent conference call. " One of the things we've also looked forward too is possible acquisitions where the target company may not have production but may have a potential to develop, but they don't have the talent to develop it, but do have some money on side. There is a number of alternatives out there. We're not in a rush to do that, but what we do recognize is there is a market out there, we are looking and if, as and when there is some positive terms we may consider it." This was positive to me, because it shows me that they aren't willing to overpay for an asset, and they will only make an acquisition if, it will be accretive to future cash flows and production.
My favorite feature of this stock is its share structure. It currently has 68,128,244 shares outstanding, and on a fully diluted basis, it has 74,838,244 shares. In my opinion, this is a pretty good structure. What I also like is that they have stated that they will not full dilute shareholders to make an acquisition, they will use a combination of equity and debt, or mainly debt, so finance an acquisition, thus preserving most of the shareholder value.
In conclusion, I think this is a decent company that will do well during this upcoming bull market, but the big gains in this stock won't be made till the middle of the bull market or in the latter part of the bull market, as small companies start to gain more exposure from institutional investors.
What I like about the company is its cash flow, balance sheet, forward guidance, share structure, and management. I also like how it's managing its costs. What I don't like is the fact that I couldn't find a complete reserves report with at least a M&I resource estimation with full mine grades other than drill hole results. I also don't like the fact that I couldn't find updated costs estimates at each mine at an all in sustaining cost measure. I believe they are low costs based on company financials, but I would like to see what they are reporting.
Disclosure: I/we have no positions in any stocks mentioned, but may initiate a long position in ISVLF over the next 72 hours.
I wrote this article myself, and it expresses my own opinions. I am not receiving compensation for it (other than from Seeking Alpha). I have no business relationship with any company whose stock is mentioned in this article.
Editor's Note: This article covers one or more stocks trading at less than $1 per share and/or with less than a $100 million market cap. Please be aware of the risks associated with these stocks.