Earnings Reporter
My goal in this segment is to unlock both short-term and long-term growth in stocks that have just reported earnings. These stocks are specifically subject to enormous volatility, as earnings reports are seen (and rightfully so) as a huge aspect of a company's progression. What I offer you is an analysis of the economic well-being of the company, and whether I think the stock is a Buy, Hold, or Sell for either (or both) the short term or long term. If you are interested in unlocking more immediate growth opportunities, give me a follow! After an extensive look at numerous sources and experts' analysis of Duluth Holdings (NASDAQ:DLTH), I have ranked the company as a BUY for the short term.
Fourth Quarter Report
So Duluth Holdings absolutely crushed its Q4 estimates, and the stock followed suit by shooting up over 20% in the span of a single day: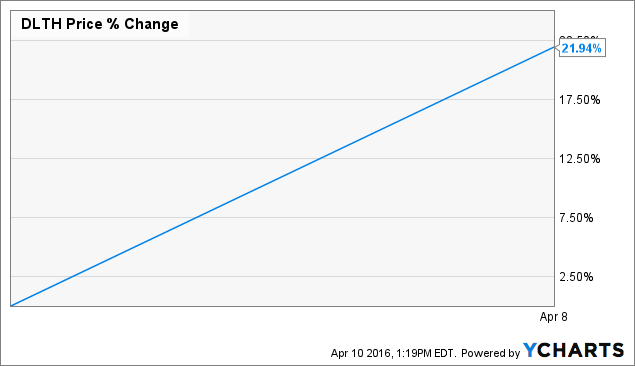 DLTH data by YCharts
This helped the stock reach a post-IPO high. This was an incredible accomplishment, and this +20% jump was absolutely warranted. So why exactly did the company jump so astronomically? Let's take a look at the report.
The Numbers
Duluth reported earnings of $.37, beating the analyst expectation of $.28 by a significant margin (over 30% to be specific). An impressive 40 basis point increase in gross profit helped fuel the bottom line success of Duluth in the 4th quarter. Sales came in at $140.4 million, crushing last year's number of $110 million by 27.5%. These top and bottom line beats all point to the success of Duluth's branding and unique market.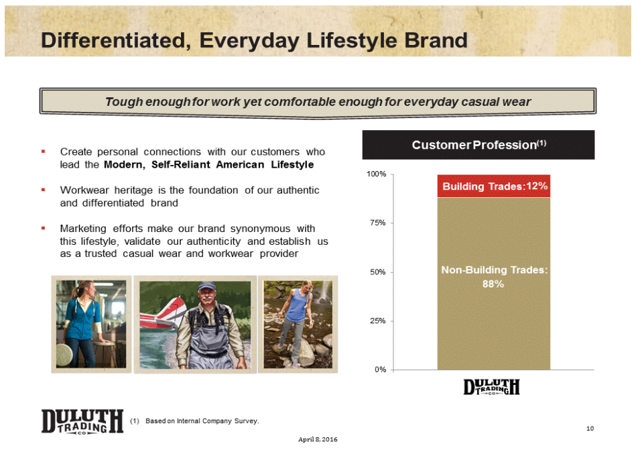 Duluth markets towards the "handy-men" segment, whether professional or recreational. It utilizes incredibly funny and borderline self-deprecating advertisements to spread knowledge of its products.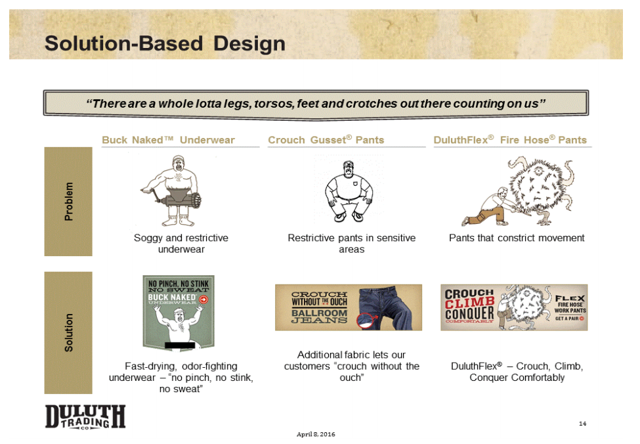 Its casual and workwear products have really captivated the market in the 4th quarter. It opened up 3 more stores, bringing the total count to 9. While it may not be the most flashy investment, Duluth has been able to capture a sustainable market with minimal competition.
CEO Stephanie Pugliese had this to say on Duluth's upcoming 2016 prospects:
Looking forward to fiscal 2016, we believe that the strong brand awareness and momentum generated in fiscal 2015 will pave the way to another successful year. We are on track to open four to five new stores, and we will continue to make strategic investments in infrastructure and information technology to support our growth. Our focus for fiscal 2016 will be continuing to build our brand awareness, accelerating retail expansion, selectively broadening assortments in certain men's product categories, and growing our women's business.
Product mix helped increase margins to grow healthily over Q4. Cash and cash equivalents stood at nearly $38 million, and the company has an untapped credit facility of $40 million to access. Duluth has no borrowings on the facility as of yet, and boasts a great balance sheet in terms of liquidity and solvency. Duluth expects to raise between $370 million-$380 million in FY2016, beating analyst consensus of $356 million. It is essential for investors to recognize that Duluth not only outperformed expectations in Q4, but it expects to continue this wonderful performance for 2016. It has no intention of slowing down its rise and will likely obtain a firmer grasp of its unique market.
The company's 10-K shed some light on projections for future performance. It is important to first recognize the fact that Duluth has had continuous net sales increase: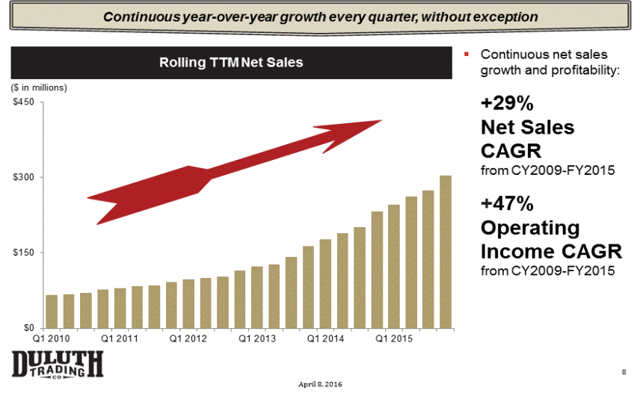 (Duluth's 10-K)
Duluth has a $264 billion market to address, and it's doing a wonderful job at doing so. Increase in disposable income per household, demand for functionality, and a heavier adoption of active lifestyles all help bolster the thesis of buying into Duluth Holdings today. Duluth plans to raise its capital expenditure expenses in the following year, as it is committed to its growth strategy, including addressing its women's segment.
Conclusion
There is much excitement in this stock, and investors will get a unique opportunity to access an untapped market through Duluth Holdings. Boosted guidance for margins and sales/earnings have me believing that the company will successfully accomplish its growth strategy in 2016. Now is the time to get in on a unique offering in the market.
Disclosure: I/we have no positions in any stocks mentioned, and no plans to initiate any positions within the next 72 hours.
I wrote this article myself, and it expresses my own opinions. I am not receiving compensation for it (other than from Seeking Alpha). I have no business relationship with any company whose stock is mentioned in this article.