Industry and Profile
The Eastern Company (NYSEMKT:EML) is based in Naugatuck, Connecticut and operates three business segments. Their Industrial Hardware Group contains six subsidiaries and specializes in access hardware such as handles and latches for many vehicle platforms as well as class 8 truck bodies. The Security Products Group operates four subsidiaries that provide locks, coin and card vending systems and now circuit boards. Lastly is their Metal Products Group operating one subsidiary that manufactures rock anchors utilized in underground mining in addition to iron castings used in construction and railroads. In 2015 those three segments combined for $144.5 million in sales and provided $.92 EPS. The company has also paid a quarterly dividend since 1940 and yields 2.7%.
Corporate Governance
Eastern Company has just undergone a massive shift in their leadership with August Vlak being appointed as CEO at the opening of the year. Prior to assuming the helm at Eastern he was a Senior Advisor at Barington Capital Group which had established an 8.15% stake in the company. The involvement of Barington Capital was the catalyst for the change in management and stems from this April 2015 letter to shareholders. The other letters to Eastern shareholders and the board are worth a read as well.
The Board of Directors also voted to declassify in January of 2016 and increase the number of seats to six. By declassifying the board, a significant victory for Barington, each director is subject to a majority vote of shareholders at each annual meeting which of course gives them only one year of guaranteed service beginning in 2017.
With Barington having a friendly CEO in place and two board seats the company is primed for a major shakeup. They intend to conduct a strategic review which is likely underway at this moment to evaluate the individual subsidiaries and their role in the overall company. Depending on what they find Barington would then seek to sell aspects of the business which do not make sense and use those proceeds to acquire additional companies and assimilate those.
JLTV Program
In a very necessary plan to replace and supplement the fleet of HMMWVs in the Army and Marine Corps the Department of Defense solicited entries for a Joint Light Tactical Vehicle from Lockheed Martin (NYSE:LMT), AM General and Oshkosh (NYSE:OSK). Oshkosh came out as the initial winner for the $30 billion 55,000 vehicle contract. Lockheed protested but ultimately withdrew their complaint from US Federal Court and as a result Oshkosh could resume construction in late-February of this year.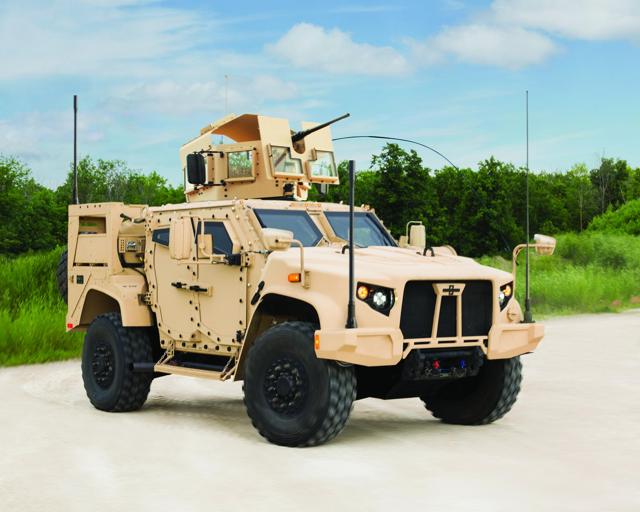 As mentioned earlier the contract will total about $30 billion and is for 55,000 vehicles over the next two and a half decades. After Lockheed withdrew their complaint Oshkosh was given the green light to continue the initial $6.7 billion portion of the contract for 16,901 vehicles. In April of last year the company disclosed their status as the preferred supplier for the latching and security components on the JLTV.
The initial length of the JLTV contract stretching to 2040 will provide many years of reliable revenue for Eastern. The 2040 time horizon will likely be extended much like previous programs such as the LAV and initial HMMWV programs which have undergone multiple service life extensions programs known as SLEP. The HMMWV, which debuted in 1985, has remained in service much longer than its initial 15 year planned lifespan.
The door latch and security systems on tactical vehicles are incredibly important to the success of the vehicle both in IED blast scenarios and ambushes. The incredible success of the MRAP and M-ATV tactical vehicles was their ability to deflect the energy of the blast around the hull by maintaining the hull integrity. An incredible amount of pressure is created when a bomb explodes, often lifting the vehicle into the air. If the vehicle's doors are opened the personnel inside are then exposed to the blast wave and any additional enemy fire or secondary explosions. Now that Eastern has been named as a "supplier of choice" for the program and has proven the quality of their latching systems it is unlikely they will be replaced.
A previous $16 million contract awarded to EML in 2006 to provide 25,700 door latch systems for ~6,400 Humvees resulted in about $39 million in total sales in 2006 and 2007. This one project accounted for 15% of sales in their Industrial Hardware segment for 2007. The initial $16 million was a part of the overall $86 million contract and amounted to about $2,500 per vehicle. If EML earns $2,500 per JLTV the company will bring in $137.5 million through 2040. The amount earned per vehicle will almost definitely be larger than $2,500 given the complexity of the latching systems necessary to secure the heavy doors.
Valuation and Conclusion
Right now the company is trading hands at 17.5 times earnings of $.92 a share last year. The company also held $17.8 million in cash at the end of 2015 giving each of the $6.2 million shares $2.80. A dividend of $.44 a year gives a 2.7% yield and is well covered with just a 45% payout ratio. While not a remarkable grower in the dividend the company has avoided cutting the dividend during the last two recessions.
The company at this point appears to be attractive. With a large shakeup having just taken place and the JLTV program finally getting on the road now may be a good time to enter into a position. It doesn't appear the JLTV is yet priced in and the Barington Capital moves may produce additional value as they come to light through the year.
Disclosure: I/we have no positions in any stocks mentioned, but may initiate a long position in EML over the next 72 hours.
I wrote this article myself, and it expresses my own opinions. I am not receiving compensation for it (other than from Seeking Alpha). I have no business relationship with any company whose stock is mentioned in this article.