Elephant Talk (NYSEMKT:ETAK) has announced its first quarter results since new management was installed. It reported Q4 2015 revenue of $3.3 million and $31 million in revenue for the full year. This quarterly number was down slightly from the $3.5 million in Q3 2015, which had been the first full quarter since the loss of Iusacell. The company has not yet been able to sell ValidSoft, its voice authentication subsidiary. The deal it struck with Cross River Advisors in February to sell this division for $12.5 million is in default, and Cross River has lost its exclusivity in the purchase. Elephant Talk needs cash and $12.5 million from this sale could solve the majority of its financial problems. As of December 31, 2015, it had less than $900,000 in cash and negative working capital of $10.8 million. Since then it raised approximately $3.1 million: $500,000 from Cross River and approximately $2.6 million from a convertible note PIPE transaction. Debt stood at $5.8 million, and is now $8.9 million if the new notes are included. The company is now at a $14 million run rate - that number will be somewhat less once it sells ValidSoft. In Q4 we believe it burned $1.3 million in cash, but the CEO is targeting EBIDTA breakeven by Q2 2016.
The company continues to make progress right sizing. It took a $1.25 million restructuring charge and a write down of assets of $1.7 million in the quarter and expects another small charge in Q1 2016. The company has reduced the workforce from 265 in November 2015 to 199 today, and expects headcount to be 160 by the end of Q2 2016. Management is using sales per employee as its metric to judge progress as well as its ability to be cash flow positive.
Until it reports next quarter, we look for: progress in the sale of ValidSoft, an alternative capital infusion and or/debt restructuring, and/or perhaps an announcement of new customers including the possibility of the customer at Verizon that is now transitioning from testing the platform to a paying customer.
Q4 Results
Revenues were down sequentially to $3.3 million vs. $3.5 million in Q3 2015. This was due to a deferred revenue adjustment of $800,000 to $900,000, rather than a decline in business. Actual revenue from current customers was flattish with Q3. Reported gross margins were 61.6%, a slight improvement from the 60.9% in Q3, although this again is affected by the adjustment. As the company is completely different without Iusacell it seems pointless to make any comparisons with last year's model, but we look at Q3 and Q4 for a baseline going forward on its current business. Given that ValidSoft is to be sold, even this quarter will not reflect a going forward model as all ValidSoft revenues and expenses also will be removed at that point. For example, there are 25 ValidSoft employees that will no longer be on the payroll. On the call the company stated that ValidSoft was losing $300,000 a month, and either by selling it or improving operations, the losses should go away.
Operating expenses in the quarter were $5.6 million if you eliminate the one-time charges vs. $7.4 million in 2014. Depreciation and amortization was reduced by $1 million due to the write offs. And G&A and R&D were cut with layoffs and the closing of physical locations. Only sales and marketing increased and that was by $0.4 million. Interest expense was reduced slightly by $60,000 over last year. Non-GAAP net income, ex-one time expenses and stock-based compensation was a loss of $3.1 million versus a loss of $1.7 million. The led to a non-GAAP EPS loss of $0.014 per share, versus a loss of $0.011 per share.
Primary shares outstanding at year-end were 161.4 million, up from 154.7 a year ago or 4.3%. Fully diluted shares (using the treasury stock method) decreased to 214.4 million from an average of 224.6 million at December 31, 2014. Since then at least $2.6 million in convertible notes have been sold in PIPE transactions, plus the $500,000 from Cross River adding we believe approximately 10 million shares. Therefore the all-in market cap of ETAK is now $49.3 million. We are hopeful that as part of the restructuring the company will reverse split the stock to more appropriate numbers.
2016 Forecast
Assuming that new sales will take some time to hit the income statement, we are looking for 2016 revenues to be $15.8 million vs. the unusual 2015 revenues of $31 million caused by the purchase of Iusacell by AT&T. Starting at a base line of $3.5 million and assuming a 2016 sale of ValidSoft we see sequential improvement in quarterly revenues throughout the year. Even if sales scores big wins this year, revenues will be slow to build as the company needs a number of months to onboard new customers and even then is paid monthly thereafter. Given that management believes it can reach EBITDA breakeven in Q2, we are looking for a loss per share of $0.05 in 2016.
INVESTMENT THESIS
Elephant Talk provides software-defined network (SDN) platforms (ET Software DNA 2.0) that enable mobile phone service providers to increase the value of their network legacy, outsource back office operations and reduce their total cost of operations.
The SDN market is enjoying rapid growth as operators transition away from cumbersome and expensive hardware and appliance based systems. According to SDxCentral, this market is expected to grow from $15 billion today to $105 billion by 2020 for a CAGR of 44%.
The company owns ValidSoft, a provider of voice biometric technology. It has initiated a process to explore strategic alternatives for this division up to and including an outright sale. The company had an offer to buy the company for $12.5 million, but that deal has not occurred according to plan and may never. The company is continuing to pursue its sale.
There is risk as the company continues to right size itself after the loss of Iusacell while adding new customers. It is currently significantly free cash flow negative but hopes to reach breakeven in the next two quarters, restructure its debt, and raise more capital.
We believe there is considerable risk in the stock until the company finds financing to sustain operations as it ramps current and potential new customers. This may be achieved by the sale of ValidSoft, issuing new stock or debt, or any combination thereof. While we believe in the long-term prospects of the company, short term there are many questions. At a fully diluted market cap of $49 million and revenue run rate of $14 million and negative EBITDA we believe the company is fully valued due to short-term risks. There is risk in not knowing how much capital will cost or how much dilution may occur. There is risk ValidSoft may not be sold in a timely fashion or for a favorable price. There is risk the company may (and should) reverse split the stock an action that usually causes a stock to go down (unless it is done in conjunction with an uplisting.) There is risk investors may not be expecting revenues will be down dramatically year-over-year for the next two quarters or that a fully diluted share count has grown dramatically. When some of these risks have been mitigated we will revisit our rating but until then we maintain a hold on the stock.
CURRENT CUSTOMERS
For the year ended December 31, 2015, the company had two customers that accounted for 50% and 33% of total revenue. If we assume that Iusacell was $15.5 million, that means Vodafone Spain, the largest customer, generated $10.2 million in 2015. In addition to Vodafone's own low-priced service Lowi, Elephant Talk provides the platform for six different MVNO operators on the Vodafone España network. These six operators are: Lebara Mobile ES, BT Movil, Eroski Movil, NEO SKY (bought by MasMovil), HITS Mobile, and Orbitel. Elephant Talk renewed its five-year contract with Vodafone España in 2013.
The rest of the business contributed $5.3 million in 2015. The grand majority of these revenues come from Zain Saudi Arabia and Netherlands ETAK that operates as an MVNE for T-Mobile, and some from Valid Soft.
ValidSoft
ValidSoft is a software and services provider of user authentication, voice biometric and device trust technology and solutions to financial services governments and enterprise customers. Elephant Talk recently announced that it was exploring strategic options for ValidSoft up to and including its sale. The company was bought in 2010 for approximately $15 million in stock. Most of the $3 million in goodwill that the company has on its balance sheet is from ValidSoft. The company does not break out revenues for this entity. The division is located in London and employs 25 people and has been losing $300,000 a month. Should the company be sold we expected a large write off given its purchase price combined with its cumulative losses and the expected sale price as evidenced by Cross River's offer.
New Business Opportunities
ETAK has an agreement with Verizon (NYSE:VZ) to provide a platform for its MVNOs. In this relationship, Elephant Talk is fully referenced when a virtual operator requires Enablement Services. A small team in the US supports this relationship. It has been through the testing phase and is about to start generating revenues with a customer next quarter. Verizon has 100s of MNVOs operating off its network powered by its own in-house system, but Elephant Talk is targeting new ones being brought on board that are current Verizon customers but do not as of yet offer a mobile product. The company has been marketing jointly with Verizon.
RISKS
Steven Van der Velden, who was Chairman, CEO and President, and is the majority shareholder of the company, resigned as of November 16, 2015. He was replaced as Chairman by Hal Turner, who in turn brought on Gary Brandt as Chief Restructuring Officer. They are implementing a complete revamp of the company.
The majority of the revenues are from one customer Vodafone Spain, 88% of revenues in Q3 ($3.1 million) were from two customers both based in Europe.
There is currency risk as most of the company's operations are in Euros.
The company was given a going concern opinion by its auditors because of it snegative cash flow since it lost its contract with Iusacell. The company needs to raise considerably more cash to maintain operations and pay off current debt.
VALUATION
While there are many MVNEs worldwide, many are private. Those that are public are all small expect for Amdocs (NASDAQ:DOX), a $7.7 billion company. On average they trade at 1.9 times enterprise value to sales. They also trade at an average of 11.7x enterprise value to EBITDA. Looking to our 2017 estimated revenues and EBITDA for ETAK, and using fully diluted market caps and an industry average multiples we get a stock price of $0.19 per share. The company believes in future quarters it can get back to its past EBITDA of $2.3 million per quarter. If it can, then at that point the stock would be worth $0.50 on an enterprise value to sales basis. Taking an average of the two, we get a price of $0.35 by 2017.

OWNERSHIP
There are 161.6 million shares outstanding as of February 29, 2016. Steven van der Velden, former Chairman and CEO, owns approximately 31.5% of QAT, which owns 51.3% of the outstanding capital stock of Rising Water Capital. These three combined own 39% of the total outstanding.
INCOME STATEMENT
BALANCE SHEET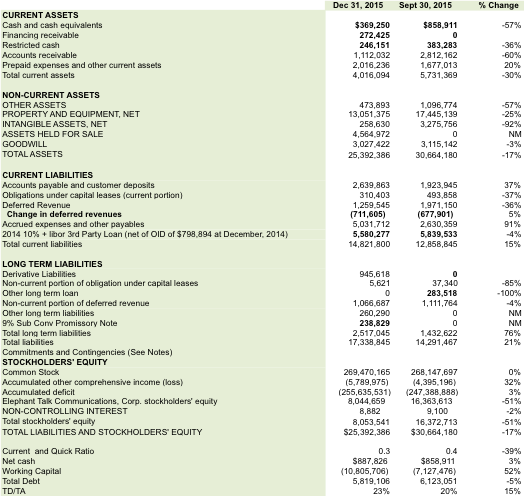 CASH FLOW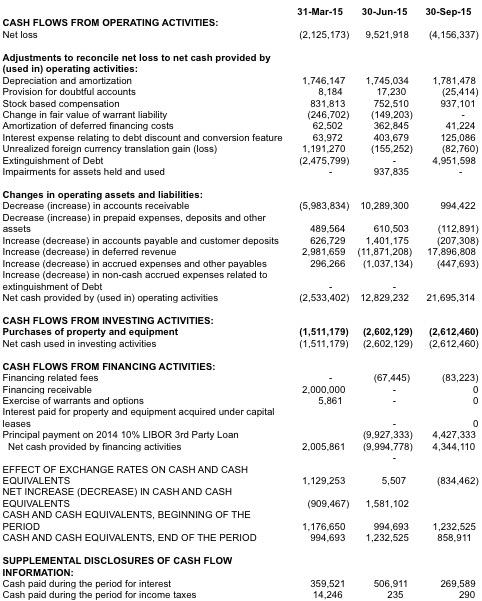 Disclosure: I/we have no positions in any stocks mentioned, and no plans to initiate any positions within the next 72 hours.
Business relationship disclosure: I work as a Consultant Analyst for Zacks Investment Research. The article is written by me and is 100% my opinion. I receive compensation from Zacks for writing equity research reports and providing valuation analysis on this company's stock and expect to do so in the future. Zacks receives compensation from the company. Please see the Zacks Disclaimer for further information: http://scr.zacks.com/Disclaimer/default.aspx
Editor's Note: This article covers one or more stocks trading at less than $1 per share and/or with less than a $100 million market cap. Please be aware of the risks associated with these stocks.