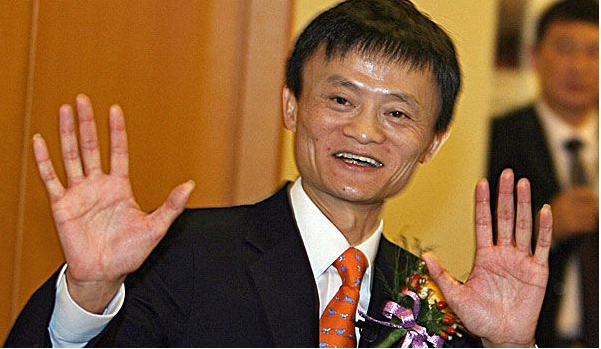 Chinese Stocks: Reward and Risk
Last month, Seeking Alpha editor Michael Hopkins polled readers on their thoughts about Chinese stocks such as Alibaba (NYSE:BABA) (whose founder, Jack Ma, is pictured above), Baidu (NASDAQ:BIDU), E-Commerce China Dangdang (NYSE:DANG) and JD.com (NASDAQ:JD). The consensus among readers (69%) was that investors "cannot ignore this market," but 25% of readers considered Chinese stocks risky.
In the Financial Times over the weekend, Gillian Tett offered a warning about Chinese stocks in her Notebook column (free registration will enable you to access the article if you don't have an account with the FT) - The cheap debt and hubris behind China's trophy assets. Tett drew a parallel between China's present and Japan's past:
China is now grappling with the same problems that haunted Japan 40 years ago. In recent decades China has built an industrial powerhouse and exporting machine by keeping its financial system under tight state control, channeling the country's savings to industry at the expense of consumers.
Tett added that in China, as in Japan before, this has been a successful economic strategy, but China's economy has "outgrown its financial structures." And, more ominously:
Debt and cash are swirling around in China and cannot easily find a productive home - so they are pouring overseas. [...]

I'd wager that sooner or later some of these Chinese companies will indeed go bust, along with their lenders
The Tett quote above brings to mind the Alibaba mega loan Seeking Alpha contributor Doug Young wrote about last month. Nevertheless, even if Tett wins her wager eventually, there may be money to be made in the meantime by enterprising investors. But investors in Chinese stocks wary about being left without a chair when the music stops may want to consider adding some downside protection. We'll look at a couple ways Alibaba longs can do so by hedging below. If you would like a refresher on hedging terms first, see the section titled "Refresher on Hedging Terms" in our REIT-hedging article from February ("Preparing for a drop in Realty Income").
Hedging BABA With Optimal Puts
We'll use Portfolio Armor's iOS app to find optimal puts and an optimal collar to hedge Alibaba below, but you don't need the app to do this. You can find optimal puts and collars yourself by using the process we outlined in this article if you're willing to take the time and do the math. Whether you run the calculations yourself using the process we outlined or use the app, an additional piece of information you'll need to supply (along with the number of shares you're looking to hedge) when scanning for an optimal put is your "threshold," which is the maximum decline you are willing to risk. This will vary depending on your risk tolerance. For the purpose of the examples below, we've used a threshold of 17%. If you are more risk averse, you could use a smaller threshold. And if you are less risk averse, you could use a larger one. All else equal, though, the higher the threshold, the cheaper it will be to hedge.
Here are the optimal puts as of Friday's close to hedge 200 shares of BABA against a greater-than-17% drop by late October.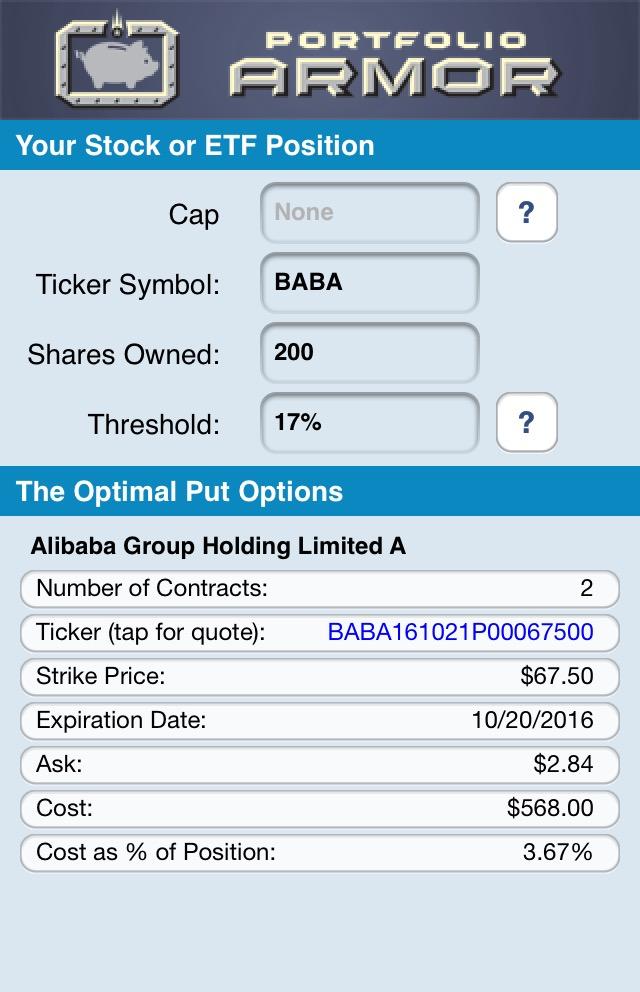 As you can see at the bottom of the screen capture above, the cost of this protection was $568, or 3.67% of position value. The upside of this sort of hedge is that your upside potential is uncapped, but this kind of cost can eat into your returns over time. A couple of points about this cost:
To be conservative, the cost was based on the ask price of the put. In practice, you can often buy puts for less (at some price between the bid and ask).
The 17% threshold includes this cost, i.e., in the worst-case scenario, your BABA position would be down 13.33%, not including the hedging cost.
Hedging BABA With An Optimal Collar
When scanning for an optimal collar, you'll need one more figure in addition to your threshold, your "cap," which refers to the maximum upside you are willing to limit yourself to if the underlying security appreciates significantly. One starting point for the cap is your estimate of how the security will perform over the time period of the hedge. For example, if you're hedging over a several-month period, and you think a security won't appreciate more than 6% over that time frame, then it might make sense to use 6% as a cap - you don't think the security is going to do better than that anyway, so you're willing to sell someone else the right to call it away if it does better than that.
We checked Portfolio Armor's website to get an estimate of BABA's potential return over the next several months. Every trading day, the site runs two screens to avoid bad investments on every hedgeable security in the U.S., and then ranks the ones that pass by their potential return. Potential return, in its terminology, is a bullish estimate. BABA passed those two screens, and the site calculated a potential return for it of 7.4% over the next several months.
Next, we considered the potential return implied by the median Wall Street price target for Alibaba, via Yahoo (screen captured below).

That median price target of $91.16 goes out 12 months, and it's about 18% above BABA's closing price Friday of $77.47, so it suggests a potential return of about 9% over the time frame of our hedge. Since it's a bit higher than our site's estimate, we'll use it this time.
As of Friday's close, this was the optimal collar to hedge 200 shares of BABA against a greater-than-17% drop by late October, while not capping an investor's upside at less than 9%.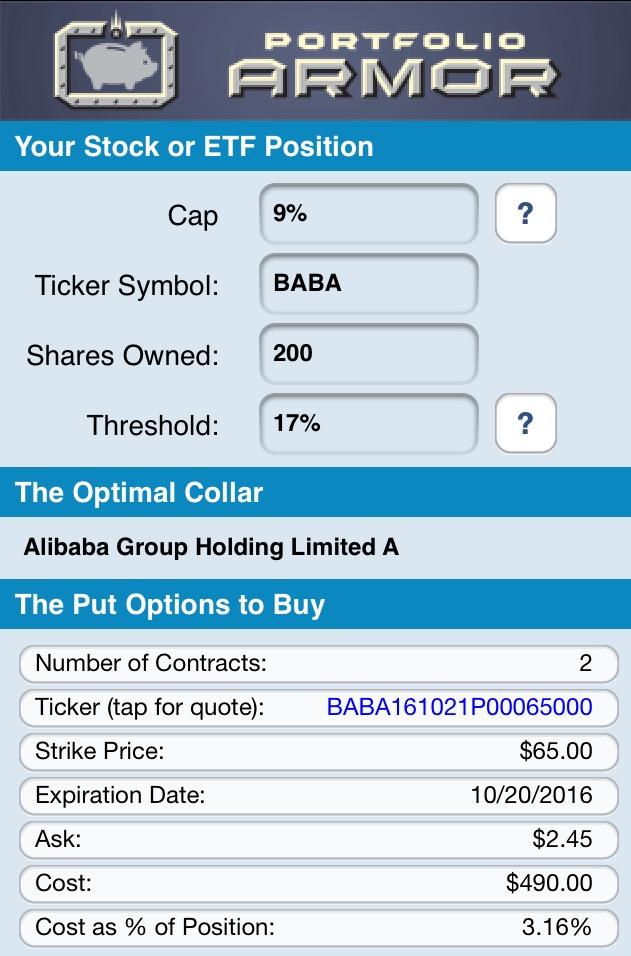 As you can see in the first part of the optimal collar above, the cost of the put leg was $490, or 3.16% of position value. But if you look at the second part of the collar below, you'll see the income generated by selling the call leg was $710, or 4.58% of position value.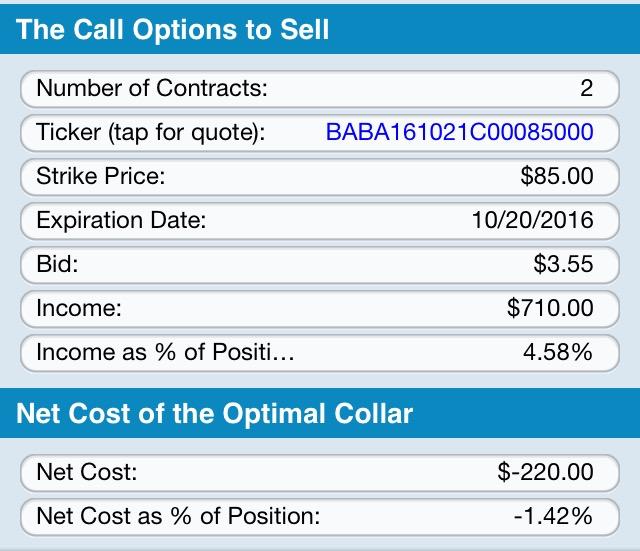 So the net cost of this optimal collar was negative, meaning the investor would have collected an amount of $220, or 1.42% of position value, when opening this hedge. Two notes on this collar:
Similar to the situation with the optimal put, to be conservative, the cost of the optimal collar was calculated using the ask price of the puts and the bid price of the calls. In practice, an investor can often buy puts for less and sell calls for more (again, at some price between the bid and the ask). So, in reality, an investor would likely have collected more than $220 when opening this collar.
Although the threshold on this collar is 17% and thresholds are calculated to take into account positive hedging costs, they don't take into account negative hedging costs. So, the worst-case scenario in this case, when taking into account the negative hedging cost, would be a decline of less than 17%: assuming, conservatively, a negative cost of 1.42%, the maximum drawdown here would be 17% - 1.42% = 15.58%. Similarly, the best case scenario wouldn't be 9%, the level at which this collar is capped, but 9% + 1.42% = 10.42%.
Disclosure: I/we have no positions in any stocks mentioned, and no plans to initiate any positions within the next 72 hours.
I wrote this article myself, and it expresses my own opinions. I am not receiving compensation for it (other than from Seeking Alpha). I have no business relationship with any company whose stock is mentioned in this article.