Alibaba (NYSE:BABA) is one of the world's most well-synergized marketplace operators, and possibly the best business model that is available right now for e-commerce companies - if you put profitability above everything else.
In a previous article, I talked about The Many Moats of Alibaba and how their internal structuring was responsible for their massive success; this piece extends that analysis to two specific areas of opportunity that will set the tone for further top line action not only within China, but in what is potentially their first significant international market.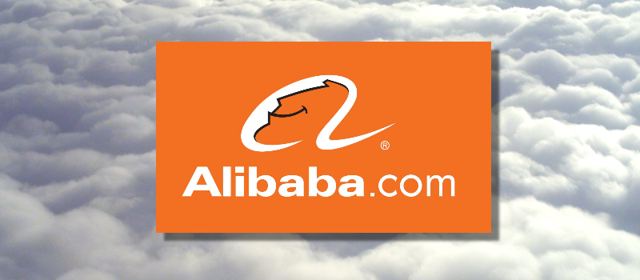 In essence, they are just a technology platform that tries to connect the buyer with the seller and uses third parties to take care of the logistics journey from source to destination, but they have a formidable presence in China that now makes the company the largest retailer in the world by Gross Merchandise Volume, or GMV.
Though JD.com (NASDAQ:JD) has been giving them a run for their money in some ways, it will be a long and uphill task for JD to compete with Alibaba as they lack the scale and size. In that respect, because they operate on a different model - more like a traditional retailer that buys and sells goods - they need to keep absorbing losses before they get to a considerable size.
There are a few key growth drivers that I will outline in this article in order to give a snapshot of how big they can actually become.
The Indian Ocean of Opportunity
A few days ago I wrote a piece about an announcement by the Indian government regarding 100% foreign direct investment in the country. BABA is possibly counting the days until they can formally launch their operations in India. With a significant investment in two e-commerce operators in India, it is unclear at this point how they plan to hit the market.
Naturally, the 40% cap that restricts a single seller from monopolizing the space puts this opportunity outside of Amazon's (NASDAQ:AMZN) current specialty, since they buy and sell the bulk of the goods available on their Amazon.in. But with Alibaba, their marketplace model ensures that the playing field is level for any seller who wants to get on the platform.
The two ways that this could pan out for Alibaba are:
They could build operations from scratch using the technology and systems that they've already perfected to a great degree in China, or
They may use those resources to leverage their existing investments by sharing the know-how and replicating it in the Indian scenario.
Whichever the path they choose, India should and will play a major part in Alibaba's plans for international expansion.
According to recent forecasts, the Indian e-commerce market is expected to touch $100 billion by 2020, but a marketplace model such as Alibaba's can easily add a hefty multiple to that estimate. The current e-commerce operators in India - Amazon, Flipkart, Snapdeal, etc. - use deep discounts to entice customers, but also have to pay their own way in terms of shipping and other logistical expenses. Of course, it's the customer that's usually bearing the cost in the end, but with aggressive free shipping offers on most sites, there's still an element of expense involved that may not be fully covered by the customer.
The marketplace model, on the other hand, is merely a place for buyers and sellers to connect and transact. If they replicate how the system works in China, they will have package shipping companies bidding for a chunk of their business; and Alibaba may even consider investing wholly or in part in some of the larger players in that segment that already have wide reach in and around major Indian metros where the bulk of online e-commerce is generated.
That will open a market far larger than the run-of-the-mill e-commerce retail segment can.
If Alibaba can successfully pull this off over the next few years, they will have successfully created a moat around their India business the way they've done in China.
The AliCloud (Aliyun) Factor
One of Alibaba's lesser-known businesses, AliCloud has a good start in China but not much room to grow elsewhere. If you've read any of my earlier articles on the cloud industry or have been following the growth trajectory of that market opportunity, you'll know that Amazon, Microsoft (NASDAQ:MSFT), IBM (NYSE:IBM) and Google (GOOG, GOOGL) aren't going to leave much of the pie for others to sate their top line hunger.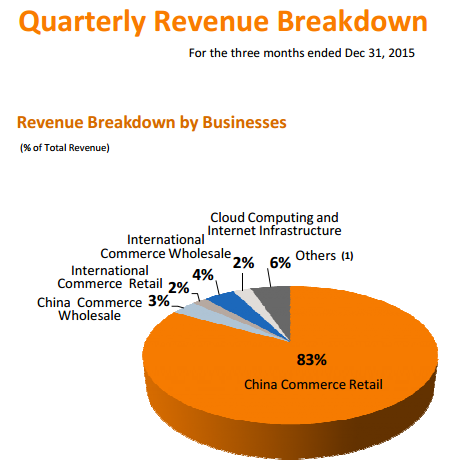 Source: Alibaba
However, even within China, AliCloud hasn't grown to maturity yet. Revenues from the segment are only 2% of the total, and with Alibaba targeting a doubling of its RMB 3 trillion in GMV in the next five years, I don't see that percentage growing very much - if at all. Compare that with nearly 10% of Amazon's revenues coming from their AWS (Amazon Web Services) division and growing aggressively to contribute even more to the top line (not to mention sporting a bottom line that puts Amazon's retail division to shame), and you'll see where the disconnect is for AliCloud.
According to Bloomberg, AliCloud has more than 1.4 million customers. In the quarter ended December 31, 2015, they posted a 126% QoQ growth in revenue from cloud computing and internet infrastructure: RMB819 million (US$126 million), up from RMB362 million in the same quarter of 2014. The company revealed that the bulk of that growth came from the cloud computing division in two forms: more paying customers and higher spend per customer from additional services offered, such as CDN (Content Delivery Network) and database services. They currently have a pool of about 20,000 developers contributing to the growth of their cloud business.
As for the ability of their computing power, there's no doubt that the system is robust enough to handle the kind of high-volume transactions that e-commerce peak seasons are known to experience.
Here's a relevant excerpt from the recent Alibaba Quarterly Press Release:
"Singles Day - The Singles Day shopping festival, which originated on Tmall in 2009, has become the biggest shopping day in the world. On November 11, 2015, we attracted over 115 million buyers to our marketplaces and enabled RMB91.2 billion (US$14 billion) in GMV settled through Alipay on our platforms. Our success on Singles Day was a testament to the scalability of our ecosystem. Our platforms processed 467 million delivery orders during a 24-hour period. Our cloud computing technology infrastructure enabled about 140,000 peak transactions processed per second. The ability to manage a surge of more than ten times our normal daily volume demonstrates how Alibaba is redefining the infrastructure for commerce."
The biggest benefit of this revelation is that it gives Chinese customers the kind of testimonial they need to invest their money and trust in cloud. As part of being able to deliver that kind of performance, the AliCloud environment will have faced innumerable errors and outages that finally gave it the robust ability it has today. That's great news for Alibaba as the company pushes its cloud agenda deeper into China.
At $126 million for the quarter and a resulting run rate of $500 million, they even match Google's cloud revenues at this point, but that's going to be the most short-lived advantage in the history of cloud. As Google gears up its cloud business by aggressively adding, clients, capabilities and capacities, AliCloud will be no match for either its capabilities or its ability to show fast top line growth. As of now, it would be unfair to even try and compare AliCloud to the massive scale and size of IBM, Microsoft or Amazon's AWS.
But to be honest, if the Cloud Fource (or Cloud 4ce) - as I've dubbed the elite corps of global cloud service providers comprising Amazon, Microsoft, IBM and Google - wants any chunk of China's cloud business, it'll have to bypass Alibaba's tremendous influence in the Chinese market. Since half the Fource (IBM and Microsoft) is strong on Enterprise sales, the largest companies that require a truly global infrastructure and services ecosystem in the cloud may choose to go with them over AliCloud; but the rest of the market will pretty much be "in the palm of Ma hands," so to speak.
As a rule, however, I see AliCloud strongly leveraging their existing relationships with sellers, vendors, suppliers and related entities to convert them to cloud clients - and that, in itself, is a huge market opportunity and moat for Alibaba.
Though AliCloud's global presence isn't of significance, their recent data center growth deserves mention.
The AliCloud Footprint
During the second half of last year, Alibaba opened their second data center in the United States - their ninth global data center. They have added four data centers in 2015, which is quite impressive when you consider that Google intends to add 12 very soon and IBM already added six in the last 12 months. But in terms of footprint, which is crucial for any global cloud provider, they still have a long way to go before they can think of getting on even scale with Microsoft, IBM and Amazon. The company has plans to add three more data centers, as you can see from the image below - and the company seems serious about their scale.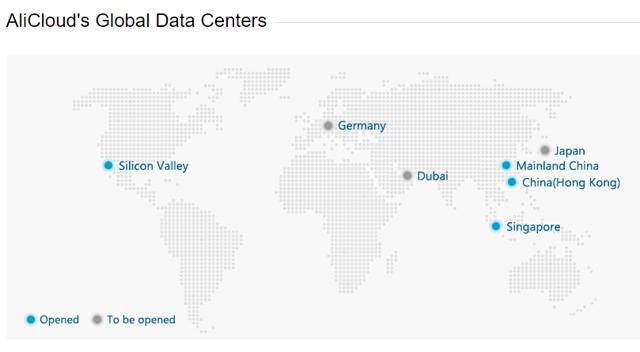 Source: AliCloud
Money doesn't seem to be the primary motive behind the birth and growth of AliCloud; it is merely one of the sentinels protecting the core moat of the marketplace.
Alibaba has been slowly building this invisible moat around their customers: they have Ant Financial to do the work of a bank giving loans to their sellers, with Alipay covering the transactional side of things, and then they have AliCloud that can take care of all the technology needs of their business clients.
With these two support systems in place, it will be tough for any of their competitors to pose a significant threat to the company in their home market. How they exploit these opportunities in other countries is a different matter altogether, and somehow my educated gut feeling tells me that India will play a major part in shaping Alibaba's international growth strategy over the next several years.
Though I have my own reservations with respect to their global ambitions, I think Alibaba has enough competitive advantages that will keep them on top of the China pile for a really long time.
Alibaba has long been a BUY as far as I'm concerned. If the price is too high for your taste, try waiting for dips.
Did you find this article interesting? No? Aww, okay, well try my other pieces here: Shudeep Chandrasekhar Articles - I'm sure you'll love them so take a chance and follow me!
Disclosure: I/we have no positions in any stocks mentioned, and no plans to initiate any positions within the next 72 hours.
I wrote this article myself, and it expresses my own opinions. I am not receiving compensation for it (other than from Seeking Alpha). I have no business relationship with any company whose stock is mentioned in this article.